Dear Friends:
With the beginning of the 125th session of the South Carolina General Assembly, I resume my weekly briefings. I hope you find them informative and will encourage others to sign up to receive their subscription.
We're Out of the Gate!
Unlike Congress, on Day #1 of the new session, the S.C. House of Representatives gaveled in and got to work. No shenanigans! We're focused on your issues – The People's Business.
Fixing Critical Infrastructure
In his inaugural address Wednesday, Gov. Henry McMaster called for the continuation of transformative investments in our state's infrastructure. To set our S.C. on an accelerated path to compete globally for new jobs and future investments, he said we must widen interstates, repair and replace roads, bridges, and highways, and replace aging water, sewer, sewer, and stormwater systems in our rural communities.
The next day, the House Ways & Means Committee fast-tracked legislation to spend nearly $1.1 billion to be disbursed and awarded quickly to many small towns and communities to upgrade water, sewer, and stormwater systems. The money mainly comes from the federal government's 2021 American Rescue Plan (ARPA) pandemic funding. Cities and towns compete for these grants, and they provide some matching money. The House will vote to send this bill to the Senate next week, and it heads to the Governor for approval after their approval.
E.S.G. PUSHBACK
I was joined by 44 of my Republican colleagues, including all the top House leadership, this week when I introduced legislation (H.3690) to put the brakes on the sinister WOKE agenda of E.S.G. – Environmental, Social, and Governance – sweeping across America. The nation's major investment firms are doing what the federal government is forbidden to do and, in many cases, are using our money. Socialists and the Left are pushing it.
The E.S.G. Pension Protection Act will ensure BlackRock and other investment firms will not be able to use their proxy voting power from our retirement system's $37 billion investments to propel E.S.G. in corporations. The goal is to invest all state pension funds to maximize financial gains for retirement, not push a WOKE agenda.
Be assured this E.S.G. pushback in South Carolina is a multi-pronged approach, and we are all pulling together with Treasurer Loftis, Attorney General Wilson, and the State Retirement System to push back on this dangerous WOKE overreach. (Read more about E.S.G.)
Education Choice
Another top priority bill on the fast track will give parents a shot at a better education for their children.
Education choices will be created through the passage of Education Savings Accounts (E.S.A.), so parents can afford to get help for their kids in need and are not stuck sending their children to underperforming schools because of where they live. Every child learns differently, and an E.S.A. allows them to choose the best education path for their child.
Legislation providing parents $6,000 toward private K-12 tuition is the top priority of the Senate. The Senate Education Committee advanced a bill (S.0039) like legislation passed twice last year by the House. Senators will start floor debate on the bill next week.
The bill provides a minimal start with a maximum of 5,000 eligible students statewide the first year, double to 10,000 the second year, then cap out at 15,000 students once fully phased in the third year. That represents about 2 percent of all children in our public schools statewide. Eligibility involves qualifying for Medicaid. It's aimed at those who can least afford help for their children's education. E.S.A.'s are not to help the rich to send their kids to private schools, as opponents will loudly claim.
Archaic Education Restriction
For more than 150 years, S.C.'s Constitution has prohibited state dollars from flowing directly to religious schools. It is referred to as the Blain Amendment, a controversial state constitutional provision rooted in anti-Catholic bigotry. Its purpose was to prevent the government from funding Catholic schools. For decades, opponents of educational choice have used Blaine Amendments — found in 37 state constitutions — as blunt weapons to impede and invalidate educational choice programs. 
This week, House Speaker Murrell Smith introduced legislation (H.3591) that would remove from our state Constitution the section prohibiting public dollars from being used for the direct benefit of religious or other private educational institutions. Repealing this state Constitutional amendment would be decided by voters and eliminate any lingering doubts about the constitutionality of school choice funding.
Speaker Smith asked me to join him as #2 on the bill because I filed identical legislation last session.
SOUTH CAROLINA PROUD!
Wednesday's Inauguration Ceremony at the State House was a celebration of everything great about South Carolina and a message from Gov. McMaster that there is more GREATNESS in our state's future.
"Today, when business leaders from around the world measure the assets of our state, they remark on our people – the character and nature of the people themselves. Visitors do the same. They sense their loyalty, patriotism, kindness, and steadfastness. They see the natural paradise in which we work and live. They see the historic confluence of our Judeo-Christian and military traditions.  And, they like what they see, sometimes more clearly than we do ourselves," said McMaster after taking the oath of office.
He added, "Our economy is flourishing, and opportunities abound. Major businesses in the United States and abroad have clearly demonstrated their desire to bring their fortunes and facilities to South Carolina and to employ our people. They are "putting their money where our people are. What we must do now is double down.  We must continue investing in our people to ensure that they are prepared to reap the benefits of our future prosperity."
Among numerous specific initiatives he put forward, Gov. McMaster focused on continuing education improvements and pushing to increase starting pay for teachers to at least $50,000 in about three years to combat the growing teacher shortage.
Governor McMaster's entire inaugural address is worth watching: Video Link
PHOTOS OF THE WEEK
S.C. Inauguration Day 2023
Want to Know More?
Do you want to learn more about my positions, bill sponsorships, voting record, and past writings? Here are some handy links:
I'm Available & AT YOUR SERVICE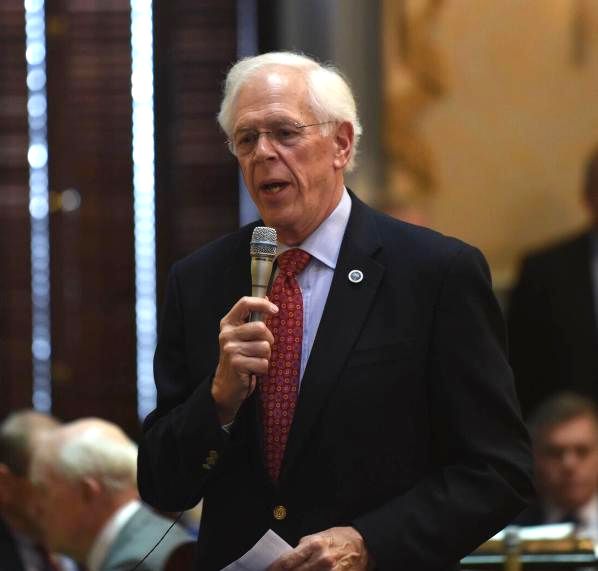 It is my honor to be of service. Please do not hesitate to contact me if you need assistance navigating state government or have any thoughts or concerns about the legislature.
In Your Service,
Email: Bill@taylorschouse.com
www.TaylorSCHouse.com  
Newsletter not paid using taxpayer funds.   
Legal Notice: This newsletter is not a solicitation for contributions to any SC registered lobbyist.