Dear Friends:
I trust you experienced a very Merry Christmas this past weekend. This is a joyous time when we celebrate the birth of Jesus Christ. It is well we remember the Biblical passage James 1-17: "Every good gift and every perfect gift is from above."
 While we focus on the birth of Christ, we also pray for peace, happiness, and goodwill. To those struggling with difficult or lonely times, I pray this holiday season grants you the strength to never give up. May God bless you and may the essence of Christmas live in all our hearts throughout the year.
Legislative Reflections
Following the disruptive, bumpy pandemic ride of 2020 and 2021, the General Assembly was at full throttle this past year with many accomplishments. Here are a few highlights:
$1 billion in rebates were sent to all tax filers, providing up to $800 to taxpayers to offset inflation caused by the federal government's wild spending.
This year, $1 billion in income tax relief while chopping S.C.'s highest personal income tax rate and setting the path for further tax reductions over the next five years.
The State saved and didn't spend your tax dollars by setting aside $1 billion into "rainy day" accounts to provide a larger cushion against hard times.
$275 million increase in annual funding for public education while increasing the starting teacher salaries to $40,000 – a 32% increase over the past five years.
Added $1 billion in state road funding to improve our roads and bridges sooner and allocated $250 million (nearly three times their usual allotment) to the 46 County Transportation groups for paving local secondary roads.
All state employees received a 3% pay increase. There were much-needed increases in starting salaries and pay for state law enforcement and correctional officers to address law enforcement recruiting and retention issues.
A windfall of $343 million to Aiken and surrounding counties came from the SRS Plutonium settlement money.
The legislature created one of the strongest election laws in the nation, making it easier to vote and harder to cheat. For the first time, S.C. has in-person early voting for the two weeks preceding an election and stricter requirements for absentee ballots. 
Legislative Pushback
The pandemic and the increasing WOKE movement resulted in many pushback initiatives passed during the 124th legislative session.
A crowning achievement was the passage of the Article V Convention of States (CoS) Resolution. After running the legislative gauntlet for nine years, the General Assembly voted to become the 19th State to call for a Convention of States. It is the ultimate pushback on Washington. I'm proud to have been the primary champion of this legislation and thankful for the tens of thousands of South Carolinians that supported this pushback.
The pushback movement came in many forms. We 'Saved Women's Sports' with a new law that requires student-athletes to compete in sports based on their gender assigned at birth. We crushed government overreach by passing a law that South Carolinians will not be discriminated against based on their decision to take a vaccine. The enhanced freedom of religion law designates S.C. churches as essential services and prohibits the government from shutting them down in another pandemic or other emergency. And legislators made S.C. a 'Second Amendment Sanctuary State'prohibiting the federal government from compelling S.C. law enforcement to enforce federal laws that limit citizens' rights to keep and bear arms.
Looking Ahead
The last legislative session is in our rearview mirror; I look forward to a new year with abundant opportunities.
In advance of the 125th legislative session that begins January 10, more than 900 bills have been filed in the House and Senate. Legislators can file any bill they wish; however, only a small percentage become law.
High on the education agenda is enacting parental choice by creating Education Savings Accounts (E.S.A.), so parents are not stuck sending their children to underperforming schools because of where they live. Every child learns differently, and an E.S.A. allows them to choose the best education path for their child. Additionally, we will continue pushing back on teaching critical race theory in our public schools. I filed the Academic Integrity Act that guarantees parents the right to know what is being taught to their children.  
Fentanyl is a major legislative target this session. The synthetic opioid is up to 50 times stronger than heroin and accounts for most drug overdose deaths in South Carolina. Law enforcement wants drug dealers severely punished.
Reducing deaths and accidents on South Carolina's roads can result from the passage of the Hands-Free bill that calls for drivers to put down their cell phones and put their eyes on the highway. I initially filed this legislation in 2018, but it met resistance from some lawyer-legislators. Sen. Tom Young (R-Aiken) has teamed with me in filing an identical bill in the Senate. Citizens are far ahead of legislators in seeing the benefit of the Hands-Free bill; polling shows nearly 80 percent favor its passage. Hopefully, our persistence will win the passage of this bill.
I also have pre-filed bills to protect free speech on the campuses of our public colleges and universities and another to put a financial bite on counties, cities, and towns if they violate South Carolina's Heritage Act and illegally remove historical statues and monuments. On the first day of the session, I will file legislation to put the brakes on the sinister WOKE agenda of E.S.G. – Environmental, Social, and Governance –sweeping across America pushed by investment firms who are doing what the federal government is forbidden to do.
Focus on Money
In this session, my primary responsibility will be to focus on money. I have been appointed to serve on the House Ways & Means Committee that creates the annual state government appropriations plan and oversees tax legislation.
The crafting of the state budget is an intense process with many competing interests. We must prioritize spending that adequately supports core government functions such as public safety while resisting the unnecessary or wasteful spending of tax dollars.
I join veteran Representative Bill Clyburn (D-Aiken) on the Ways & Means Committee. The last Aiken County Republican legislator to serve on the Ways & Means Committee was Rep. Roland Smith, who retired in 2014.
PHOTOS OF THE MONTH
A joy of my elected position is to celebrate constituents life milestones. This week, I joined family and friends in celebrating the 60th wedding anniversary of John & Glennis Lahr, of then Cedar Creek neighborhood near Aiken. John is a Vietnam veteran who spent two tours training the South Vietnam army. During their adventurous life they raised three children, all flew in from across the country for the celebration.
December is parade month. My wife, Donna, and I were joined by two of our granddaughters in the New
EllentonChristmas parade. The following day we participated in the Windsor parade. 
Regrettably, the Aiken parade was cancelled due to rain and cold weather. We also look forward to participating in the holiday events of the western portion of Lexington County that has become part of House District 86 through redistricting.
Family Fun! The week prior to Christmas we hit the slopes of Breckinridge, Colorado. Donna and I were joined by our daughter, Kasey, and granddaughter, Avery. It's a joy to briefly visit the snowy and cold Rocky Mountains then return to South Carolina. 
Want to Know More?
Do you want to learn more about my positions, bill sponsorships, voting record, and past writings? Here are some handy links:
I'm Available & AT YOUR SERVICE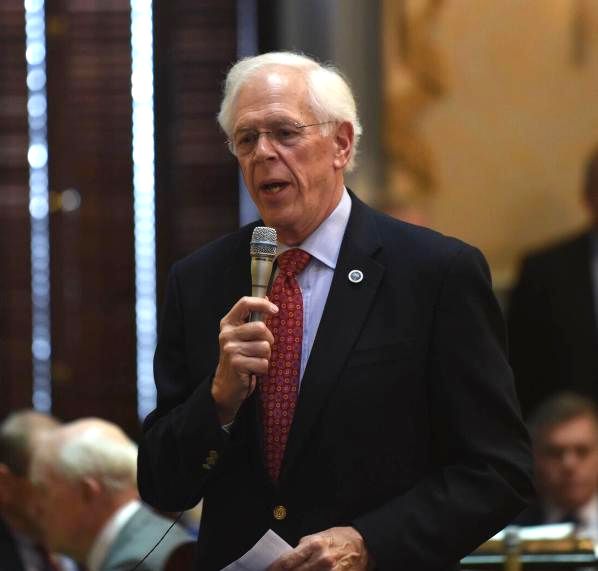 It is my honor to be of service. Please do not hesitate to contact me if you need assistance navigating state government or have any thoughts or concerns about the legislature.
In Your Service,
Email: Bill@taylorschouse.com
www.TaylorSCHouse.com  
Newsletter not paid using taxpayer funds.   
Legal Notice: This newsletter is not a solicitation for contributions to any SC registered lobbyist.