Dear Friends:
The dust has settled on the November election, and the results produced more than a Red Wave in South Carolina. It was a Red Tsunami.
Republican candidates were hugely victorious. U.S. Sen. Tim Scott and Gov. Henry McMaster crushed their Democrat opponents while all Republican statewide Constitutional officers were elected.
The election of Ellen Weaver to be South Carolina's school chief is of particular importance. She is the needed change agent to lead improvements aimed at raising student achievement levels from their dismal current level while empowering parents to have a stronger voice in their children's education.
House Republicans Dominate
In a historic moment, Republicans gained a super majority (71%) in the S.C. House of Representatives, increasing from 81 to 88 seats while leaving Democrats 36 seats. Most remarkable, new G.O.P. candidates flipped five seats occupied by Democrat incumbents. Democrat's lone bright spot was in blue-dominated Columbia, where they flipped one G.O.P. House seat.
House Republican Super-Majority Agenda
With the G.O.P.'s super-majority in the House, opportunity abounds to propel South Carolina's success. House Republicans have joined together in the belief that the success of our state depends on five key pillars.
Prosperity for All
A top priority is to improve statewide economic development to ensure prosperity for all South Carolinians. 
Legislation will focus on increasing workforce development opportunities with better job training and placement.
Remove barriers to ensure more workers: cut red tape and occupational licenses, eliminate unnecessary permit requirements, reform L.L.R., and stop mandates that stifle industry.
Improve infrastructure: speed up road repairs and bridge replacements, site development, and increase access to broadband, water, and sewer.
Reform Education
Reform South Carolina's educational system, so students are better prepared for the workforce.
Enact real parental choice through open enrollment, charter schools, and Education Savings Accounts (E.S.A.).
Require transparency in curriculum and end critical race theory (C.R.T.).
Increase accountability of local school boards.
Limiting Government
Limit government by implementing physical discipline and responsibility.
Budget for people, not programs: fewer government programs and more accountability.
Continue to lower the tax burden on working families.
Increase revenues by operating state government with less debt and more savings.
Push back on Washington's inflationary policies.
Remove agendas forced on business and industry: say no to Environmental, Social, and Governance (E.S.G.).
Increase Personal Freedom
Increasing personal freedom and encouraging conservative values is a significant pillar for House Republicans.
Defend the 2nd Amendment to ensure South Carolina remains a Second Amendment sanctuary state.
Defend life by eliminating abortions on demand.
Make contraception for women more available.
Streamline the adoption process.
Prioritizing Public Safety
Law and order are top priorities of House Republicans.
Strengthen penalties for fentanyl crimes.
Further fund the police by providing more resources to hire and train officers, equipment, and cutting-edge training tools.
Remove limits to allow retired officers to return to work.
End catch and release for criminals.
Mandate cash bail and eliminate personal recognizance bonds for violent offenders.
Stopping E.S.G. Wokeism
Every item on the Republican agenda deserves a deeper explanation, but today, I will highlight just one.
A sinister WOKE wave crashing across America might get you 'canceled' or disqualify you for your next job opportunity, car, or home loan.
It is labeled E.S.G. – Environmental, Social, and Governance – and is part of the so-called 'Great Reset' to secure vast wealth and influence over society, corporations, bankers, and investors. It is a worldwide initiative by elites imposing environmental, social, and governance (E.S.G.) standards everywhere. The metrics measure a company's carbon footprint, correct racial quotas, and social views among a changing list of requirements. These elites are doing what the federal government is forbidden to do to America. It's sweeping into American financial institutions and impacting businesses large and small.
Beyond corporations, everyday Americans are next. With the stated purpose of moving the world toward sustainability and equity, new rules will tie your E.S.G. score to your ability to secure lending, obtain insurance, or a myriad of other punishments. Want an example? Research how millions of Chinese people can't take trains and plans because of their low social credit scores.
E.S.G. PUSHBACK
I focused on the E.S.G. threat when I joined twenty state legislators from around the nation and policy advisors who gathered at Glenn Beck's Dallas studio to formulate plans. There was another legislative gathering in Atlanta. But the most critical session was at the S.C. State House.
Recently, I organized and hosted a meeting of legislators, State Treasurer Curtis Loftis, Attorney General Alan Wilson, and the C.E.O. of the S.C. Retirement System. The workshop was a team effort involving every state government segment capable of pushing back on E.S.G. The nation's brightest E.S.G. policy advisors joined us from Heritage Action and the Heartland Institute. The keynote speaker was Vivek Ramaswamy, a national rock star exposing E.S.G.
While legislation is being crafted, Treasurer Loftis has pulled $200 million from BlackRock, a mega investment firm pushing E.S.G. The Retirement System is taking away BlackRock's proxy voting ability, so they cannot use the voting power of our retirement system's investments to propel E.S.G. in corporations. And Attorney General Wilson is focused on potential legal action where needed.
Be assured this E.S.G. pushback in South Carolina is a multi-pronged approach, and we are all pulling together to curb this significant WOKE challenge.
PHOTO OF THE WEEK
It was a Hallmark movie moment when families reunited with their SC soldiers in a flight hanger at the Columbia Airport. This company of S.C. National Guard was deployed to the Middle East for nearly a year. It was my privilege to welcome them home on behalf of the General Assembly.
Want to Know More?
Do you want to learn more about my positions, bill sponsorships, voting record, and past writings? Here are some handy links:
I'm Available & AT YOUR SERVICE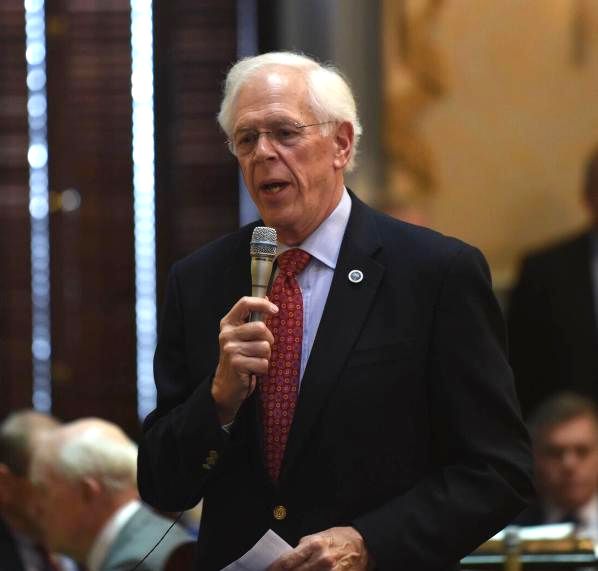 It is my honor to be of service. Please do not hesitate to contact me if you need assistance navigating state government or have any thoughts or concerns about the legislature.
In Your Service,
Email: Bill@taylorschouse.com
www.TaylorSCHouse.com  
Newsletter not paid using taxpayer funds.   
Legal Notice: This newsletter is not a solicitation for contributions to any SC registered lobbyist.