Dear Friends:
Those who genuinely achieve success set priorities.
Stephen Covey says, "Most of us spend too much time on what is urgent and not enough time on what is important."
In a representative form of government, it is far too easy to default to the "crisis du jour," where everyone gets worked up about an immediate issue while the wise focus on meaningful priorities.
2023-24 Legislative Agenda
This past week, I stood alongside Majority Leader Davey Hiott, Speaker Murrell Smith, and other members of the House Republican Caucus at a Statehouse news conference outlining our bold agenda for this legislative session built on conservative reform in these five areas:
Improve Statewide Economic Development to Ensure Prosperity
Reform our Education System, so Students are Better Prepared for the Workforce
Limit Government by Implementing Fiscal Discipline and Responsibility
Increase Personal Freedom and Encourage Conservative Values
Prioritize Public Safety and make Law and Order a Top Priority
We are already hard at work on those priorities. Here are just some examples:
Prioritizing Public Safety
Fentanyl is killing South Carolinians in record numbers. Those who traffic fentanyl must be severely punished. This past week, a House Subcommittee heard from families, law enforcement, and county and city leaders who showed up in support of cracking down on fentanyl crimes. I'm a cosponsor of this legislation that will move forward quickly.
A big part of the public safety agenda is to stop 'catch & release' that allows criminals to use the bonding turn style to get back on the street when they should be in jail so they can continue to plague South Carolinians. Bond reform will make our towns safer.
It is a fundamental right to protect yourself and your family. House Republicans will advance Second Amendment freedom with open carry legislation that allows South Carolinians who can legally own a handgun to carry it in places where they can legally do it without a government permission slip. Half of America's 50 states now allow open carry. Open carry will make S.C. safer by debunking the 'Wild, Wild, West' claims of opponents. We are also aiming to get guns out of criminals' hands.
Education Priorities
School safety is a critical legislative focus. Several education committees are also working to protect our teachers by increasing retention and pay while effectively recruiting needed, quality teachers. School choice options are also on the front burner, so every parent can help determine the education option that best suits their child's learning abilities. In higher education, work is being done to expand dual credits between high schools and colleges. For those in college wishing to transfer class credits between institutions seamlessly to save time and money, help is on the way. We are also laser-focused on stopping the teaching of Critical Race Theory (CRT) to our kids.
Jobs, Jobs, Jobs
S.C. must continue to bolster its reputation as "the beast of the southeast" when it comes to growing its economy, attracting business and industry, and working with our existing businesses while creating good, high-paying jobs. A great starting place is the new House economic development committee which is working to streamline government to help everyone who wants a job to get a job. The restructuring of workforce development (H.3726) will align all state agencies to accomplish the mission of job creation and enhancement.
American Rescue Plan Funds
In an overwhelming, bipartisan vote of 101-14, I joined my House colleagues in supporting a bill that will allocate more than $500 million of our state's portion of the federal American Rescue Plan. This money will fund local infrastructure investments, specifically focusing on updating and building water and sewer systems for towns and cities related to economic development projects around the state.
Breaking Up is Hard to Do
Senate leadership introduced legislation (S.399) that would divide the Department of Health and Environmental Control (DHEC) into two separate cabinet-level agencies; behavioral & public health and another agency focused on the environment. A similar bill ran into headwinds last session.
School Choice Debate
The Senate began debate on a bill (S.39) that would provide roughly $6,000 to parents to cover tuition, fees, course materials, transportation, or other qualified expenses to use alternatives to educate their children. This modest program is for public school students who meet low family income eligibility. Another way of stating it – it's not for rich people to send their kids to private schools, as opponents contend. Senate debate continues this coming week.
Fentanyl in the Senate
The Senate is working on the fentanyl crisis, as is the House. A subcommittee advanced legislation that would add a criminal penalty for trafficking fentanyl along with legislation that would create a new offense of fentanyl-induced homicide, which would apply to a person who unlawfully delivers, dispenses, or provides fentanyl that results in death.  
Alcohol Delivery & Curbside Pickup
Over a dozen Senators introduced a bill (S.425) that would allow retailers to offer curbside pickup of alcoholic liquors, beer, and wine and allow the home delivery of alcoholic liquors, beer, and wine by retailers or delivery service. Similar legislation passed the House last session but failed in the Senate.
Saving for the Rainy Day
The Senate passed a bill ratifying two amendments to the South Carolina Constitution that were on the ballot for voters this past November. They increase the amount of money the state must keep in its "Rainy Day" funds.
NEW FIRE STATION
The ribbon was cut Saturday, opening the new headquarters for the Couchton VFD with a sizeable crowd on hand to celebrate the monumental moment. Congressman Joe Wilson and I lauded the volunteer firefighters for their selfless public service. I presented flags that have flown over the S.C. Statehouse.
FIRE FAMILY
The Monetta Volunteer Firefighters gathered this weekend for their annual awards dinner. Each firefighter
deserves our thanks for their selfless service in fighting fires and responding to road accidents and EMS calls. Day and night, these volunteers are prepared to answer your call for need. Their families also deserve our thanks for the support they provide. I'm grateful to join the Monetta VFD every year for this and other events.
END OF AN ERA
Aiken County Sheriff Mike Hunt announced he would not seek reelection in 2024 after two decades of outstanding public service in keeping our county safe. The Aiken Standard labeled it "The End of an Era." but a "New Era" begins with the announcement that Capt. Marty Sawyer, a veteran of Aiken Public Safety, is stepping forward to offer himself as our next Sheriff. I was one of many who proudly stood with Marty for his announcement.
PHOTOS OF THE WEEK
Please allow me a personal note – a tribute to my 'Buddy Dog.'  Zeke peacefully passed away this past week. He's now cancer free and romping in doggie heaven. He was a rescue dog who adopted me. A mere 8-pound puppy was supposed to grow to 35-40 pounds. He ended up being 80 pounds of pure joy. A huge thank you to my good friend, Dr. Charlie Timmerman, for lovingly caring for Zeke — and me. Farewell, my dear Hachi.
Want to Know More?
Do you want to learn more about my positions, bill sponsorships, voting record, and past writings? Here are some handy links:
I'm Available & AT YOUR SERVICE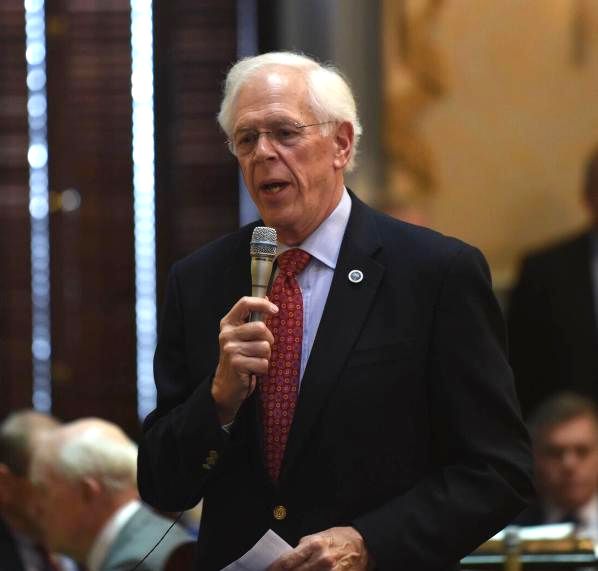 It is my honor to be of service. Please do not hesitate to contact me if you need assistance navigating state government or have any thoughts or concerns about the legislature.
In Your Service,
Email: Bill@taylorschouse.com
www.TaylorSCHouse.com  
Newsletter not paid using taxpayer funds.   
Legal Notice: This newsletter is not a solicitation for contributions to any SC registered lobbyist.