Dear Friends:
To the many folks who have recently subscribed to this newsletter, I welcome you. As a longtime "news guy," I strive to write objectively, mixed with a light dash of my political views. I'll leave the harsh and polarizing political writing to others (there's plenty of that in the media and on the Internet). Here's what you can expect – a concise overview of Statehouse developments with links to more information if you desire.
On a Roll
The House of Representatives is highly focused on prioritizing important legislation impacting South Carolinians' lives. I wrote earlier this month that the 125th Session was off to a fast start. This week provides more proof.
Crackdown on Crime
The House Judiciary Committee moved swiftly to advance legislation that cracks down on fentanyl pushers causing many South Carolinians' deaths. The bill (H.3503) addresses the crises by applying trafficking in drugs penalties to dealers and others. Judges could imprison violators to up to 20 years in jail for a first offense and up to 25 years in prison for subsequent crimes, depending upon the quantity of fentanyl they had in their possession at the time of their arrest. Additionally, fentanyl, or fentanyl-related substances, would be declared Schedule I drugs – that's a big deal. I expect this tough-on-crime bill will be on the House floor for debate next week, where it will win passage and be sent to the Senate.
Important Update: Banning CRT
It's called the Transparency and Integrity in Education Act, and it passed the House Education and Public Works K-12 Subcommittee this week. H.3728 will ensure that our public education system is fair and open, where instruction is non-biased and fact-based. It continues to allow the teaching of the broad scope of history. It would bar the teaching and the indoctrination of students through the lens of Critical Race Theory (CRT) and similar ideologies. I especially like that our bill does NOT create extra work for teachers but ensures that we have a transparent policy for teachers, parents, and students to maintain high-quality education that is not clouded by bias.
Opponents claim the bill will prevent students from learning about the ugly parts of the state and nation's
history by restricting what teachers can say. The intent is the opposite. The bill's primary sponsor, Rep. Raye Felder, said, "Instruction should be non-biased and include the broad scope of history, both inspirational history and shameful history of our great country." This bill utilizes language from legislation I filed (H.3466), making it easier for parents to question their child's curriculum.
Human Life Protection Act
I was disappointed with the South Carolina Supreme Court ruling earlier this month that declared our State's "Heartbeat Bill" unconstitutional. Republican leaders reacted quickly and sent new legislation (H.3774) to the House Judiciary Constitutional Laws Subcommittee. The goal is to preserve life and to produce the best pro-life legislation South Carolina has ever seen. The legislation will have exceptions for rape, incest, and the mother's life with explicit language that life begins at conception. We expect to vote on this bill on the floor within two weeks. 
South Carolina is one of only 9 states that requires runoff elections if the leading candidate in the primary process does not receive 50% of the vote. This bill (H.3606) would award the victory to the candidate with the most votes in the primary, joining 41 other states. Runoffs are expensive for the State to conduct, and cutting out the runoffs would drop the cost of running primaries almost in half. The short two-week window between the primary and runoff is already too close together, making it impossible to provide proper early and absentee voting in the runoff.
Our voter registration officials are already stretched thin, and this added burden makes it difficult for them to do their jobs and retain good poll workers, who are the backbone of our election process. S.C.'s Presidential Preference Primaries already use this approach, eliminating runoffs. The winner of those primaries receives the most votes, not necessarily the majority. It's time for South Carolina to simplify elections and save taxpayers money. I joined Rep. Brandon Newton is sponsoring this bill.
The 'State of the State' is Bright
On Wednesday, I joined my colleagues from the House and Senate for Governor McMaster's State of the State
Address. The Governor laid out his vision for South Carolina, and I look forward to working with him to ensure South Carolina's future is bright!
During Gov. McMaster's State of the State address this week, he touted our State's economic success and growth while outlining a bold, conservative roadmap to ensure prosperity and success for the future generations of South Carolinians.
Gov. McMaster called for accelerating the State's planned income tax cut should economic projections allow. Last year, the State lowered its highest income tax rate from 7% to 6.5%, with plans to reduce it to 6% over five years if enough money is available.
In education, Gov. McMaster repeated his call for higher teacher raise. His budget goal is to have a starting teacher salary of $50,000 by 2026, which would be his last year in office.
He also called for $850 million to speed up the completion of road projects to relieve traffic congestion on highways and interstates, repave local roads, and repair more than 400 bridges in the State.
I share Governor McMaster's pride in our State and look forward to proposing and supporting legislation that takes his conservative roadmap and turns it into action so we can make South Carolina a better and safer place to live, work, play, and raise our families!
The Aiken Legislative Delegation honored the memory of Aiken's Late Mayor, Fred Cavanaugh, this week at Aiken's 'State of the City' program. On behalf of Gov. McMaster, we presented to Lee Cavanaugh the flags that flew at half-staff over the Statehouse on the day of Fred's funeral.
PHOTO OF THE WEEK
Old Glory is proudly waving over the Center Fire & Rescue in Aiken County once again. I drive by the fire station on Hwy. 1 North daily enroute to and from the Statehouse. I noticed the flag I provided them with last year was missing. A call to Chief Crocket Beason confirmed the original flag was shredded in a storm. Tuesday, I happily delivered the Chief a replacement flag that had flown over the Statehouse.
Want to Know More?
Do you want to learn more about my positions, bill sponsorships, voting record, and past writings? Here are some handy links:
I'm Available & AT YOUR SERVICE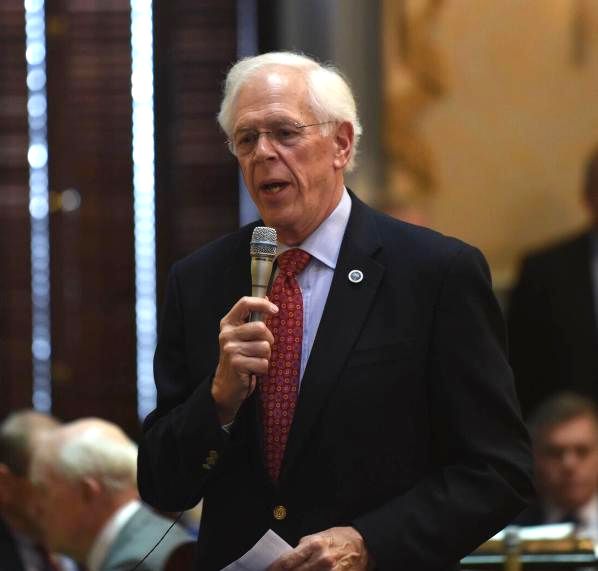 It is my honor to be of service. Please do not hesitate to contact me if you need assistance navigating state government or have any thoughts or concerns about the legislature.
In Your Service,
Email: Bill@taylorschouse.com
www.TaylorSCHouse.com  
Newsletter not paid using taxpayer funds.   
Legal Notice: This newsletter is not a solicitation for contributions to any SC registered lobbyist.