Dear Friends:
This week at the Statehouse, we witnessed the start of the 'Great Tax Race' to see who can cut your state income tax more – the House or Senate. The contest, of course, is mostly between Republicans who want to lower taxes.
The House Tax Plan
Tuesday, House members joined Gov. Henry McMaster announcing our plan to cut the top state income tax rate from 7% to 6.5% and down to 6% over the next few years. That would save taxpayers $600 million in 2022. It also pushes all other taxpayers into the lowest 3% bracket.
The Senate Tax Plan
Two days later came the Senate proposal, which could best be described as, "I see your tax plan and raise it to $2 billion." Their plan drops the state's top income tax rate from 7% to 5.7%. That would cost nearly $900 million. Additionally, it gives taxpayers $1 billion of one-time rebates, although details are still fuzzy. Referencing the House plan, Senate Finance Committee Chairman Harvey Peeler said, "You can't out tax cut Harvey Peeler, so let's get down to the negotiation table."
Millions or Billions?
I'm a tax cutter. The government takes too much of our money and would better serve citizens if every level of government was wiser and more frugal with its spending. I have served on various tax reform committees for a decade, but it has been mostly talk with little action until now. This year, tax cuts should happen because SC is booming and flush with money. The growth is coming from every sector of taxes, not just federal stimulus money. State economists report $4.6 billion available to distribute instead of the $3 billion estimated in November. This is the time to cut taxes, further spur the state's economy and keep taxpayers' money in their pockets.
SC Fast Tax Facts
We hear all the time that our tax rates in SC are too high, but the reality is South Carolinians enjoy lower taxes than taxpayers in most other states.
There's a lot of talk about SC's top marginal income tax rate of 7%, but the important figure when we're talking about tax burdens is the effective rate.
Essentially, the advertised rate (7%) differs from the rate you pay – or the effective rate.
South Carolinians have the 10th lowest average effective rate in the nation of 3.1%. This is often overshadowed by our top marginal rate of 7%, the 11th
More Money
This week, the House and the Senate each passed their versions of spending about $1.7 billion worth of American Rescue Plan Act (ARPA) money. The plans are similar but have some slight differences. The House plan (H.4408) spends $800 million on repairing and rebuilding water and sewer systems, $100 million less than the Senate plan. It also sets aside $400 million for expanding broadband internet into rural areas and gives $100 million to the Office of Resilience to fight flooding. That money is not in the Senate plan. Both chambers want to spend $450 million to replace lost gas tax revenue and jump-start projects like widening I-26 to three lanes between Columbia and Charleston. Differences in the plans will have to be resolved.
Restraining Washington DC
This week, the legislature took another significant step forward in its efforts to rescue America by putting restraints on
the federal government. A Senate panel held a hearing on H.3205, calling for SC to join an Article V Convention of States (CoS). The hearing room was packed with others watching from an overflow room. They heard from many CoS supporters, including national CoS leader Mark Meckler. Senators voted to pass the bill and send it to the Judiciary Committee. With that committee's approval, the Senate will likely debate CoS in a couple of weeks. The House passed this Resolution the final week of the session last year. We're nearing the finish line in a seven-year effort. (Read more in The State)
Stopping Employer Vaccine Mandates
In early December, the House passed legislation restricting how SC employers could force their employees to be vaccinated for COVID-19. I cosponsored H.3126 because no one should be forced to injected with an experimental vaccine to keep their job. In the closing moments of that debate, I put a face on the issue explaining to my colleagues that the vax mandate at the Savannah River Site is causing many families economic hardship because they must choose between a Jab or a Job. (VIDEO)
I'm pleased to report a Senate panel this week moved the bill forward with even stiffer penalties for private employers who force the vaccine requirement for their employees. Their amendment would impose a surcharge on an employer's weekly unemployment insurance tax of roughly $7,600 per employee fired, suspended, or penalized financially for refusal to take the vaccine. The penalty would stay in place for four years.
CRT in the Spotlight
The House Education Committee listened for more than five hours to testimony on Critical Race Theory (CRT) which
many believe is subtly being taught by some teachers in SC's public schools. CRT is a Marxist radical ideology that focuses on race as the key to understanding society and objectifies people based on race. In testimony, State school chief Molly Spearman reaffirmed her opposition to CRT. She also warned that any legislation seeking to restrict certain concepts or lessons must be clearly defined to ensure teachers aren't constantly second-guessing their instruction or skipping important topics for fear of retaliation. One of the bills being considered by the committee is my H.4343, the SC Academic Integrity Act. It calls for complete curriculum transparency, so parents understand better what their children are being taught. The committee will continue to take citizen testimony in future hearings.
LEGISLATIVE BRIEFS
Improving SC's Voting Process: A House panel approved legislation (H.4919) to create two weeks of early in-person voting at locations throughout a county. As proven in 2020, with the experimentation of satellite voting precincts to adapt to the pandemic, voters turned out in large numbers before Election Day. This also reduces mail-in absentee voting. In-person early voting is the most secure way of casting ballots.
 Military Retirement Income Tax Deduction: The House passed a bill (H.3247) to allow all military retirement income to be deducted from SC's taxable income effective tax year 2022. The language in this bill is like the Senate's tax relief legislation (S.1087).
Tax Credit for 2nd Chance Hiring/Veteran Employment: The House passed a bill (H.3348) to provide employers a tax credit for hiring veterans or formerly incarcerated non-violent individuals. This expands SC's efforts to further develop our state's workforce through promoting 2nd chance hiring.
Freedom of Religion Act: While SC never closed churches during the pandemic, other states did. That concerned some religious leaders, which prompted H.3105, the 'SC Religious Freedom Act.' The bill passed the House last March. This week, a Senate panel advanced the bill in a bipartisan vote. The bill prohibits the state from closing churches and other houses of worship during a state of emergency if other essential services are allowed to continue operating.
'Hands-Free' Debate: A tip of the cap to Sen. Tom Young (R-Aiken) for his heavy lifting in Senate debate in favor of the 'Hands-Free' legislation. The Senate will likely continue debating this vital road safety bill (S.240) into next week. Distracted driving is killing and injuring people every day. Most of us are fed up with those who drive blind while looking at their cell phones. This legislation would make it illegal to hold your phone while driving, but you would be allowed to talk and even text if you do it verbally.
Getting HS Students Improved Financial Education: The House passed an amended Senate bill (S.16) that would require any student attending a public high school or charter school in SC to receive one-half credit of personal finance to graduate. In the 2026-2027 school year, the bill would encourage public schools to teach students fundamental aspects of financial literacy.
Around the District
Making New Friends!
The western portion of Lexington County will become part of House District 86 in the redistricting plan signed into law. I was invited to speak Tuesday evening at the Republican Town Hall in Fairview. Folks from Fairview and rural Pelion had the opportunity to size me up and decide if they want to "hire me."
Lexington County Delegation
This week I attended the Lexington County Delegation meeting as a spectator. I took advantage of the Delegation meeting to better acquaint myself with Lexington County issues.
Want to Know More?
Want to learn more about me, my positions, bill sponsorships, voting record, and past writings? Here are some handy links:
PHOTO OF THE WEEK
Wednesday was the annual United Way Day at the Statehouse. Aiken County Legislators enjoyed lunch with Aiken United Way leaders Sharon Rodgers and Ellen Luton.
I'm Available and AT YOUR SERVICE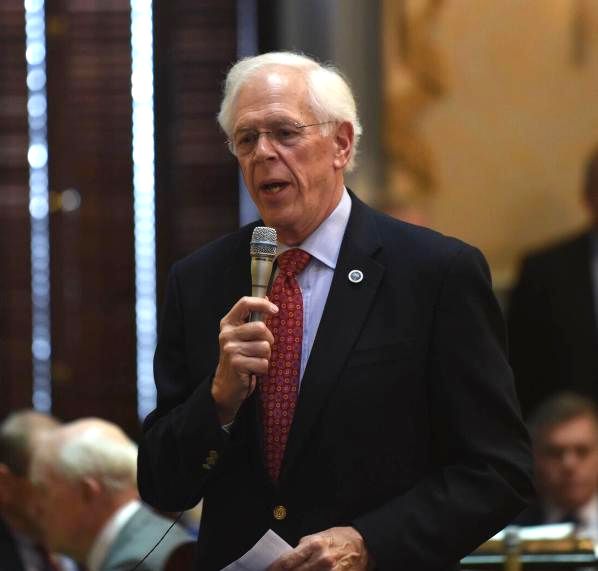 It is my honor to be of service. If you need assistance during these trying times, navigating state government, or have any thoughts or concerns about the legislature, please do not hesitate to contact me. 
In Your Service,
Bill Taylor
Representative
South Carolina General Assembly
Email: Bill@taylorschouse.com
www.TaylorSCHouse.com  
Newsletter not paid using taxpayer funds.   
Legal Notice: This newsletter is not a solicitation for contributions to any SC registered lobbyist.