Dear Friends:
In a previous legislative report, I wrote about steps taken by the SC House of Representatives to strengthen voting integrity. Central to that plan is creating a two-week, early, in-person voting period and increasing restrictions on mail-in absentee voting to ensure no ballot harvesting. Each mail-in ballot must be from a registered voter. A House panel heard testimony on the bill (H.4919), and it is expected to move forward rapidly.
Election Uniformity Bill Passes the House!
This past week the House took another step forward to shore up our statewide election process and make it more secure. We amended an election legislation bill (H.3444) that we passed last year. It was approved by the Senate and returned to the House. Primarily, it strengthens the oversight and authority of SC's State Election Commission by making it the ultimate authority to ensure standardized performance, conduct, and practices by county boards of elections. The election process in York and Charleston Counties needs to be the same as Aiken County.
Also included in the amendment are necessary provisions to secure our elections, including outlawing the use of drop boxes, banning the County Board of Elections from accepting private money (i.e., ZuckerBucks), providing a process for auditing state elections (when deemed necessary), and ensuring that people can ONLY vote in the place where they are registered. I hope the Senate will accept our amendment to safeguard these protections become law. 
Can Brave Doctors SAVE YOU?
IN CASE YOU MISSED THIS – In a special newsletter on February 11th, I reported on the Opinion issued by the SC Attorney General amidst the politicized and contentious treatment of Covid patients. It has pitted doctors against hospitals and pharmacies. Hospitals have withheld or restricted treatment using drugs known to speed recovery. Pharmacies have refused to fill prescriptions for such drugs as Ivermectin and Hydroxychloroquine. It's important you know. (Read about it here.)
Medical Marijuana Advances
The SC Senate wrapped up a couple of weeks of debate on a bill that would legalize certain forms of marijuana for medical uses. With a vote of 28-15, the legislation (S.150) was sent to the House. The bill would allow people with doctor-approved medical conditions, such as cancer, glaucoma, and multiple sclerosis, to use marijuana in the forms of oils, salves, vaporizers, or patches available through specific pharmacies. Mississippi's governor signed a similar measure into law last week. SC would become the 38th state to legalize a non-smoking form of cannabis for medical use. Prediction – I expect the bill to move through a House Committee, but its fate on the House floor is uncertain.
A Voice & A Choice in Your Children's Education
My colleagues and I are on the right track to embodying school choice in South Carolina. This past week, a bill (H.4879) advanced out of House Ways & Means that will give parents the two things they have been desperately asking for when it comes to their children's education: a voice and a choice. This has become even more evident during pandemic times, as education was one of the areas that felt the brunt. 
This bill will provide parents up to $5,000 a year towards the cost of attending a school of their choice, which would be funded by $75 million of the state's surplus funds. This 3-year pilot program is a necessary first step in incorporating more parental involvement in our education system. I look forward to supporting this bill on the Floor. 
ARPA Funds 
With a large amount of Federal funding on its way to SC, the House Ways & Means Committee debated then advanced H.4408. This bill prioritizes improving our infrastructure, including our roads, highways, water, and sewer, and helps expand broadband connectivity to rural areas of SC. They allocated around $1.75 billion for improvements in critical infrastructure and set aside roughly $750 million for the second round of investments. These funds will help SC springboard our decades ahead. 
SRS Settlement Funds
Newspaper headlines can be misleading. Last week, a headline proclaimed, 'Big Win for Our Region.' The story reported on the passage by the Senate Finance Committee of their version of how the SRS plutonium settlement money would be dispersed. Their plan would have Aiken County receive $206 million of the $525 million settlement. Friends, this is far from a done deal. There has not been a vote by the full Senate, and the House of Representatives has yet to formalize its plan for the money. If this were a horse race, we are only on the backside of the track with the finish line set for April or May.
LEGISLATIVE BRIEFS
Military Retirement Income Tax Deduction: The House Ways & Means Committee advanced a bill that would allow for all military retirement income to be deducted from SC taxable income effective tax year 2022.
Veteran & 2nd Chance Employment: The House budget panel advanced a bill that would provide employers a tax credit for hiring veterans or formerly incarcerated non-violent individuals participating in Apprenticeship Carolina, which the SC Technical College System coordinates.
'Rainy-Day Funds' on the Rise: Saving money is as essential to the state as it is to you and your family. House budget writers gave a favorable report that gradually increases our state's reserve funds and would take effect upon ratifying an amendment to our State Constitution. This type of conservative planning and budgeting is fundamental in ensuring our economy is prepared for adversity or unexpected circumstances down the road.
Sour Grapes:  As expected, a federal complaint has been filed on behalf of the SC chapter of the NAACP alleging the General Assembly used race as the primary factor in drawing congressional districts during reapportionment. They claim the new district lines dilute the voting strength of Black South Carolinians in the 1st, 2nd, and 5th congressional districts. These lawsuits are routinely filed every decade after redistricting.
DHEC Board Chair Confirmed: Robert Bolchoz, a Columbia attorney, was unanimously confirmed by the Senate to be chairman of the SC Board of Health and Environmental Control (DHEC). Governor McMaster nominated him in January.
PHOTO OF THE WEEK
Aiken County legislators said farewell to Colin Demarest, one of the Aiken Standard's outstanding reporters. He's heading to Washington DC to report on the Pentagon for a magazine covering the military. We honored him with a Statehouse Resolution. Congressman Joe Wilson recognized Colin's reporting skills with praise written in the Journal of the U.S. House. Colin excels with the reporting skills of being inquisitive, accurate, fair, and balanced. I see a Pulitzer in his future.
I'm Available and AT YOUR SERVICE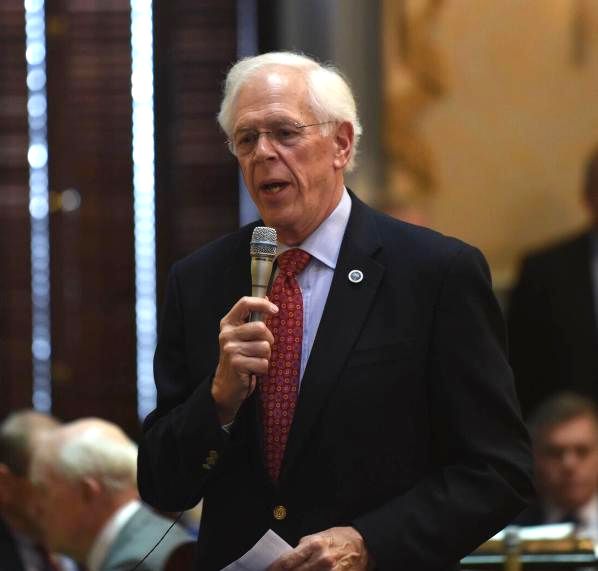 It is my honor to be of service. If you need assistance during these trying times, navigating state government, or have any thoughts or concerns about the legislature, please do not hesitate to contact me. 
In Your Service,
Bill Taylor
Representative
South Carolina General Assembly
Email: Bill@taylorschouse.com
www.TaylorSCHouse.com  
Newsletter not paid using taxpayer funds.   
Legal Notice: This newsletter is not a solicitation for contributions to any SC registered lobbyist.