Dear Friends:
During the past decade, business writers labeled South Carolina "The Beast of the Southeast" for its ability to attract new business investments to the Palmetto State.
Today that Economic Beast ROARED with success!
Scout to Call SC Home
Automotive manufacturer Scout Motors announced plans today to open an electric truck and SUV manufacturing plant in South Carolina's midlands. It is a $2 billion investment – the largest single announcement ever in SC. 
Scout Motors is an independent US company backed by Volkswagen Group. 
The plant will be located in Blythewood, northeast of Columbia. Scout is expected to create 4,000 or more permanent jobs. At full capacity, more than 200,000 Scout vehicles may be produced annually at the facility.
This is a restart for Scout, an iconic American brand that produced vehicles from 1960 to 1980. The company will build all-electric, next-generation trucks and rugged SUVs, harkening back to their famed vehicles from yesteryear. 
House Speaker Murrell Smith said, "Scout Motors' commitment to such a significant economic investment – among the largest South Carolina has ever seen – is an exciting development for a well-deserving region of our state. This announcement is a fitting affirmation of the House's dedication to advancing workforce and economic development initiatives. This commitment will truly be transformative to the Midlands and the entire state and will provide job opportunities for decades and generations to come."
Gov. Henry McMaster heralded the development, "Scout Motors will provide thousands of South Carolinians with previously unimagined opportunities and prosperity for generations to come."
FIVE FAST FACTS
Scout Motors (Scout) selects South Carolina for production site; plans to create 4,000 jobs.
Scout to innovate and electrify its American heritage at a new $2 billion U.S. manufacturing facility near Columbia, S.C.
The company will build all-electric, next-generation trucks and rugged SUVs, harkening back to the iconic Scout vehicles produced from 1960 to 1980.
South Carolina operations will be located in Richland County, on a site in Blythewood.
Individuals interested in joining the Scout team should visit readySC's recruitment website.
TOP LEGISLATIVE NEWS
Making SC Safer
The jailhouse door can't be a revolving door. South Carolinians should not have to tolerate a revolving door that puts repeat criminal offenders back on the street to commit more violent crimes.
This week, in its continuing efforts to crack down on crime, the SC House of Representatives passed a bill (H.3532) to help make South Carolina a safer place to raise our families and live more safely. The bill creates sentence and bond enhancements for a person convicted of a violent crime while out on bond for a previous violent crime. The bipartisan vote was 92-20.
Creates a sentence enhancement of mandatory five years if a person is convicted of a violent crime while out on bond for a previous offense.
Requires any bond set for someone who commits a violent offense while on bond for a previous offense to be a 100% cash bond.
Magistrates and summary court judges must deny bail for violent offenses. Currently, bail is not set for crimes punishable by death or life in prison.
Bond is immediately revoked if a person commits a violent offense while out on bond.
House Speaker Murrell Smith, Jr. said: "In just a few short months, the House has passed multiple public safety bills and kept good on promises made that we would also prioritize this issue."
Giving Parents More Choices
Parents must have the flexibility to make the best choice for their child's education. SC parents have been hindered from doing what's best for more than 100 years by a provision in the State Constitution called the Blaine Amendment. 
The Blaine Amendment has prohibited distributing government funds to "sectarian" schools. In short, this provision reflected the ugly marriage of two prejudices of the late 1800s: religious bigotry against immigrant Catholics and racial discrimination against newly freed slaves whose lives, living conditions, and educational opportunities were being improved by religious missionary organizations.
This act forced minority populations into segregated and substandard public schools. It was designed and implemented by some of the most infamous racists in our history. They aimed to stop the Catholic Church from educating freed Blacks and immigrants.
This is not just a disgraceful relic of the past — the Blaine Amendment perpetuates injustice today by blocking state funds to non-public schools that educate underserved and underprivileged children.
This week, the House of Representatives took the first step to erase this injustice and free educational choices by passing a joint resolution that would amend the SC Constitution, which currently prohibits the state from providing direct aid to certain private educational institutions. The vote was 83-27.
H.3591 seeks to repeal the Blaine Amendment to allow parents to make the best choice for their child's education. It will also help protect many state-funded programs, such as the SC Tuition Grants Program, LIFE Scholarship, Palmetto Fellows Scholarship, CERDEP/CDEPP (full day 4K programs), and First Steps, which could be the target of a legal challenge under the Blaine Amendment.
As with any effort to amend the State Constitution, the General Assembly must pass a resolution that puts this question on a statewide ballot for voters to decide in the next General Election. Accordingly, the House voted 83-27 to put this question on the 2024 ballot.
LEGISLATIVE BRIEFS
Improving Health Care Costs
The House is pushing forward with Senate legislation to free our state's healthcare providers so they can compete. The House Medical, Military, Public, and Municipal Affairs Committee has heard public testimony on S.164, a bill that would eliminate the state's Certificate of Need (CON) and potentially lower healthcare costs. CON puts the state in control of expanding healthcare facilities and allows those companies possessing a CON to block competition. Fifteen states representing 40% of the US population, have repealed CON. The bill should go through the committee and onto the House floor in the coming weeks.
Booze at Your Door
The pandemic propelled home delivery of groceries. The Senate is taking that to another level with legislation adding beer and wine to the list of items you can deliver to your door. Big companies like DoorDash, Target's Shipt service, Amazon, and Total Wine & More, pressed a Senate panel for passage of the bill to legalize curbside pick-up and delivery of alcohol. The subcommittee unanimously passed the bill (S.425).
TikToc Ban Advances
A bipartisan bill that would ban the use of TikTok on state government-issued devices passed out of the House Judiciary Committee. The legislation (H.3448) was created in response to Gov. Henry McMaster's push to block TikTok in state agencies. In testimony, SLED sought an exemption from the bill because law enforcement agencies utilize the China-based social media app for investigations.
Supporting Our Vets and Active Military Families
I proudly voted to support our veterans by helping to unanimously pass two important bills that will streamline and improve efficiency within some of our veterans' services. H.3802 will restructure the Veterans' Trust Fund board, and H.3797 will make it easier for military parents to enroll their children in SC schools while on active duty or pending transfer.
Around House District 86
I'M IN AWE!
On my way to the Statehouse Thursday, I stopped by Aiken's Max Fitness and witnessed Adam Cooper, a Marine Corps veteran, giving his all to support veterans who need help with suicidal thoughts. The nation tuned in to watch his 22-hour workout with his live appearance on Fox & Friends and local live TV broadcasts. Aiken veteran leader Lowell Koppert organized and sponsored the event. During Cooper's 22-hour workout, SC's veteran suicide charity 'WHEN LIFE SUCKS' has received over 100 emails from vets asking to speak with mental health counselors.
ROUSING SUCCESS
At The Gifting Tree Oyster Roast, we auctioned two autographed footballs — a "Beamer Ball" and a "Dabo Ball." Aiken Mayor Rick Osbon served as auctioneer while our son, Ryan, and I toted the footballs. The bidding was spirited between the Gamecock & Tiger fans. Ultimately, the "Beamer Ball" sold for $1,750, and the "Dabo Ball" pulled in $1,500. That serves as seed money for a student scholarship at Aiken Tech named in memory of the late Don Cheeks, the founder of The Gifting Tree Foundation.
Quote of the Week
         "This verdict proves your position and power in life do not matter: no one is above the law, and that includes Alex Murdaugh. It's been a long six weeks, but Maggie and Paul Murdaugh deserved justice, and they certainly did not deserve to brutally die at the hands of someone who was supposed to love and protect them. Alex Murdaugh's house of cards, built on the foundation of lies, manipulation, and theft, came crashing down. Let this be a warning: no matter who you are, if you break the law, the truth will come out, and you will be brought to justice." – SC Attorney General Alan Wilson
PHOTOS OF THE WEEK
Aiken HS Senior Abby Callis visited the Statehouse this week with 18 students from the 2022 SC Farm Bureau Youth Leadership Conference class. The students spent four days at the Governor's School for Agriculture, learning more about the Farm Bureau Federation and agriculture across our state. The teenagers participated in educational workshops, learning how to be grassroots leaders for SC Farm Bureau.
Want to Know More?
Do you want to learn more about my positions, bill sponsorships, voting record, and past writings? Here are some handy links:
I'm Available & AT YOUR SERVICE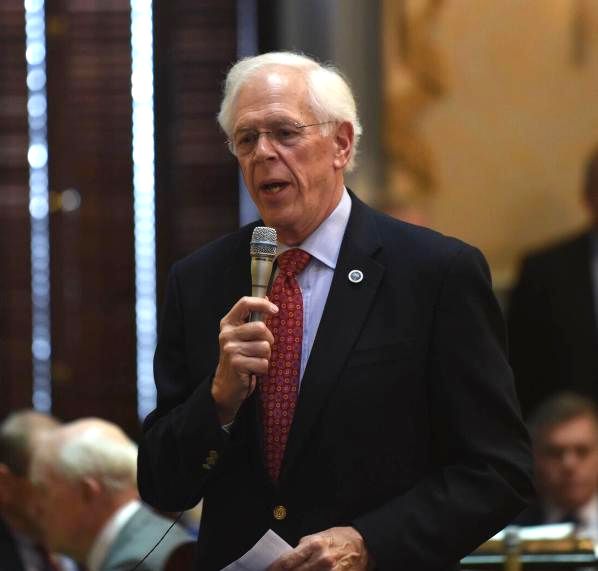 It is my honor to be of service. Please do not hesitate to contact me if you need assistance navigating state government or have any thoughts or concerns about the legislature.
In Your Service,
Email: Bill@taylorschouse.com
www.TaylorSCHouse.com  
Newsletter not paid using taxpayer funds.   
Legal Notice: This newsletter is not a solicitation for contributions to any SC registered lobbyist.