Dear Friends:
A vibrant workforce is critical to sustaining and growing South Carolina's economy. We must ensure the tools and resources needed to succeed are ready and available to all South Carolinians.
Preparing SC's Workforce
Since before being elected, my #1 priority has been Jobs, Jobs, Jobs.
Traditionally, the American dream centered on getting a job, buying a house, and raising a family. A vibrant workforce is critical to sustaining and growing our State economy. We must prepare future generations for whichever career path they choose.
Another leap forward came Wednesday when my colleagues and I voted to invest in education, and workforce development that will provide the tools and resources to get people jobs and help students, parents, and job seekers make informed career choices.
The Statewide Education and Workforce Development Act (H.3726) helps job seekers identify employment opportunities so they can get a job more easily by coupling workforce training with services to assist those struggling to overcome employment barriers. It also provides for broader dissemination of information to help students, parents, and job seekers make career choices.
This bill aims to eliminate duplication among state agencies, improve efficiencies, and achieve a more coordinated approach in our workforce and education pipeline. It also provides for broader dissemination of information to help students, parents, and job seekers make career choices.
Grand Slam!
In last week's newsletter, I announced that Volkswagen's new U.S. subsidiary had chosen SC to make its home. This economic win is not only a Grand Slam — it's more like a Grand Slam in the bottom of the 9th in the 7th game of the World Series. 
Scout Motors chose SC over 74 sites around the nation. The 7th largest company in the world is putting its experience, investment, and growth potential into the soil of SC. Scout's CEO said the three main factors were SC's infrastructure, workforce, and a state and county "Ready to do business."
This is Huge: Volkswagen's commitment is massive: $2 billion, 4,000 jobs, and 200,000 American-made vehicles a year. And that's the minimum commitment. It is also anticipated that Phase II on the site will bring to SC another VW brand for another $2 billion and 4,000 more jobs. Scout's average pay will be $98 thousand for salaried employees and $58 thousand for hourly employees. 
A study by USC expects the economic impact from the Scout auto plant will be a whopping $15.3 billion by 2029.
Economic Incentives: As with any significant economic investment, governments at both the county and state levels are partnering to make the investment a reality. This week, the House of Representatives approved $1.29 billion, mainly dedicated to permanent infrastructure investments in the Blythewood area where the plant will be located. That includes the construction of a new I-77 interchange, area road improvements to mitigate traffic problems for Blythewood residents, construction of a railroad bridge over I-77, water and wastewater infrastructure, and mass grading and wetlands mitigation.
The state will not borrow money to provide these incentives. With $2.4 billion funds on hand, it is reasonable and responsible to spend roughly half on such a transformational project that will bring economic growth and prosperity and have an economic impact throughout the entire state for generations.
Objections: For the naysayers who believe government incentives are corporate handouts, be reminded that for SC to eliminate economic incentives, every city, county, and state would have to cease offering similar incentives. I prefer we didn't have to provide incentives, but incentives are the "coin of the realm" to lure big businesses and the jobs they bring. Nearly all the incentives go toward permanent infrastructure, not corporate pockets. Additionally, incentives are coupled with clawbacks – if the company doesn't deliver on its promises, they pay back the state.
Hate Crime Bill Passes (Again)
The House of Representatives passed a bipartisan hate crimes bill by a vote of 84-31 and sent it to the Senate as they did last session. In 2021, a similar version of the bill passed by a wide margin in the House. If the bill were to become law eventually, it would leave Wyoming as the only state not to have a hate crime law. The legislation (H.3014) has widespread support from the state's civil rights organizations and the business community.
The uber-right so-called "House Freedom Caucus" put up nearly 20 amendments to derail or water down the bill, but all were rejected. Rep. Richie Yow, R-Chesterfield, himself a genuine conservative, said the Freedom Caucus' amendments "make a mockery" of a serious bill meant to help people.
Fake News: I never cease to be amazed by how false rumors are so quickly believed. Some believe this hate crime bill will cause pastors to be prosecuted if they say hateful stuff from the pulpit, or citizens would be arrested for a hate crime that someone would label hate speech on social media. All false.
The Truth: Under the legislation, a person must be found guilty of a violent crime before the hate crime penalty can even be considered. Specifically, if a judge or a jury determines the evidence shows the person convicted of a violent crime targeted their victim based on race, color, religion, sex, gender, sexual orientation, national origin, physical or mental disability, the violent criminal could be sentenced to up to an additional five years or fined up to $10,000.
The legislation's fate rests once again with the Senate.
LEGISLATIVE BRIEFS
School Safety Center
The House took a major step to protect our public schools by establishing the Center for School Safety and Targeted Violence (H.3360) within the SC Law Enforcement Division (SLED).  The center, to be housed in a former Lexington County school, will provide extensive training, education, and expertise in school safety and targeted violence to law enforcement, teachers, school administrators, bus drivers, and other school personnel, along with parents and the public. Twenty other states have similar training centers.
Noncertified Teachers
The Senate passed legislation creating the Noncertified Teacher Pilot Program. The bill (S.124) would allow schools to hire noncertified teachers with subject matter expertise. Noncertified teachers could not account for more than 10% of the teaching faculty. The House will consider the bill.
Stipends for Education Majors
To encourage high school and college students to pursue teaching as a career, the Senate unanimously passed The Scholarship Stipend Bill (S.125). The legislation would grant additional scholarship stipends of up to $2,500 per year for Life Scholarship recipients and up to $3,000 per year for Palmetto Fellows Scholarship recipients pursuing education majors at four-year colleges and universities.
First Steps Renewal
The Senate passed a bill (S.123) to make the First Steps to School Readiness program permanent. The program started more than 20 years ago, intending to ensure that children are ready to start learning when they begin first grade. The legislation that created First Steps contained a sunset provision to ensure the legislature regularly reviewed the program's progress. The program has largely been a success.
Streamlining DOT Contract Process
The House unanimously passed S.361, a bill to remove the requirement for preapproval of construction contract extensions by the DOT Commission. Instead, it would require the Commission to ratify any construction contract extensions at their next meeting. This will help streamline the DOT contract process on essential infrastructure projects around our state.
New Employment Leader
Gov. Henry McMaster has tapped William Floyd to be the next Director of the SC Department of Workforce and Employment (DEW). Floyd has spent 35 years as a labor lawyer and has been DEW's Chief of Staff. He succeeds retiring director Daniel Ellzey.
Next Up, The State Budget
Next week, the House of Representatives will debate next year's state budget. This initial budget proposal totals nearly $14 billion and serves as a starting point before sending it to the Senate. Although our time on the floor will be long and likely extend into the evenings, I look forward to passing a budget that helps move South Carolina forward and remain a great state to live, work, and raise a family.
PHOTOS OF THE WEEK
OK, I confess, I did not walk the Appalachian Trail. However, I joined part of our family in thoroughly enjoying a hike on a state park mountain trail in Pickens County this past weekend. It's time to get outside and enjoy all that SC has to offer, from the mountains to the beaches and everything in between.
Want to Know More?
Do you want to learn more about my positions, bill sponsorships, voting record, and past writings? Here are some handy links:
I'm Available & AT YOUR SERVICE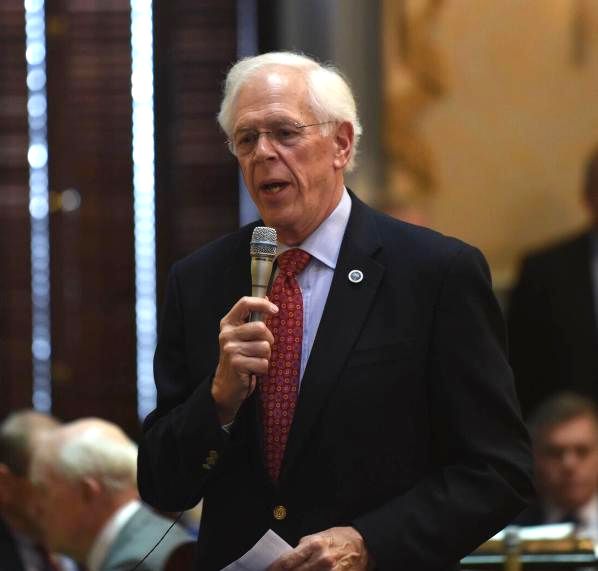 It is my honor to be of service. Please do not hesitate to contact me if you need assistance navigating state government or have any thoughts or concerns about the legislature.
In Your Service,
Email: Bill@taylorschouse.com
www.TaylorSCHouse.com  
Newsletter not paid using taxpayer funds.   
Legal Notice: This newsletter is not a solicitation for contributions to any SC registered lobbyist.