Dear Friends:
Public service is a noble calling. Regrettably, not all political motivations can be considered noble.
Such is the case with the 'South Carolina Pre-Natal Equal Protection Act' (H.3549). This bill garnered state and national notoriety this week, heaping embarrassment on SC.
Under the bill, an abortion could be punished like any murder, leading to sentences of 30 years in prison up to the death penalty. The bill explicitly exempts from prosecution a woman who receives an abortion if "she was compelled to do so by the threat of imminent death or great bodily injury."
The legislation was pre-filed in December and cosponsored by most SC House Freedom Caucus members. It seems reporters just discovered it, and admittedly, the headline makes for great clickbait online.
Simultaneously, the Human Life Protection Act (H.3774) was also pre-filed in December. It quickly moved through committee to the House floor, and last month it passed 83-31. While banning abortions at conception, it allowed exceptions to save the mother's life or prevent serious, lifelong health problems. It also enabled abortions if the fetus isn't expected to survive outside the womb or in cases where the pregnancy results from rape or incest, though only through the first trimester.
During the February debate, many right-wing hardliners tried numerous attempts to amend the bill to criminalize women who have an abortion and physicians who perform abortions while stripping out the exemptions in the legislation. Fortunately, sensible legislators rejected those attempts.
I'm sorry SC's reputation has been tarnished in this week's state and national headlines. Thank goodness cooler heads remain the majority among House Republicans to block victimizing or scaring women in difficult personal circumstances. 
The good news is that their extreme legislation that could punish women will never get out of the starting gate. The House has already passed a more tolerant bill and sent it to the Senate.
(Learn more about the SC Freedom Caucus: Statehouse Report)
Proposed State Budget Brings Needed Pay Raises
This week saw Round #1 of the state budget receive approval. After a couple of long days of debate on the House floor, the $13.8 billion general fund budget passed on a vote of 108-11.
The 2023-2024 state budget focuses on reducing taxes and increasing reserves, investing in roads and bridges, recruiting and retaining teachers and law enforcement professionals, and workforce preparedness through education and job training initiatives.
"This state budget is not a spending plan; it's an investment plan in our people and their livelihood," said Bruce Bannister, Chairman House Ways & Means Committee (R-Greenville). He added, "I'm proud of our commitment to cutting taxes, investing in our infrastructure, and supporting law enforcement and teachers."
Teacher Pay Hike
Starting salaries for teachers' pay would increase under the House budget. The minimum wage for teachers would increase by $2,500, bringing the state starting pay to $42,500. Each cell in the teacher salary schedule, which pays teachers based on their years of experience and education level, also would increase by $2,500. 
The House budget reflects Gov. McMaster's initiative to annually increase teacher pay to bring beginning teachers to a starting salary of $50,000 by 2026 to help address the growing teacher shortage,
For many years we have heard complaints that South Carolina's public schools (K-12) have been underfunded. I trust this graphic will dispel that unfounded notion.
Increased Pay for State Employees
In the largest proposed raise in state history, state employees earning less than $83,000 would receive a $2,500 raise. Those earning more than $83,000 will receive a 3% raise. For those earning less than $83,000 a year, the percentage raise is larger to help them deal with the impact of inflation. (Note: Many state employees are in the low pay range. For someone earning $35,000, this proposed pay hike would be more than 7%.)
State employees on the state health plan also won't see a health care premium increase because the state would pay $121 million toward the premium hike under the budget plan.
Critical Need Positions Targeted
Like private sector businesses, state government finds recruiting and retaining employees difficult. That's why law enforcement, corrections officers, nurses, and mental health professionals employed by the state also
will be in line for recruitment and retention raises.
Under a plan approved by the House, the minimum pay for certified officers – those with full arresting powers – would range from $50,000 to $58,000, depending on the agency. Prison officers would start at $41,000 at minimum-security facilities and $51,000 at maximum-security lockups.
Last year's pay raises for law enforcement were transformative. Legislators are already hearing that people in law enforcement officers in the Northeast are eager to come to SC – to move somewhere that cares about the blue.
School Safety
This budget fully funds having at least one School Safety Resource Officer in EVERY school in SC. That means the funds are being provided to hire 188 new SROs. Given the craziness of a few people, we must protect our youngest and most vulnerable.
Fixing Roads & Bridges
House members also approved spending $200 million to accelerate bridge repair work in the state
Department of Transportation's 10-year plan. Fixing roads is also a top priority. Again, this year it's proposed more money be sent directly to each county to ensure secondary roads get the attention they deserve. Additionally, SCDOT is being given more money for litter pick-up on the Interstates. That program, which was started last year, has improved Interstate beautification.
Higher Ed Tuition Freeze
The House approved spending $69 million to freeze tuition rates for in-state students at the state's colleges and universities and an additional $15 million for a tuition freeze at the state's technical colleges. Also approved were an additional $280 million for LIFE, HOPE, and Palmetto Family Fellows scholarships and $100 million for workforce development scholarships through the state's technical colleges.
SC State University
During the budget debate, I took to the podium to applaud the 'Great Reset' accomplished by the leadership of SC State University. This HBCU was in the ditch in 2017 because of mismanagement that resulted in plummeting enrollment. It got a $6 million bailout loan from the state. The legislature fired the Board of Trustees and installed a new board and leadership. It worked! SC State has paid back much of the loan and is on a sound financial footing with $40 million in its reserve account. Parents and potential students recognize the success — more than 10,000 students have applied to be freshmen, up from 3,000 last year.
Spending Wisely
"This budget is fiscally conservative and focuses on the key functions of government," said House Majority Leader Davey Hiott (R-Pickens). "House Republicans are committed to ensuring taxpayer dollars are spent wisely and in a way that directly impacts South Carolinians, and we believe this budget will accomplish just that."
The proposed budget that passed the House is a critical first step. It was sent to the Senate Wednesday, where they will adjust spending priorities. Eventually, a conference committee will work out differences between the House and Senate versions.
Learn More: If you want to learn how this budget reduces taxes and puts $1 billion into the state's savings' piggy bank' and many other budget issues, check out this visual presentation – INSERT LINK.
Scout's Investment in SC
This week, I voted in favor of the economic incentive package that will bring Scout Motors to our state. On Monday. this joint resolution will be signed into law by Gov. McMaster. Passing this legislation will ensure the site, infrastructure, and workforce are ready for Scout Motors in 2026 when production begins. Scout Motors, a US vehicle manufacturer backed by Volkswagen, is establishing its first manufacturing plant in Blythewood.
The economic impact of Scout Motors is estimated to be $15.3 billion by 2029, with a start of a $4 billion investment and 8,000 jobs over two phases. SC will invest $1.291 billion in the following: 
Construction of a new I-77 interchange, a railroad bridge over I-77, water and wastewater infrastructure, and mass grading and wetlands mitigation.
Acquire property to connect to the Class I rail mainline.
Build a training center publicly owned by Midlands Technical College to train South Carolinians for employment with Scout Motors.
Hot Water for State Comptroller
There are calls at the Statehouse for State Comptroller General Richard Eckstrom to resign following the release of a report this week accusing him of fumbling the state's finances through a $3.5 billion reporting
error. The 80-page document blasts Eckstrom for confused testimony contradicting documents a Senate subcommittee obtained and his efforts to deflect blame onto other state agencies, auditors, and the state treasurer.
Eckstrom's problems began when he informed a Senate Committee in February of a computer coding error that caused the state's Annual Comprehensive Financial Report to double-count money flowing to the state's colleges and universities to the tune of $3.5 billion.
The House sent Eckstrom a political message this week. During the budget debate, his salary of $150,000 was reduced to $1 a year.
Eckstrom, a Republican first elected in 2002, says he has no plans to resign.
House is Taking a Break
The SC House of Representatives is taking its annual post-budget week furlough. We won't be at the Statehouse next week. Legislators are part-time, so many will return to their regular jobs next week after spending three days a week in Columbia since early January. Others will be spending time with family (that's me). The House of Representatives reconvenes on March 28th.
PHOTOS OF THE WEEK
I hope you are celebrating St. Patrick's Day with appropriate merriment. I tipped my cap (not my glass) to our littlest Leprechaun, grandson Heath, who is 21 months old and a delight.
Want to Know More?
Do you want to learn more about my positions, bill sponsorships, voting record, and past writings? Here are some handy links:
I'm Available & AT YOUR SERVICE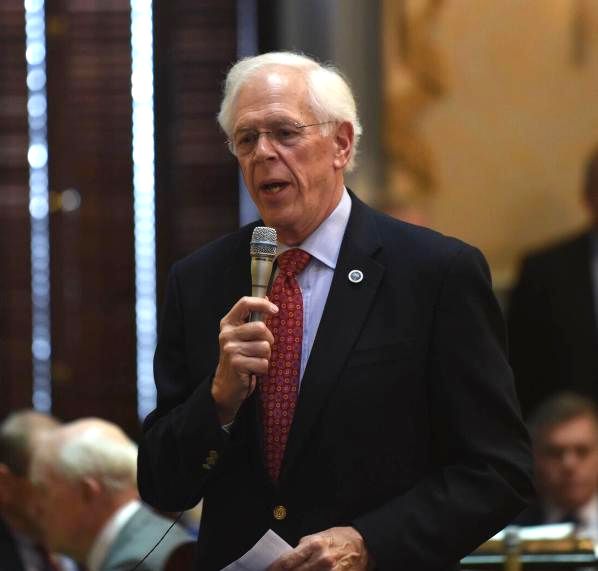 It is my honor to be of service. Please do not hesitate to contact me if you need assistance navigating state government or have any thoughts or concerns about the legislature.
In Your Service,
Email: Bill@taylorschouse.com
www.TaylorSCHouse.com  
Newsletter not paid using taxpayer funds.   
Legal Notice: This newsletter is not a solicitation for contributions to any SC registered lobbyist.