Dear Friends:
If you buy into so-called "news" reports and the statistics peddled by the gun-grabbing crowd, America has returned to the Wild West. Sensational headlines are intended to make you believe mass shootings occur weekly. It's not true.
Since there is no agreed-upon definition of mass shootings, the anti-gunners distort reality with their wide-ranging definition of four or more people being shot, even if no one was killed. Their definition makes the number of "mass shootings" a weekly occurrence (think Chicago and Baltimore every weekend). Using the more accurate FBI statistics from 2020, 40 people died in mass shootings that year.
Strengthening Your Second Amendment Rights 
Regardless of who is keeping score, there are real threats to your safety. That's why the SC House of Representatives voted overwhelmingly this week to strengthen your 2nd Amendment rights declaring that lawful firearms owners have the Constitutional right to carry their firearms anywhere openly or concealed without a state permit.
This bill restores a fundamental and inalienable constitutional right and gives SC citizens more options to protect themselves and their families, all while keeping firearms out of the hands of criminals. Law-abiding citizens should not need a permission slip from the government to exercise their Second Amendment right.
The 90-30 vote brings us one step closer to joining 25 other states with some form of so-called "Constitutional Carry" laws. This legislation ensures anyone who can lawfully own a firearm has the right to carry it openly or concealed, with limited restrictions.
Crackdown on Crime: This legislation (H.3594) was developed with the help of SC's top law enforcement officials to make it tougher on felons who carry guns. For any felon charged with unlawfully carrying a firearm, first-time violators could face up to 5 years in jail, second-time offenders would face 5 to 20 years, and third-time or more violators would face 10 to 30 years in prison. Concealed weapons permits (CWPs) remain in place, so those with a CWP can carry concealed weapons in other states where permitted.
Restrictions: The measure restricts people from bringing guns into detention centers, courthouses, polling places, government offices, school athletic events, schools, religious sanctuaries, and doctor's offices, among other locations. On-duty law enforcement, Armed Forces, National Guard, state militia, judiciary members, public defenders, and county clerks are exempt from those restrictions.
Reality Check: You may not know that SC has long been an open-carry state allowing long guns to be carried
openly. Then last year, the legislature passed the 2nd Amendment Sanctuary State legislation that allowed those South Carolinians with a CWP to carry their weapon openly. How many of those people have you encountered with a gun visible? I have heard from many who favor Constitutional Carry. Most aren't looking to strap on a six-shooter; they simply want their rights guaranteed in the Second Amendment. They want the government to abide by that amendment.
The Future: The Constitutional Carry bill heads to the Senate, where it has died every legislative session. Maybe this time, it will be different now that it is armed with a tough-on-crime element favored by law enforcement.
BUDGET PREVIEW
The House Ways & Means Committee wrapped up weeks of hearings and approved the preliminary 2023-24 state budget. This initial budget proposal (nearly $14 billion) is a starting point. The House will debate it the week of March 13 before sending it to the Senate.  Top budget highlights:
Public Education K-12
$590 million of additional money goes to K-12 public schools.
$2,500 minimum salary increase for teachers at all levels.
$42,500 will be the salary for beginning teachers (a 33% increase over the past five years).
$27 million more for school resource officers to keep students safe.
$17 million to attract school bus drivers to fill vacancies.
Public Higher Education
$69 million in tuition mitigation to freeze tuition prices (a 25% increase over this year).
Fully funding LIFE, HOPE, Palmetto Fellows Scholarships, and lottery tuition assistance.
$176 million to fund maintenance and renovations at the comprehensive colleges.
$130 million to fund maintenance and renovations at the technical colleges.
$100 million for SC WINS scholarships for technical colleges for critical workforce needs.
State Employees
$332 million additional investments in state employees.
$2,500 salary increase for all state employees (this would amount to a 6% pay raise for a person making $40,000/year).
$120 million to cover increased costs of health insurance.
Saving For That Rainy Day
$1 BILLION to the general & capital rainy day funds.
Bond Reform
This crack-down-on-crime legislation is much needed in stopping the turnstile of letting criminals back on the street just after they are arrested again. The House Judiciary Committee approved legislation (H.3532) to impose a mandatory five-year jail term for anyone out on a pretrial bond or other pretrial releases who commits additional violent offenses, including rape, domestic violence, strong arm robbery, weapons offenses, or using a weapon to commit these types of crimes. While serving this sentence, offenders would not be eligible for good-time credits, parole, work release, or extended work release. The will debate this bill next week.
LEGISLATIVE BRIEFS
Alternative School Choice: Concerned that the Education Savings Account (ESA) legislation that recently passed the Senate may not survive a court challenge, a Senate committee passed alternative legislation this week. Senators voted 16-4 for a bill that allows up to $55 million in tax credits to help parents pay for private K-12 tuition. Opponents of the ESA bill say tax credits are a much better alternative since it doesn't involve taking money out of public coffers for private education. Instead, donors would get a tax credit for giving to a nonprofit that doles out scholarships, so the state never collects the money.
Death Penalty:  The Senate passed on Wednesday a law (S.120) shielding the identity of pharmaceutical companies providing lethal injection drugs for state executions. This is a step toward resuming capital punishment in SC, which has gone nearly 12 years without administering the death penalty. The state has been unable to purchase the drugs necessary for lethal injection since the last batch expired in 2013. Officials have primarily blamed the inability to replenish the supply because of the lack of a so-called "shield law." Pharmaceutical companies fear public pressure from activists and will not sell to states that do not conceal their identities. Wednesday's vote was bipartisan, 39-5.
Gold Alert: The House approved H.3340, Gold Alerts, and sent it to the Senate. This proposal would add anyone with an autism spectrum disorder or another developmental disability diagnosis to the list of people eligible for inclusion in the State Law Enforcement Division's Endangered Person Notification System (i.e., Amber Alert).
Carolina Squat: A ban on the low-riding Carolina Squat cleared the SC Senate 39-2. The measure would restrict a vehicle's back-to-front height difference to four inches — with fines of between $100 and $300 for violators. Chronic offenders could even have their licenses revoked. Those vehicles are illegal in North Carolina and Virginia.
Yankee Tax: By some statistics, SC is the fourth fastest-growing state. With out-of-staters streaming in, legislation is making its way through the Senate to have new arrivals pay more for their new Palmetto State driver's licenses and plates to help pay for road improvements. The proposal (S.208) would allow counties to impose an extra $250 driver's license fee and an additional $250 vehicle licensing and registration fee on out-of-state newcomers. The fee hike would need to be approved in a county referendum put on the ballot by petition or by an ordinance of the local county council.
School Board Transparency: The Senate approved a bill (S.134) to ensure that school board meetings are open to the public and made available by live stream, except during executive sessions. If a live stream option is unavailable, a clear audio and video recording of the meeting shall be made available no more than two days after the meeting.
Boat/Watercraft Insurance: The Senate passed S.33, a bill requiring boats of more than 70 hp and jet skis to have liability insurance with at least $50,000 of coverage per occurrence. That is the same insurance requirement for automobiles.
Boating Safety Education: The Senate passed S.96, requiring all persons born after July 1, 2007, to complete a boater education safety course before operating a vessel of more than ten hp. The bill includes exceptions if other qualified persons are on the boat. The House will now consider the bill.
Costly Fees: SC's local governments collected over $125.1 million in fines and fees in 2020. That's according to a new Reason Foundation of Local Government Finances analysis. The amount equals $24.46 per resident. New York topped the list, collecting $69.60 per resident. The national average was $27 per resident, according to the analysis. SC had the 14th highest ranking among states collecting the most fees from citizens. G.A. was the third highest.
PHOTOS OF THE WEEK
Welcome to the Statehouse! Wednesday was the annual FFA Day at the Capitol. My friend, Ag teacher and FFA Advisor, Michael Crim, brought his FFA students from Ridge Spring-Monetta High School to the Capitol. The future of farming is in their capable hands.
Want to Know More?
Do you want to learn more about my positions, bill sponsorships, voting record, and past writings? Here are some handy links:
I'm Available & AT YOUR SERVICE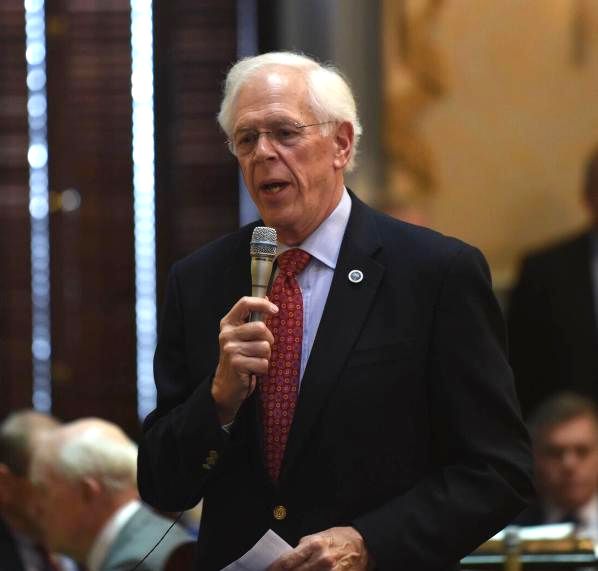 It is my honor to be of service. Please do not hesitate to contact me if you need assistance navigating state government or have any thoughts or concerns about the legislature.
In Your Service,
Email: Bill@taylorschouse.com
www.TaylorSCHouse.com  
Newsletter not paid using taxpayer funds.   
Legal Notice: This newsletter is not a solicitation for contributions to any SC registered lobbyist.