August 30, 2022
Dear Friends:
Today is far from business as usual; it is an extraordinary week at the South Carolina Statehouse. The South Carolina General Assembly is one of the first legislatures to debate restrictions on abortion since the U.S. Supreme Court's decision on Roe v. Wade. I head to Columbia this morning, knowing the eyes of America will be focused on our deliberations thanks to a national media circus that is expected to report our debate.  
The Facts
The Supreme Court's ruling (Dobbs v. Jackson's Women) didn't eliminate the imaginary Constitutional right to abortion. In the Dobbs case, Justices abided by the Constitution and returned decision-making to the states. Each state can decide the best approach for its citizens, which is a victory for the concept of federalism, balancing states' rightful authority versus the federal government.
National Developments
Nationally, both pro-life and pro-choice activists have hardened their battle lines. Liberals and Progressives in the U.S. House of Representatives have passed two bills to ensure access to abortion in every state, invalidating various state restrictions, including those in South Carolina. Ardent pro-life advocates would ideally have all fifty states ban abortion entirely from coast-to-coast. Those two views are center stage right here in South Carolina.
S.C. Legal Challenges
Debating abortion is a ritual of every legislative session in recent decades. In February 2021, the General Assembly took a giant leap in restricting abortions by passing the Fetal Heartbeat Act. It allows abortion until the fetal heartbeat is detected, often around six weeks, replacing the state's previous law that allowed abortions up to twenty weeks.
The Fetal Heartbeat Act allows exceptions for rape, incest, the mother's life, and the fetus's fatal anomaly. Enforcement of the Heartbeat law was delayed for more than a year because of legal challenges by abortion advocates. Following the Roe decision in June, that lawsuit was dismissed. A month later, Planned Parenthood was back in court, challenging the six-week ban citing violations against the state's constitutional right to privacy, equal protection, and due process. Again, the courts have put the Heartbeat law into temporary limbo, making the previous twenty-week abortion ban the current law.
Are you confused yet? Add this to the legal agenda – the State Supreme Court has agreed to hear challenges to the Fetal Heartbeat law, which throws much uncertainty into our current debate.
Statehouse Debate
In recent weeks, three House committees have approved proposed legislation (H.5399) that further restricts abortions in the Palmetto State.
As written, the bill we are debating outlaws nearly all abortions performed in South Carolina, only keeping the exception for the life and health of the mother, such as a miscarriage, molar pregnancy, etc. It does not seek to restrict in vitro fertilization or contraceptives and does not criminalize people for getting an abortion. It does, however, include criminal penalties for those who perform illegal abortions. Proponents say they seek to end abortion as birth control.
Typically, bills are amended and fine-tuned during the committee process, but not this time. Legislators who are proponents and opponents of this legislation are arming themselves with hundreds of amendments to improve, curtail or derail the bill during the debate by the full House this week.
Complex, Not Simple
Most elected officials are political ideologues by necessity. They are elected by people who most likely agree with the politician's views. That's reality. Political activists are ideologues because they have a keen interest in issues, and their voices are often the loudest. It's estimated that only about 20-25% of Americans are highly driven partisans on both sides of the political spectrum.
Politics do not consume most Americans and South Carolinians. That does not mean they are clueless; far from it. Most know and have opinions on critical issues. They are real people who are pragmatic and focused on living their lives, caring for their families, or just surviving the current economic onslaught. If we dig deep into their collective psyche, we will likely find they are not nearly as divided as activists and politicians. They want politicians on both sides to find workable and acceptable solutions to critical issues and challenges. That takes compromise.
By an overwhelming margin, real people want legislation restricting abortions to include exceptions. Foremost, they want the mother's life protected. They care deeply about the health of women. They also want exceptions for victims of rape, incest, and fatal fetal anomalies. They also know restricting abortions brings many other problems to the forefront. They support streamlining the expensive adoption process, so unwanted babies find a good and permanent home. They also favor the funding of contraception to increase birth control and avoid unintended pregnancies.
The legislation before us has consequences impacting the lives and the futures of citizens and their families. Consider that many of our rural counties don't have a baby doctor. Will a more stringent abortion ban cause OB-GYN doctors to flee South Carolina? Will it signal to doctors considering moving to our state that our laws put them in the crosshairs of being criminal when they exercise their medical judgment? Is the state government prepared to further fund prenatal care for those who can't afford it? South Carolina's foster care program is lacking. Are we dedicated to fixing that? A better question is – why haven't we? 
The practice of medicine is complex and highly individualized. We are each unique and experience complications because our bodies present differently. Can any abortion legislation anticipate the myriad decisions health care professionals make daily or in an emergency?
We are legislators, not doctors. Do we know enough? I think not. Have we fixed the things that need fixing before increasing the difficulty of seeking an abortion? The answer is no.
Final Thoughts…
Last month, I wrote that I'm a father and grandfather and treasure God's amazing gift of life. I readily accept the label pro-life. I co-sponsored and voted for the Fetal Heartbeat bill.
In my view, this week's debate is premature. We would better serve citizens by determining our Heartbeat law's full ramifications and the potential problems it creates (when it's reinstated). That will take time. We also need to examine what happens in other states that have enacted laws restricting abortions. There is much to learn.
We might learn a lesson from Kansas, a politically red state. Earlier this month, Kansas voters took advantage of a ballot referendum that conservative activists pushed to open the way to a total abortion ban. Kansas voters rejected that proposition by a surprisingly large margin.
It is a political minefield. The impact of ideologues on this week's abortion debate is evident. Those seeking to ban abortions in South Carolina hold bedrock beliefs and stand firmly on their religious, political, or ideological views. I pray that common sense and compromise will descend on our debate and that legislators will fully consider the voices of all citizens, not just those yelling the loudest.  
You still can influence this Statehouse debate. Tap your computer or Smartphone (https://www.scstatehouse.gov) and send a message to your legislator, letting them know where you stand on this issue. It's not too late to be heard.
PHOTO OF THE WEEK
I was happy to join Windsor Volunteer Firefighters in a patriotic celebration hoisting the U.S. and an S.C. flag, both of which had flown over the State House. The flags now proudly fly from the flagpole in front of the fire station.
Want to Know More?
Do you want to learn more about my positions, bill sponsorships, voting record, and past writings? Here are some handy links:
I'm Available and AT YOUR SERVICE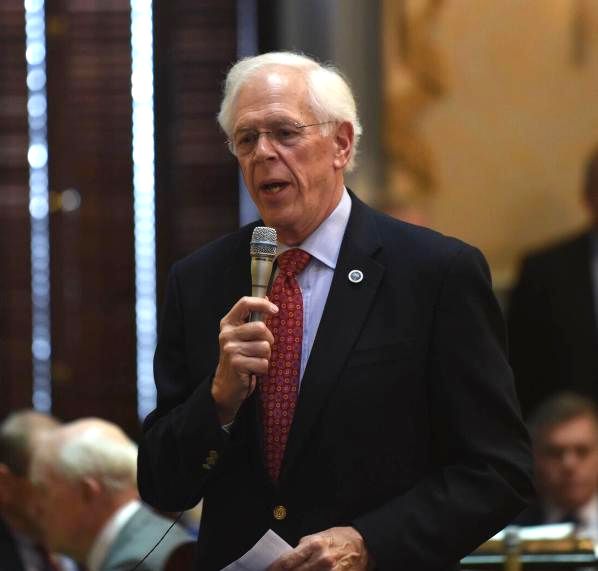 It is my honor to be of service. If you need assistance during these trying times, navigating state government, or have any thoughts or concerns about the legislature, please do not hesitate to contact me. 
In Your Service,
Email: Bill@taylorschouse.com
www.TaylorSCHouse.com  
Newsletter not paid using taxpayer funds.   
Legal Notice: This newsletter is not a solicitation for contributions to any SC registered lobbyist.