Dear Friends:
Welcome to the political silly season. That's the time just before an election when undeliverable promises and wild accusations become the order of the day. That's not new. What is different about this silly season and those in recent elections is the angry political tribalism being fueled by political campaigns, national media, talk show hosts, pundits, and citizens whose keyboard bravery is sometimes spouting vitriol on social media.
Americans Are Hurting
The political silly season doesn't mean we shouldn't take issues seriously – we must do so very seriously.
America is confronted with overwhelming challenges. We have the highest inflation rate in 40 years. We all have sticker shock in the grocery store and everywhere else as our buying power shrinks dramatically. Interest rates are skyrocketing. Our savings are disappearing as we are forced to spend more. The stock market falters, and our retirement savings evaporate. Our open border allows millions of illegals to flood our country and tap into our social welfare system. The energy independence we experienced two years ago has burned up, and we now plead with our enemies for help. The federal government continues to spend money it doesn't have. It seems the political elites aim to direct our lives, run up the country's debt, and stick us, our children, and our grandchildren with the bill.
Who's at Fault?
Everyone wants to blame someone else for our nation's troubles. (Spoiler Alert – in some way, we are all to blame.)
Before I address the fault issue, Tony Woodlief, the author of I CITIZEN – A Blueprint for Reclaiming American Self-Governance, offers some encouragement:
"The American system of governance has mostly worked because Americans have largely enjoyed peace, rising prosperity, and justice for generations. For all its faults, America has been a good place to live."
He writes, "A majority of Americans are not avid partisans as we have been led to believe. Most Americans are neither highly ideological nor fervently partisan. Dedicated partisans, possessing the strongest interest in politics and the greatest certainty that they are right, are the ones we most often hear from. There is a depressing level of hatred expressed between people who know nothing about one another except their party allegiance. There has been a collapse of tolerance for members of opposing political parties. Political tribalism leads to unclear thoughts, hateful words, and sometimes bad actions. These folks are a small minority but have outsized influence."
Woodlief estimates that only about 20% of the population is caught up in the red state versus blue state nonsense.
In my view, Democrats and Republicans, who we send to represent us in "The Imperial City" (Washington D.C.), are most culpable because they are at war with each other, ignoring our real problems as they play political games.
"Ideology requires battle lines and purity of purpose," Woodlief says. Adding "Political elites on the left and right believe themselves to be in an existential battle. They are locked in a battle for power."
Americans Desires
Woodlief provides hope from the loud and distracting political noise. Here is his assessment of the majority's desires, the everyday Americans who are not part of the 20% of the loudest and brashest political voices.
"Most Americans believe they should do what works for their communities and families. They believe in pursuing the common good, and they share some decent ideas about what that is. They don't want to upend society in pursuit of utopian visions. They value rights and freedoms but also believe in using the government to care for the vulnerable and needy. They favor free enterprise and believe in pursuing the American dream, yet they distrust big business. Most of them also distrust big government. They are patriotic but wary of warmongering. They believe in God but don't need their neighbors to believe in him the same way they do."
Woodlief stresses that most citizens want to compromise. He writes, "A majority of Americans are united not just by values, but a desire to see politicians compromise to solve problems. Unlike partisans and the political class, most Americans care more about consensus than getting every one of our favored policies implemented. They want to work together, get along, and reach a consensus".
Seeking Compromise
Seeking political compromise isn't only needed in Washington D.C.; it is much needed at the South Carolina Statehouse.
Today, the House of Representatives reconvenes to consider the Pro-Life legislation that started in the House last
month. Senators could not get enough votes to support the original bill that called for a near-total abortion ban. Instead, they tweaked the House bill by limiting abortions after a fetal heartbeat is detected (around six weeks). That's nearly identical to the Heartbeat bill passed last year. A ruling on its legality is expected after a review by our State Supreme Court.
The Senate strengthened the current Heartbeat law by keeping exceptions for the mother's life but limiting abortions for sexual assault and incest while limiting the time to 12 weeks. It also added an exception for fetal heartbeat anomaly or if the fetus would be unable to survive outside the mother's womb.
Today's Battlelines
Today's political battlelines in the House debate are pitting Republicans against each other. The hardline members of the GOP Family Caucus and the new Freedom Caucus have stated they only want a total abortion ban and say they will not concur with the Senate's version. They will be joining Democrats with their vote. That likely kills the bill because Senators are saying they won't return to consider it if it is sent back to them in a different form. If the House Republicans could come together, compromise, and agree to concur, the improved abortion bill would go to Gov. McMaster, who has said he would sign it.
Risky Ramifications
I respect my colleague's determination. I, too, am pro-life, but I am also a realist. In a representative form of government, accomplishing goals is often incremental and takes a majority of votes to attain them. Their refusal to compromise means our State Supreme Court could soon strike down our Heartbeat Law. That would make South Carolina an abortion-on-demand state. It is unimaginable that South Carolina could become a mecca of abortions among southern states. It could happen. By not compromising and agreeing with the Senate version of the bill, my colleagues are absolutists (they insist on their way only). That means they are likely punting the ball to five Supreme Court Justices, where just one vote can make all the difference.
The Last Word
I conclude with a final word from author Tony Woodlief: "A spirit of compromise, a pragmatic mindset, and instinct to live and let live are abundant in Middle America, but these qualities have disappeared from the American political class and its partisans. In politics, there is simply no middle ground."
What a shame our nation's political state has fallen to this level.
PHOTO OF THE WEEK
We celebrated New Ellenton's 70th anniversary when I presented City Council members with a Resolution passed by the S.C. House of Representatives honoring the city's milestone. The Resolution cited the Atomic City Festival, to be held October 7-8, that celebrates the creation of New Ellenton seven decades ago, when the federal government relocated the Town of Ellenton to its new site to construct the Savannah River Site.
Want to Know More?
Do you want to learn more about my positions, bill sponsorships, voting record, and past writings? Here are some handy links:
I'm Available and AT YOUR SERVICE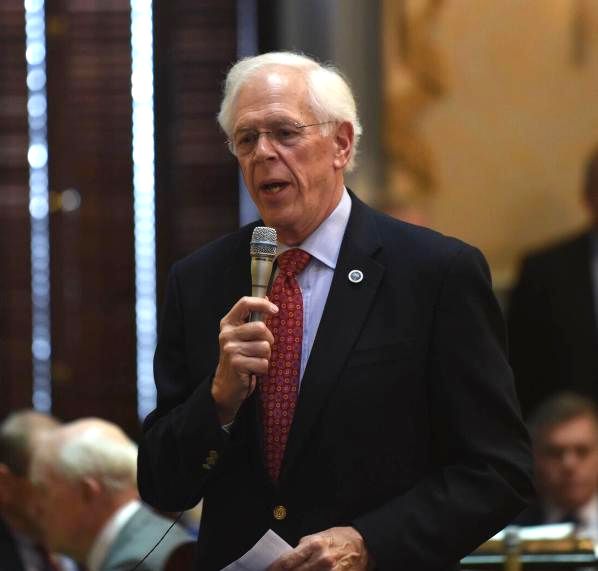 It is my honor to be of service. If you need assistance during these trying times, navigating state government, or have any thoughts or concerns about the legislature, please do not hesitate to contact me. 
In Your Service,
Email: Bill@taylorschouse.com
www.TaylorSCHouse.com  
Newsletter not paid using taxpayer funds.   
Legal Notice: This newsletter is not a solicitation for contributions to any SC registered lobbyist.