Dear Friends:
There is hope for America. I saw it first-hand.
At the Convention of States National Leadership Summit in Orlando this month, I was one of only three legislators among hundreds of dedicated, grassroots citizen-patriots from every state leading the national battle to reclaim liberty.
S.C.'s Success Story
I was invited to share with these citizen leaders the story of South Carolina's nine-year successful effort to join a Convention of States (CoS) to rein in our out-of-control, bloated, and overreaching federal government. South Carolina is the latest state to pass legislation. We are the 19th in the thirty-four states needed to call a convention to propose amendments to the Constitution that would put the brakes on Washington DC by limiting their power over our lives.
South Carolina is pivotal in the initiative because Washington will never fix itself. It is up to the states to use Article V of the Constitution – a gift from our founding fathers for a time like this.
Levin on Our National Crisis
Famed radio and T.V. commentator Mark Levin told the CoS gathering that there's only one movement standing up to the destruction of America, and that's the Convention of States.


"We're losing our country to people who don't even believe in the Constitution. We're sliding into the abyss and being attacked from within by those who don't believe in individual liberty," said Levin.
He listed a litany of ongoing destructive actions: "American history is being rewritten, the family structure is being attacked, they're destroying our colleges and universities, they're destroying our public schools, they destroyed the southern border, they're destroying our currency and economy, they're destroying our military, and they've destroyed police forces across the country."
Levin added, "We don't need lectures from them about us destroying anything. We are the ones who want to uplift this country and believe in this nation."
Ballot Box Challenge
Not everyone is inclined to be on the political battlefield as a grassroots activist or an elected official. The next best action for every American is voting. It is the easiest way to have your voice heard.
The ballot box is waiting for you right now. South Carolina's new in-person, early voting system was created by the General Assembly earlier this year. There are two weeks of voting before General Election Day, ending Saturday, November 5. You can choose between voting at the County Government Center or in North Augusta in Aiken County.
Voter Apathy
We live in the greatest nation in the world, with freedom and rights that surpass every other country. Excuse a bit of sarcasm when I state we must be the envy of the world because millions of criminal invaders are pouring over our southern border to get here. Yet, with all our blessings, many Americans fail to exercise their right (obligation) to vote. The following statistics illustrate voter apathy:
Only 63% of eligible Americans are registered to vote. That means more than one-third don't even bother to register to vote.
Typically, 58% of registered voters show up to vote in a Presidential Election.
That results in slightly more than 30% of all eligible Americans voting in a Presidential Election.
It's worse in mid-term elections, where only about 41% of registered voters vote. That means it only takes 21% of registered voters pick the winner.
It is much worse in Primary Elections – 15% vote (both parties).
America's Largest Voting Block
The late Rev. Billy Graham was asked what individuals can do when they feel helpless amid a national crisis and want to do something but don't want to get involved in politics.
Rev. Graham's response: "I do not believe that we as Americans and Christians should withdraw. We need men and women of integrity and Christian commitment no matter which political party you belong to."
Rev. Graham was right. Regrettably, many Christians don't heed his advice. Here are the sad statistics provided by FAITHWINS:
It's estimated more than 82 million Christians are in the pews on Sunday.
Of the 80 million, only about 30 million VOTE – that's 36%!
40-50 million Christians DON'T vote!
Worse, it is estimated that about half of people claiming to be Christians aren't registered to vote.
People of FAITH would be the largest voting block ever assembled in America if they voted. Imagine if all people of Faith voted on Election Day and voted for the individual who best reflects Christian values.
The folks at FAITHWINS.org write, "The real battlefield for Christians is government. It is not the homeless issue. It is not a school issue. It is not godless entertainment or fake news. These issues and more are all being manipulated by anti-Christian, man-made laws we are forced to obey."
FAITHWINS continues, "Politics is not a dirty word. The definition of politics is governmental authority over a land. It deals with elections and laws that determine how we live. Christians are God's political first responders. The only thing standing in the way of the end of our nation is believers doing little to nothing."
If people of Faith don't step up and get involved – who will?  Show up and let your values be your guide.
Vote YES on Constitutional Amendments
I conclude with my strong endorsement of the two Constitutional Amendments you will find on your S.C. ballot.
The proposals would increase how much the state contributes to its "rainy-day" accounts, more technically known as the General Reserve Fund and Capital Reserve Fund. The former would be raised from 5% to 7%, and the latter increased from 2% to 3%, based on the previous year's revenue.
It seems as if ballot amendments are written to be confusing. That's unfortunate because people who don't understand ballot questions tend to vote no. These proposed amendments were supported nearly unanimously by both Democrats and Republicans in the General Assembly.
With an economic recession upon us, South Carolina's next rainy day could be right around the corner. Now more than ever, this is the time to boost our state's reserves and prepare for whatever storm may come.
Vote YES, and you are telling the S.C. state government to save more and spend less.
OCTOBER PHOTOS
Want to Know More?
Do you want to learn more about my positions, bill sponsorships, voting record, and past writings? Here are some handy links:
I'm Available & AT YOUR SERVICE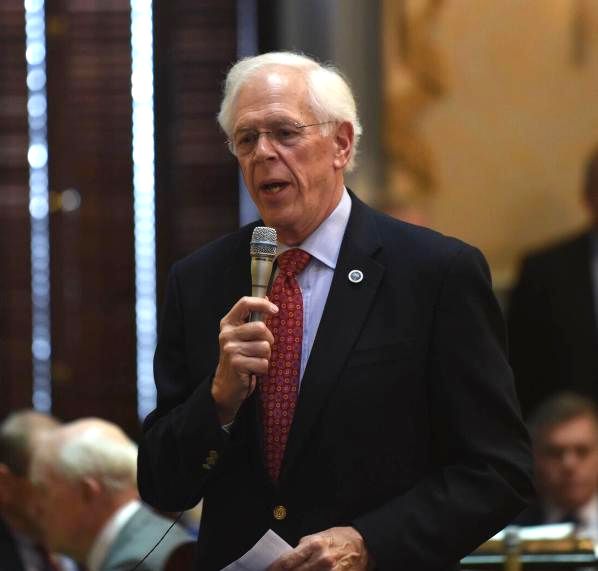 It is my honor to be of service. If you need assistance during these trying times, navigating state government, or have any thoughts or concerns about the legislature, please do not hesitate to contact me. 
In Your Service,
Email: Bill@taylorschouse.com
www.TaylorSCHouse.com  
Newsletter not paid using taxpayer funds.   
Legal Notice: This newsletter is not a solicitation for contributions to any SC registered lobbyist.