Dear Friends:
I'm reluctant to flip open a dictionary to read the definition of 'dysfunctional.' I fear it might provide this type of example of how the word is used: "Americans are frustrated with their dysfunctional federal government." For most of us, that sentence rings true.
'The Cure' Wins Final Vote
This week, the S.C. House took the final vote to pass the Article V Convention of States (CoS) Resolution by approving Senate amendments to H.3205. The vote was 64-48. That makes our legislature the 19th to call for a Convention of States to propose restrictions on federal overreach (34 states are needed).
While Article V of the U.S. Constitution does not require CoS applications to be signed by the governor, our state constitution requires the governor's signature for all Joint Resolutions. (Aiken Standard)
South Carolina Patriots
50,000 South Carolinians have registered their support for CoS. Led by citizen activists, these grassroots volunteers have worked tirelessly for eight years to reach this milestone. They are a testament to the hard work and patriotism of South Carolinians. They've packed hearing rooms. They've organized statehouse rallies. They've called, emailed, and met with legislators, and they've done it all while facing serious opposition. But they never gave up! They continued to push for passage of the Resolution. Their victory shows what can happen when 'We the People' stand up and demand liberty.
As the primary sponsor and champion of this legislation, it has been my privilege to work arm-in-arm with these patriots day after day. Please take a moment to watch this short video that shares their experience.
House to Debate CRT
After three lengthy public hearings over many weeks, the House Education Committee has crafted legislation intended to keep the teaching of Critical Race Theory (CRT) out of the curriculum of our state's public schools. The committee combined elements of the five bills they had been considering into one committee bill (Bill Summary) and sent it to the House floor, where it will be debated next week. The legislation calls for transparency and integrity in our education system where students, parents, educators, and the community are valued and included. It also calls for instruction to be non-biased and provide a broad scope of history.
Women in Sports
Hopefully, the third time will bring success. After failing to move forward twice last year, legislation to ban transgender students from playing girls' and women's sports in S.C.'s public high schools and colleges will be the first bill considered by the House next week. The 'Save Women's Sports Act' (H.4608) requires athletes to compete with the gender listed on their birth certificates. About a dozen states have already passed similar legislation. The Senate is moving forward with its version of the bill.
Medical Marijuana
The "Compassionate Care Act," which would legalize the use of medical marijuana in S.C., will be the center of a public hearing by a House committee Monday morning. The legislation (S.150) has already passed the Senate. If it becomes law, those who suffer from specific medical conditions would be able to access specific forms of marijuana only through a licensed doctor in person. No smoking of "joints' – patients would only have access to a two-week supply of marijuana in the form of oils, vaporizers, salves, lotions, creams, and patches — at specific pharmacies. 
Senate Passes School Choice
This week, the S.C. Senate passed legislation that allows some poorer or disabled students to use taxpayer money to attend a public school outside their district or a private school. The 25-15 vote demonstrates the time has come for S.C. to finally join the school choice movement that is sweeping the nation. Parents want education choices that best meet the learning needs of their children. The bill (S.935) provides parents with $6,000 yearly, with a total cap of $90 million once fully implemented. Beyond tuition, the money could also go toward textbooks, materials, education services, or equipment for disabled students. This initial program is limited to families with low incomes. The school choice debate moves to the House, where it is likely to win approval.
Education Funding
The perennial claim from many public education advocates is that schools are underfunded in S.C. They cite a funding formula set by the legislature in the 70s. That antiquated funding formula doesn't consider the many funding streams that have been added over the decades resulting in mounds of money being sent to public schools with little to no improvement in student achievement. The legislature is simplifying the funding formula to provide more transparency. The far-reaching improvements in the funding system will make it simpler, and more accountable, so there is a better understanding of where tax dollars are going. The state budget, starting July 1, currently calls for boosting teachers' minimum salary by $4,000.
Education Report
SC's Education Oversight Committee (EOC) released its Annual Report for legislators this week. It provides some sobering statistics. (Full Report) Highlights:
Only about 4 in 10 students in grades 3-8 met the standards in math and ELA in 2021.
Nearly 1/3 of students are scoring at the Does Not Meet Level, which is approximately two years below standard.
Math proficiency was more negatively impacted by COVID-19 disruptions than ELA proficiency.
Less than 2 in 10 Black/African American students in grades 3-8 met math standards in 2021.
ELA student performance did fall after COVID-19 disruptions, but not to historical lows.
Significant achievement gaps continue to be present in both ELA and Math
Money for VFD's
Most S.C. volunteer fire departments scrape by financially. Local fundraisers augment the meager funding most receive. The state's V-Safe grant program has helped them buy expensive fire safety equipment. However, that program has significant limitations. A House committee on which I serve voted Thursday to expand the program so the volunteer fire departments would receive annual funding they could count on. I asked three fire chiefs in House District 86 to review the legislation in advance to advise me. They enthusiastically supported the changes. For interested firefighters, here is the legislation. (V-Safe Bill)

Honoring the Success of the Steeplechase Foundation
Last weekend, the 55th Running of the Aiken Spring Steeplechase began with a presentation of a Resolution from the S.C. General Assembly. I presented the Resolution on behalf of the Aiken legislative Delegation to celebrate the opening the new Steeplechase venue east of Aiken. Thousands were on hand to enjoy the races and celebrate the new venue.
PHOTO OF THE WEEK
After a two-year hiatus, thousands celebrated at the NEW Steeplechase venue to watch HORSES FLY!
Want to Know More?
Want to learn more about me, my positions, bill sponsorships, voting record, and past writings? Here are some handy links:
I'm Available and AT YOUR SERVICE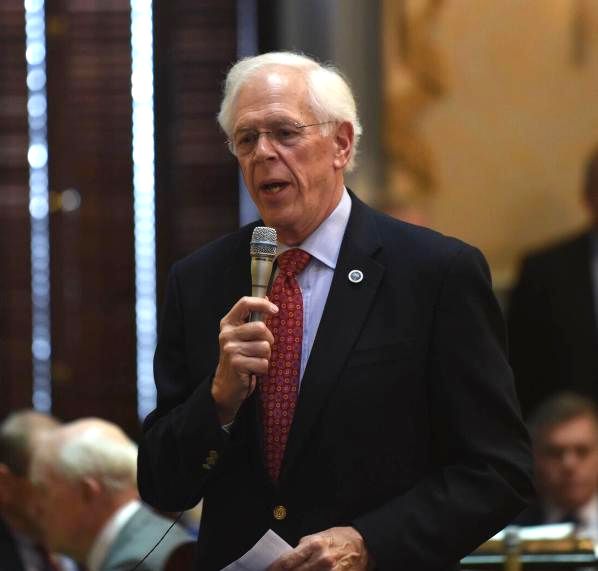 It is my honor to be of service. If you need assistance during these trying times, navigating state government, or have any thoughts or concerns about the legislature, please do not hesitate to contact me. 
In Your Service,
Bill Taylor
Representative
South Carolina General Assembly
Email: Bill@taylorschouse.com
www.TaylorSCHouse.com  
Newsletter not paid using taxpayer funds.   
Legal Notice: This newsletter is not a solicitation for contributions to any SC registered lobbyist.