Dear Friends:
Erika Wimmer was a longtime elementary school teacher in West Virginia. I met her last week in Dallas while attending a legislative conference. Erika's compelling story is worth sharing.
As a union teacher, Erika joined her striking colleagues on the picket line in 2018, shutting down that state's schools while demanding more pay. But, when West Virginia legislators approved their universal parental choice program last year, Erika rethought her beliefs in opposing education choices.
It was personal. Erika's son, Vonn, a first grader, had spent a year across the hall from her classroom, where his teacher frequently called out his name for misbehavior. Vonn is hyperactive, like a lot of boys. Erika recognized that the highly structured public school and its traditional environment did not fit Vonn's learning style.
Erika quit her teaching job and took the plunge into becoming an education entrepreneur. She launched a 'micro-school' in her hometown of Princeton. The micro-school is a larger version of a home school with 10-12 students. It uses a holistic, integrated educational approach, allowing each student to learn in their own way. It is housed at the nearby community center with a gymnasium and playground — an excellent environment for kids.
Erika's passion for helping kids learn wouldn't have taken the next step if West Virginia had not passed the Hope Scholarship (a near-universal education savings account – ESAs). West Virginia's Hope Scholarship is currently at $4,500, about 34 percent of the value of total current public school per-student spending in that state.
The battle for education freedom in West Virginia was long and hard-fought. West Virginia went from virtually no education freedom in early 2019 to having charter schools, open enrollment, learning pods, and micro-schools. The dramatic change brings new opportunities for children in a state that has historically underserved its children in the education system, bringing them limited options for economic advancement in adulthood.
Can S.C. Be Like West Virginia?
Does West Virginia's story sound like South Carolina's? We share a similar history of underserving children. We also share the long, hard-fought battle for choice. But West Virginia streaked by us in one swoop with universal ESAs.
To South Carolina's credit, school choice arrived with a robust charter school system. There is also limited choice for students to move in-district within some public schools. In 2014, the legislature launched a tax credit scholarship program to aid students with disabilities from low-income households. ExceptionalSC is a high-demand program providing scholarships for students with exceptional needs to attend an approved independent school that best meets their needs.
After years of failed attempts, the General Assembly approved ESAs funded at $6,000 per scholarship. Current spending shows our state's average per-student public school revenue is $16,702. An ESA scholarship amounts to about 35 percent of that total.
The program rolls out next year – the 2024-25 school year. It starts small with only 5,000 students, expanding to 15,000 over three years, a mere .02% of our state's public school students. The program comes with economic limitations. The first year is restricted to students from households earning 200% or less of the federal poverty limit, expanding to 400% or less of the federal poverty level in the third year.
Qualifying expenses for ESAs include tuition and fees of an education service provider; textbooks, curriculum, or other instructional materials; tutoring services, computer hardware or other technological devices; tuition and fees for an approved nonpublic online education service provider or course; educational services and therapies for students with disabilities; tutoring from a public school district; up to $750 for transportation associated with services from an eligible provider; and any other educational expense approved by the S.C. Department of Education. 
Unlike West Virginia, South Carolina has only dipped its toe in the pool of educational freedom. Our plunge into school choice through ESAs is a modest pilot program. While I prefer to be bold like West Virginia, I believe our legislature's conservative approach to school choice is timid and cautious, although it is a step in the right direction.
Education Choice is Sweeping the Nation
West Virginia isn't the sole superstar in advancing educational freedom. It has recently been joined by Arizona, Arkansas, Florida, Iowa, Utah, and North Carolina in expanding to universal choice – no restrictions on who qualifies. Currently, thirty-five states offer some school choice options.
Last week, Texas Governor Greg Abbott said his long-awaited special session on "school choice" will start next month, promising political consequences for lawmakers who oppose his priority legislation. Abbott entered this year more determined than ever to pass school choice.
The Power of Choice
Starting when kids are born, parents choose nearly everything for their children – their clothes, food, medical needs, toys, playmates, etc. Even in their kids' teenage years, parents have a lot to say about what is best for their children.
Yet, some educational elites think they know best. That was most evident during the pandemic when school
lockouts caused parents to focus more on what their kids were learning. Many didn't like what they discovered and expressed their displeasure. That didn't sit well with some school boards and educators who made clear that parents had no rights and schools could teach what they thought was best and not even disclose the curriculum to parents. Confrontations ensued, and the U.S. Justice Department publicly labeled parents demanding answers as "domestic terrorists."
That kind of thinking is unfathomable. Taxpayers fund public schools to provide a service. Parents are among those who elect school boards and expect a voice in their child's education.
Parents know their children better than anyone; every parent knows each child is unique and learns differently from their siblings. Those individual needs must be met to educate students to be successful adults.
The Paradigm Shift
Education freedom, like ESAs, empowers families to customize the education for each unique child. The goal is for children to learn, not record seat time in a large, traditional classroom setting. Ongoing national polling shows 70% of Americans support ESAs, while only 10% are opposed.
These ESA laws mark the start of a significant shift in how K-12 education in America is funded and delivered. The new policies that favor education freedom are partly a mind shift. Since the 1800s, policymakers have primarily chosen to put the needs of the K-12 system above those of individual students in a drive for efficiency, consistency, and uniformity. The result is a factory model where children and teachers are too often treated as widgets and where nearly one-third of children are failing to learn how to read a basic, grade-level text.
The chief objection to school choice claims it robs public schools of funding. That's nonsense.
ESA recipients receive only a tiny fraction of what South Carolina as a state invests in public education. Public schools still get all local tax funding and federal dollars not necessarily tied to enrollment. That means they have fewer students to serve but more money to spend on those in their classrooms. Nationwide, tax dollars spent on school choice programs is just over 1 percent of what is spent on public school systems.
In the program's first year, the all-in cost will be $30 million, a new appropriation that does not pull out any existing public education budget — the state's combined public education revenue totals nearly $12 billion.
Opponents also fear that educational choice will see hordes of students abandoning their public schools. The foremost question is: why would parents seek to move their child if their school is excelling?
Alarmists exaggerate the student loss to public schools. America's most successful ESA programs have only attracted slightly more than 2 percent of eligible students by the fifth year.
The story of West Virginia teacher Erika Wimmer serves as a reminder that public school isn't for every child. Still, every child deserves an excellent education that best meets their needs.
Learn More
To learn more about S.C.'s ESAs, visit https://www.ed.sc.gov/newsroom/strategic-engagement/education-scholarship-trust-fund-program/
Around House District 86
Work & Study Help Offered by USCA
The goal of a college education is to finish and get a degree. The second objective is to have that education launch a great career. USC-Aiken just announced an initiative to help students with those goals. USC-Aiken students who obtain internships and co-ops that support high-demand industries in the state are eligible to receive financial assistance through the South Carolina Internship Program.
Students can receive $3,000 if they are working to complete an internship or co-op opportunity in-person at a South Carolina employer in the Fall of 2023, Spring 2024, or Summer 2024 semester. The opportunities must support manufacturing, aerospace, automotive, energy, health and life sciences, or financial services. Awards are provided on a first-come, first-served basis. (Learn More)
JOBS: Working Together Helps Students
Aiken Tech and USC-Aiken have established a partnership to enhance the region's workforce in high-demand career fields. Leaders of the two institutions signed a Memorandum of Understanding that promotes and facilitates the transfer of academic credit from Aiken Tech to USC-Aiken for students pursuing bachelor's degrees in STEM and other in-demand areas.
Aiken Tech students will have the opportunity to earn their associate degree at Aiken Tech, then receive accelerated admission to transfer those credits into six available USC-Aiken programs to earn their bachelor's degree. (Learn More)
Game Day at SC State
Donna and I were warmly welcomed to our first football game at SC State this past weekend. It was great fun! We were hosted by our friend, and Aiken County resident, Doug Gantt, Chairman, of SC State's Board of Trustees. Condolences to our friends and Citadel fans — Citadel fell to the Bulldogs 31-10.
Friday Night Lights in Wagener
The Wagener-Salley War Eagles are in a building mode after losing 11 seniors from last year's squad. Last Friday night, they lost to Blackville-Hilda in a conference matchup. Halftime was very special — it was military appreciation night and an opportunity for me to thank Major Hixon, the new leader of WSHS' JROTC program.
Aiken's 9-11 Walk
Earlier this month Aiken County first responders and others gathered at O'Dell
Weeks this morning for the Heroes Remembered Walk. My wife, Donna, and I, along with our "puppy" Hunter, joined the walk. The focus was on the emergency responders lost on 9-11. It has been 22 years since terrorists took down the Twin Towers. Addressing the walkers, I reminded them how easily memories fade, and many in our younger generation aren't taught about this terror attack on our homeland. Remember & Teach!
Saluting an Admiral
Aiken County will miss a dedicated civic champion. Admiral Dean Sackett (USN-Ret.) and his wife, Marilyn, are moving from Aiken to Richmond, Virginia, to be closer to family. Adm. Sackett was recognized for his more than 40 years of service to the Salvation Army Advisory Board. He told us fellow board members, "It was a most difficult decision because of their love of Aiken." Adm. Sackett has been an impactful leader in service to Aiken County over many decades.
Want to Know More?
Do you want to learn more about my positions, bill sponsorships, voting record, and past writings? Here are some handy links:
PICTURE OF THE WEEK

There's nothing quite like unconditional love!
Meet "Hunter"
I'm Available & AT YOUR SERVICE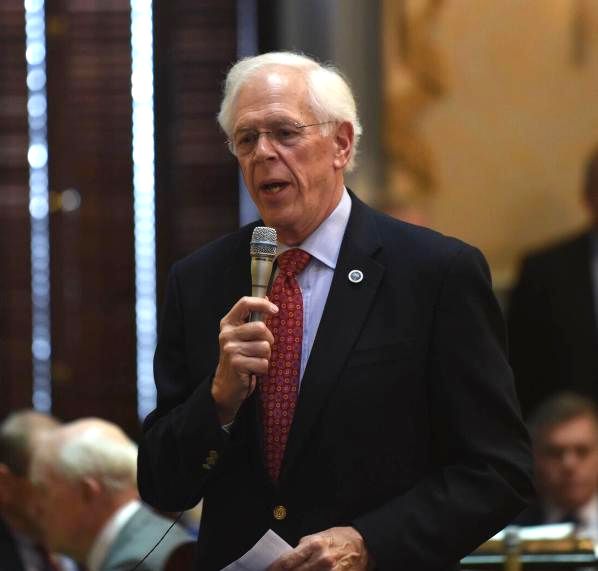 It is my honor to be of service. Please do not hesitate to contact me if you need assistance navigating state government or have any thoughts or concerns about the legislature.
In Your Service,
Email: Bill@taylorschouse.com
www.TaylorSCHouse.com  
Newsletter not paid using taxpayer funds.   
Legal Notice: This newsletter is not a solicitation for contributions to any SC registered lobbyist.