Dear Friends:
For those on the frontlines fighting for the sanctity of life, the State Supreme Court delivered a decision today that certifies South Carolina as one of the most pro-life states in America.
Hearing a Heartbeat
The State Supreme Court ruled 4-to-1 that the SC's 'Fetal Heartbeat and Protection from Abortion Act' is Constitutional. It lifted its ban, allowing the law to go into effect immediately.
The law bans abortions after about six weeks when a baby's heartbeat is detected. The fetal heartbeat law provides exceptions for rape or incest victims through 12 weeks. It allows abortion to prevent the mother's death or lifelong health problems or when doctors diagnose fatal fetal anomalies.
Shortly after the decision was handed down, the Aiken Standard asked for my response:
"I applaud the wisdom of the Supreme Court for its historic ruling that will save countless lives in the years to come. It is my long-held belief that the lives of the unborn deserve our protection. While I believe life begins at conception, the Fetal Heartbeat law is a political compromise supported by a vast number of South Carolinians." — Rep. Bill Taylor
Others heralded the court's decision:
"The Supreme Court's ruling marks a historic moment in our state's history and is the culmination of years of hard work and determination by so many in our state to ensure that the sanctity of life is protected. With this victory, we protect the lives of countless unborn children and reaffirm." – Gov. Henry McMaster
"Today's ruling from the SC Supreme Court is a monumental win for the right to life. I commend the South Carolina General Assembly for ensuring the passage of a Constitutionally sound bill that will stop the killing of babies once a heartbeat is detected. I'm grateful for all the South Carolinians who devoted years of work that culminated with this ruling to save innumerable lives from the ruthless practice of abortion." – Congressman Jeff Duncan
Court Reverses Previous Ruling
This is the second time this year the state Supreme Court ruled on an abortion law. In January, the court tossed out the original Heartbeat bill because three of the Justices found it unconstitutional. They claimed the law violated the state constitution's guarantee against unreasonable invasions of privacy. 
Following January's court decision, the General Assembly took its cue from the Justice's objections and redesigned the 2023 legislation with tweaks to address the court's concerns. That included deleting conflicting language in the law on women's right to an "informed choice."
Justice John Kittredge, writing for the majority, stressed the decision hinged on a single word: "unreasonable." 
"To be sure, the 2023 act infringes on a woman's right of privacy and bodily autonomy," wrote Kittredge. Adding, "But determining what's reasonable or unreasonable as a matter of policy is up to the Legislature, not the court," he wrote. 
"The Legislature has found that the state has a compelling interest in protecting the lives of unborn children," wrote Kittredge. "That finding is indisputable and one we must respect. 
"It would be a rogue imposition of will by the judiciary for us to say that the Legislature's determination is unreasonable as a matter of law," wrote Kittredge.
Justice John Few, who called the last law unconstitutional, flipped his vote, though he wrote a separate opinion on why. Few said the rewritten law fixed his issues. The most significant change, he wrote, was the promotion of "active family planning" by requiring all insurance companies to cover contraceptives. He also noted that post-sex emergency contraceptives such as Plan B remain legal. 
Abortions Immediately Curtailed
Planned Parenthood confirmed that women scheduled to have an abortion Wednesday at its Columbia clinic were sent home after the ruling. The abortion provider says it is trying to help women with canceled appointments get a new appointment out of state. Planned Parenthood says its doors will remain open and continue to provide abortion care under the new restrictions.  
South Carolina had been the least restrictive state in the Southeast outside Virginia. While awaiting today's Supreme Court decision, abortions remained legal in SC through 5½ months of pregnancy. The number of abortions nearly doubled this year as women came to SC from other states.
HOUSE DISTRICT 86 NEWS
N-I-M-B-Y!
The term "NIMBY" – Not in My Backyard – was justifiably center stage Tuesday evening during the Aiken County Legislative Delegation meeting.
The marathon four-hour session was held at USC-Aiken's Etherredge Center, a venue large enough to accommodate the hundreds of citizens who came to protest Central Electric Power Cooperative's plan to construct large transmission lines between Windsor and New Ellenton starting in 2025.
Chris Ware, Central's Vice President of Engineering, provided an overview of the project and answered pointed questions from Sen. Tom Young and me, who represent the area where the utility lines will be erected. The session was live-streamed on YouTube. (Central's presentation begins at 1:30 – an hour and 30 minutes – into the video and runs for 1 hour.)
Central has proposed various paths for the electrical towers. Residents are concerned that the power lines will
dissect or be adjacent to equestrian neighborhoods, destroy property values, expose humans, horses, and livestock to EMF, etc. There are several upscale equestrian communities potentially impacted.
To the cheers and applause of the audience, legislators grilled Central's spokesperson on the thoroughness of selecting the proposed routes and why existing utility rights-of-way were not part of the plan. He stressed the importance of affordability for coop members. I told him I was more concerned with the potential of millions of dollars lost in devalued properties.
Good News
Central is listening. At the urging of legislators, Central will conduct another Open House to take input from residents. That Open House will be on September 11, 4-to-7 p.m., at Cedar Creek Church on Banks Mill Road. Central will continue to hear from residents. Send your comments directly to Central at this link. That page also provides maps and information on the project.
I am confident that Central, working with Aiken Electric Coop, will find a path for the transmission lines that will have the least impact on residents. Stay tuned.
PICTURE OF THE WEEK
You will soon be seeing these new signs along SC Interstate highways. Legislators have asked SCDOT for better signage to get the left-lane drivers to move over. The bigger signs have a fluorescent top, making them more noticeable to traffic. Now, it's up to law enforcement to cite violators. The fine is $25.
Want to Know More?
Do you want to learn more about my positions, bill sponsorships, voting record, and past writings? Here are some handy links:
I'm Available & AT YOUR SERVICE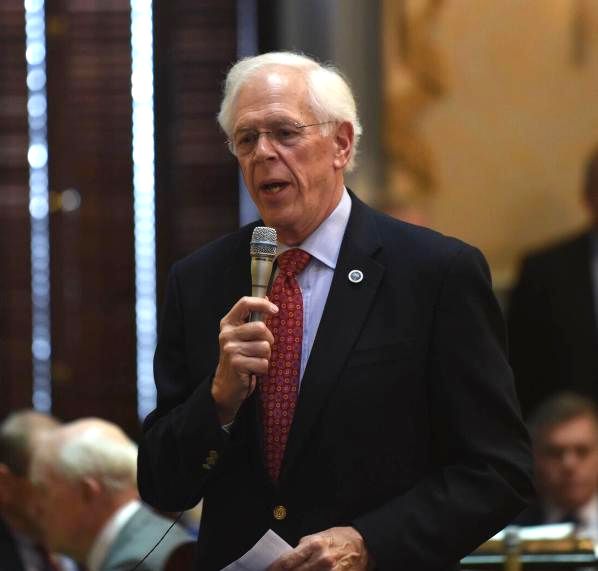 It is my honor to be of service. Please do not hesitate to contact me if you need assistance navigating state government or have any thoughts or concerns about the legislature.
In Your Service,
Email: Bill@taylorschouse.com
www.TaylorSCHouse.com  
Newsletter not paid using taxpayer funds.   
Legal Notice: This newsletter is not a solicitation for contributions to any SC registered lobbyist.