Dear Friends:
The 124th session of the SC General Assembly got underway with Representatives taking the oath of office. As we prepare to convene next month for the new two-year session, legislators have been busy proposing bills. Everyone has ideas for good laws (and not-so-good laws). Truthfully, most bills won't be heard, and if they are, they must run through the rigorous legislative gauntlet and be signed into law by the Governor.
In the last session, 1318 substantive bills were introduced; 187 were enacted (81% originated in the House). That's a mere 14% signed into law. During the past two weeks, 952 bills were filed. Which ones will cross the finish line remains to be seen.

I'VE BEEN BUSY
Here's a summary of my new legislative filings. If you would like more information concerning any of the filings, click this Statehouse link, (www.scstatehouse.gov) and search Bill Number.
HANG UP & DRIVE! Distracted driving is an epidemic, and innocent victims are being injured and dying. Some drivers feel it's more important to be "connected" through their cell phones rather than keeping their eyes on the road. The "S.C. Hands-Free Act" (H.3360) is similar to laws passed in 24 other states (including Georgia). It requires drivers not to hold their cell phones; however, they can talk or text with verbal commands. The proposed violation is $500 and 2 points.
SAVING AMERICA: Building on the momentum from the last session, the Article V Convention of States (CoS) legislation has a strong possibility of finally winning passage this session. SC would join 15 other states in calling a convention of states to propose amendments to the US Constitution, placing restraints on the out-of-control federal government. This pre-filed bill (H.3205) has 44 House sponsors, including Speaker Lucas and Speaker Pro Tem Pope.
EMERGENCY POWERS: The pandemic brought Executive Orders declaring a State of Emergency in SC. Unlike the more short-term emergency orders during weather events, the Governor needed to renew the pandemic State of Emergency every 15 days as it expired. Many believe such decisions should involve more than one person. My bill (H.3556) requires a Governor to seek approval from the General Assembly every 30 days before a State of Emergency is renewed.
LEGISLATURE DURING A CRISIS: The State Constitution requires the General Assembly to meet in-person at the Statehouse. But what happens during a crisis or when it's impossible to convene in Columbia? My proposed Constitutional Amendment (H.3486) would allow the legislature to convene using remote and virtual technology in the event of war, social unrest, epidemics, pandemics, natural disasters, or at times when it is unsafe to meet in person.
PROTECTING HISTORY & HERITAGE: The cancel culture must not be allowed to erase our history. It's smarter if we learn from history, both the good and the bad. H.3249 is my effort to protect SC's historical monuments. If a local government removes a monument, they will pay the price – the State would withhold their local government funding. This legislation is part of a trio of bills to preserve the American story by preserving historical monuments, restoring history education in our schools, and protecting historical plaques and monuments' integrity.
PROTECTING 2ND AMENDMENT: South Carolina is far different from New York. NY has passed legislation trying to shut down gun manufactures. One approach is to compel banks and financial institutions not to do business with the gun makers. My legislation (H.3506) for SC makes it unlawful for a financial institution or a government entity to discriminate against firearm manufactures or retailers of firearms. Multiple gun makers have announced plans to move out of NY; at least one is coming to SC.
NEEDED HEALTHCARE COMPETITION: SC is one of 34 states that requires healthcare providers to get a 'Certificate of Need' if they want to build, relocate, expand, or purchase expensive equipment. Experts say CON laws are an outdated mechanism that far too often devolves into crony capitalism and indulge certain providers with special treatment over the good of the market. CON's can make healthcare more costly for consumers. H.3161 does away with SC's CON, as Florida did recently. Many other states have been trying to eliminate CON's but face fierce opposition from those providers who already have theirs.
ELIMINATING BALLOT CONFUSION: While voting, have you noticed that a candidate for office can appear on the ballot multiple times under the names of different political parties? It's called fusion voting. It's a throwback to the 19th century, and only eight states, including SC, allow it. H.3206 eliminates fusion voting.
HELPING ALL STUDENTS: A provision in SC's Constitution prohibits direct funding of religious and private schools. It's often referred to as a "Blaine Amendment," named after a failed amendment to the U.S. Constitution in 1875 that sought to block government funding from going directly to support Roman Catholic schools. For decades thereafter, many states adopted their own versions of the "Blaine Amendment." These laws were born in bigotry and have often been interpreted (wrongly) by some courts to prevent the expansion of wildly successful school choice programs. A majority of citizens nationwide and in The Palmetto State favor educational choice because most parents know what's best for their child. The conservatives on the U.S. Supreme Court have all but declared war on these anti-Christian Blaine Amendments in some outstanding decisions handed down recently, but H.3498 removes any doubt in South Carolina by affirmatively deleting a perceived obstacle to treating all kids fairly.
YOUR RIGHT TO KNOW: I fought for seven years to improve SC's Freedom of Information Act to provide more government transparency for citizens and cap costs, making it easier and cheaper to learn what government at every level is doing. One critical portion of that new law was stripped from the bill, but I'm trying again. H 3254 establishes the 'Office of Freedom of Information Act Review.' It serves as an easy, one-stop court for all FOI disputes.
JOINING FORCES WITH OTHER LEGISLATORS
I have also teamed up with my colleagues in sponsoring these newly filed bills: VOLUNTARY VACCINES: With concerns that the Biden Administration may require people to take the COID-19 vaccination, H.3217 allows people to opt-out of vaccinations for infectious or contagious diseases for any reason.
COMPASSIONATE CARE ACT: Medical marijuana is legal in 33 states, but not SC. This is not recreational marijuana; a physician would write prescriptions to relieve pain and suffer, something a majority of Americans favor in poll after poll. The proposed legislation (H.3361) is one of the most restrictive in America.
THE SOUTH CAROLINA STANDS FOR LIFE ACT: This legislation (H.3163) requires testing for a fetal heartbeat before an abortion is performed on a pregnant woman and prohibits abortion when a fetal heartbeat is detected.
OPEN CARRY WITH TRAINING ACT: With 55 Republican co-sponsors, this legislation should have an easy path to passage in the House. H.3094 allows citizens with a concealed weapons permit (CWP) to openly and conceal their handguns.
EQUINE INDUSTRY STUDY COMMITTEE: Horses are big business in Aiken County and elsewhere in SC. Statewide it is nearly a $2 billion industry employing more than 28,000 people. This legislation (H 3071) forms a study committee to recommend ways to grow the equine industry.
CANDIDATE FILING: Most candidates for public office pay a filing fee to get on the ballot. However, current law doesn't require candidates from minor political parties to pay a fee, giving them a free ride and not paying their fair share of election expenses like other candidates. H.3262 would require all candidates to pay a filing fee.
NAME YOUR POLITICAL PARTY: SC has open primary elections allowing crossover voting. This legislation (H.3265) provides for voluntary self-identification of political party affiliation (Republican, Democrat, Independent, or other). Self-identifying party affiliation does not restrict a voter's ability to vote in any primary election.
AND FINALLY…This newsletter is just a recap of my proposed legislation. In the weeks and months to come, I'll be writing to keep you up to date on these and other legislative bills as they progress through the legislature. In the meantime, I wish you a very Merry Christmas, and may your New Year be brighter.
I'm Available and AT YOUR SERVICE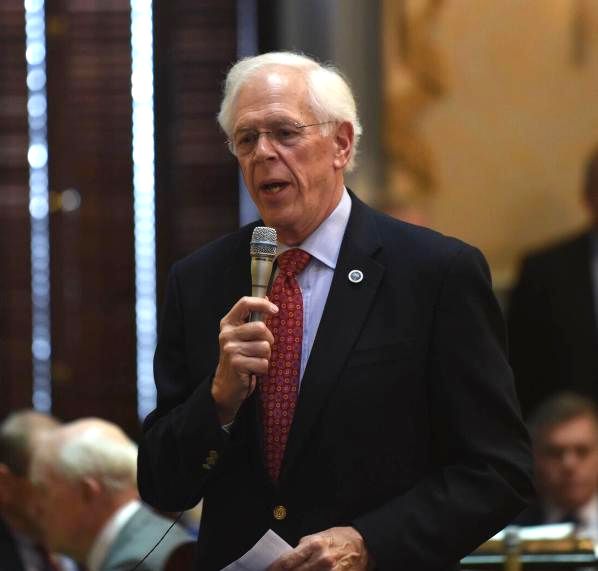 It is my honor to be of service. If you need assistance during these trying times, navigating though the flow of information on COVID-19, navigating state government or have any thoughts or concerns about what the legislature, please do not hesitate to contact me.
In your Service,
Bill Taylor
Representative
South Carolina General Assembly
803-270-2012
Bill@taylorschouse.com
www.TaylorSCHouse.com
Newsletter not paid using taxpayer funds.
Legal Notice: This newsletter is not a solicitation for contributions to any SC registered lobbyist.