Dear Friends:
America is bracing for a week of uncertainty. This much-divided nation will witness an unprecedented transition in its presidency. Washington DC has become an armed fortress with the capitol building cordoned off with high fencing backed by National Guardsmen. (There is irony in that scene since the incoming President opposes border fencing and guns, but I digress.)
This image doesn't represent American values. Our nation is still the shining beacon of liberty and hope to those in the world who seek to be free. Regrettably, Joe Biden's views are ominous as he warns that dark days are ahead.
Please join me in praying for a peaceful inauguration. Threatened violence in Washington or at State Capitols will only serve to ignite the fuse of repercussions. Individually, we must not succumb to anxiety, depression, and anger. We must not be shaped solely by current events. The Devil wants us divided. God can unite us – He's got this. We need to be with God.
SC's Bright Future
Contrary to Joe Biden's "Dark Days Ahead" warning, Republican Gov. Henry McMaster provided an upbeat forecast for the Palmetto State during his 'State of the State' address. In the early days of the pandemic, SC lost nearly 300,000 jobs, but McMaster pointed out that we have since regained more than 80% of those jobs, vastly exceeding the nation's job gains of 55%.
McMaster said, "We took the road less traveled – a better road. We slowed down but safely remained open. We never closed. Our reasonable steps of limited, measured, and temporary actions allowed us to combat the virus without crippling our State's economy."
The Governor touted the Legislature's actions. "By freezing new spending and holding state government steady at last year's spending levels, we have been able to avoid cutting services, raising taxes, or borrowing money. Today, South Carolina is in a stronger financial position than virtually every other State in the country."
Advocates for SRS $$$ to Stay Local
During his statewide address, Gov. McMaster advocated for keeping the federal government's SRS plutonium settlement money out of the state budget in a tactic that would help prioritize the needs of Aiken and other counties surrounding SRS. I told the Aiken Standard that having the Governor advocate for separate legislation to deal with the $525 million allows local needs to be prioritized.
Bold Moves Forward
Among other issues addressed in McMaster's 'State of the State' address….
He called for the expansion of 4-year-old kindergarten.
Requested the Legislature unfreeze the yearly pay bump South Carolina teachers.
Called for students to be back in the classroom five days a week, in which there would be a nurse, school resource officer, and mental health counselor always readily available to them.
Called for expanding broadband internet to rural areas of South Carolina, so students and parents can effectively work from home.
Emphasized the importance of parents having the choice to send their child to whatever school they feel is best.
Called for setting aside $500 million in reserves in case of another economic downturn.
Urged the Legislature to spend $123 million more to help the State's small businesses hit hard by COVID-19
Labeling Santee Cooper a rouge state agency, McMaster called on lawmakers to resolve the future of the State's public utility and criticized laws on the books, making it difficult to remove Santee Cooper's board members.
Underscored his support of fetal Heartbeat Bill – "Send me the heartbeat bill, and I will immediately sign it into law."
Senate Moves Heartbeat Bill
The next day the Heartbeat Bill won its first approval of the new legislative term with passage by the Senate's Medical Affairs subcommittee after hours of testimony from supporters and opponents and more than an hour of debate between senators. The bill (S-1) heads to the full Medical Affairs Committee. If it's agreed upon, it will go to the Senate floor to vote by the entire body.
SC's Bungled COVID Vaccine
Nearly all my constituent calls and emails have focused on the difficulties with SC's COVID vaccination rollout in recent weeks. To say folks are upset would be an understatement! SC is scrambling to pick up the pace of vaccinations and make the medicine available to more people. The process hasn't been smooth or rapid. Improvements are on the way. I explain in this brief podcast. Please take a listen. (Link: https://bit.ly/3oT1Env)
Vaccine Resources
Vaccines can ONLY be administered by appointment. Use scdhec.gov/vaxlocator to see locations accepting appointments for the COVID-19 vaccine. Pick a location and call the phone number listed to make an appointment. Visit https://scdhec.gov for more information.
Getting Started & Looking Ahead
This week marked the beginning of the 1st regular session of the 124th General Assembly. I was more than ready to be back in our Statehouse. I'm hopeful for a productive 2021! After the rollercoaster ride of 2020, this year is the perfect year for reform, transparency, and accountability.
Legislature's COVID-19 Adjustments
Our aim is to run the government like a business. We must protect our Statehouse employees while still getting our job done efficiently to improve the State of South Carolina. We will be flexible and take whatever steps necessary to keep our colleagues, staff, and everyone else involved in the legislative process safe. By a vote of 104-2, the House has passed a rule change allowing committees to meet virtually in extraordinary circumstances, such as during a pandemic. Although this is not ideal, this will ultimately save resources and ensure all members are kept healthy and safe.
This was a timely vote since the General Assembly will not meet in Columbia this week because of law enforcement warnings of inauguration threats against state capitols.
I'm Available and AT YOUR SERVICE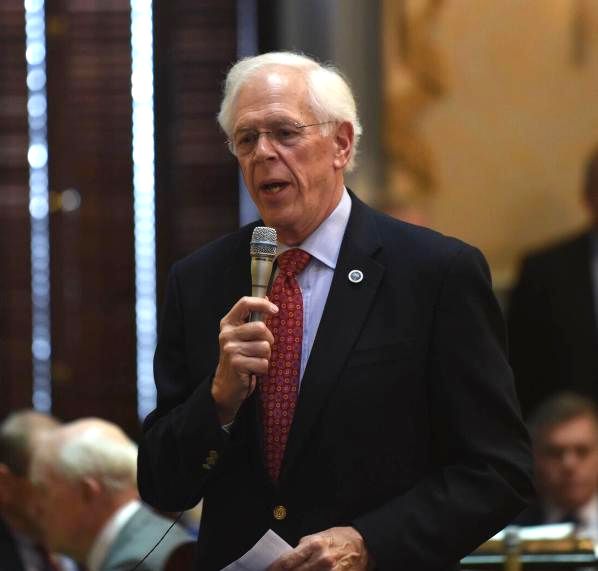 It is my honor to be of service. If you need assistance during these trying times, navigating though the flow of information on COVID-19, navigating state government or have any thoughts or concerns about what the legislature, please do not hesitate to contact me.
In your Service,
Bill Taylor
Representative
South Carolina General Assembly
803-270-2012
Bill@taylorschouse.com
www.TaylorSCHouse.com
Newsletter not paid using taxpayer funds.
Legal Notice: This newsletter is not a solicitation for contributions to any SC registered lobbyist.