Dear Friends:
A highlight of the start of every legislative year is to hear the vision for South Carolina from its Governor. Henry McMaster didn't disappoint this week with his call for the General Assembly to make big, bold, and transformative investments in areas of education, infrastructure, workforce, and economic development to strengthen the foundations of SC's prosperity for generations to come.
SC is Booming
Gov. McMaster launched his fifth State of the State address by heralding SC's success in weathering the pandemic's economic challenges with employers creating new jobs, entrepreneurs opening new businesses, and companies relocating here. SC's gross domestic product increased 10% during the pandemic and 26% over the last five years.
A Better Pandemic Path
McMaster proclaimed, "During the COVID-19 pandemic, many states shuttered their economies, closed businesses, and enacted draconian restrictions, many of which continue to this very day.  We took a better approach.  We never closed.  Through our reasonable steps of limited, measured, and temporary actions, we have been able to combat the virus without crippling our economy."
The Governor applauded the legislature's decision to be cautious and conservative in freezing new spending in 2020 and avoiding cutting services, borrowing money, or raising taxes. That resulted in a sizeable budget surplus in 2021.
Call for Bold Action
Proclaiming SC state government is in the strongest fiscal condition ever, Gov. McMaster asked legislators to spend the State's largest-ever surplus on bold investments that drive prosperity for future generations. The highlights:
Spend $660 million in federal ARPA funds and $600 million from the State's surplus revenue to accelerate the construction of roads, bridges, highways, and Interstates.
Provide $500 million to update the State's aging rural water, sewer, and stormwater infrastructure.
Allocate an additional $400 million in federal funds to expand broadband connectivity in rural SC. (Read my comments in the Aiken Standard: "The vast area of eastern Aiken County is a broadband desert.")
Simplify the 44-year-old archaic and confusing funding formula for public education to see that money goes to the classrooms and school districts are transparent and accountable with spending, so parents know where every dollar is spent.
Raise starting teacher salaries from $36,000 to $38,000 (just 5 years ago, a starting teacher received just $30,000).
Unleash the free market to expand access to full-day kindergarten for every lower-income, four-year-old child.
Create Education Savings Accounts (ESA's) to assist parents in making education choices for the unique learning circumstances of their child.
Advocated for increased funding for law enforcement to keep SC safe – specifically, higher salaries for state troopers and first responders.
Once again, the Governor called on the legislature to reduce the state income tax rate of 7% to remain competitive with NC and other neighboring states. That rate is the highest in the southeast and the 12th highest in the nation.
Urged legislators to eliminate all state income taxes on the retirement pay of career military veterans, SC law enforcement officers, and firefighters. (I'm a sponsor of 3352, which calls for tax cuts.)
Lastly, Gov. McMaster emphasized the importance of pushing back on the Biden administration – something the House has been working to do. I join the Governor and many of my Republican colleagues in continuing to fight against unconstitutional federal vaccine mandates and many other unconstitutional infringements from Washington. I work to protect the right to life and support law and order. I join the Governor on these issues.
Put the Phone Down!
SC's roadways moved a step closer to being safer! This week, a Senate committee voted unanimously to send the 'HANDS-FREE & DISTRACTED DRIVING ACT' (S.248) to the full Senate. The bill is similar to the laws in 24 other states and DC requiring drivers not to hold a phone but only use it in the hands-free mode. First fine $150, subsequent fines $300 with two points on a person's driving record. (WACH FOX News report)
Advanced Recycling Okayed
This week, legislators passed a bill that could bring new "advanced recycling" facilities into the State, including a plastic-melting method called pyrolysis. A plastics industry spokesman said the bill positions South Carolina to foster private sector investment in advanced recycling facilities, new jobs for residents, and increased recycling rates statewide. The compromise bill (S.525) was sent to Gov. McMaster for consideration.
Senate Approves Redistricting
The SC Senate adopted a congressional redistricting map on Thursday. Their plan varies slightly from the version approved by the House. Unless the House concurs with the Senate's map, which is a possibility, the chambers will now need to hash out the differences between their adopted proposals before moving forward with a single redrawn map. The redistricting plans for state senate and house seats were previously approved.
PHOTO OF THE WEEK
The House of Representatives honored Aiken's Richard Pearce for receiving the prestigious Legislative Staff Award presented by the National Conference of States Legislatures. Richard is Legal Counsel to the House Clerk and a valuable resource to all Representatives. The award is for Richard's excellence in supporting a state legislature's work and strengthening the legislative institution through excellence and top-quality work. Congratulations, Richard!
I'm Available and AT YOUR SERVICE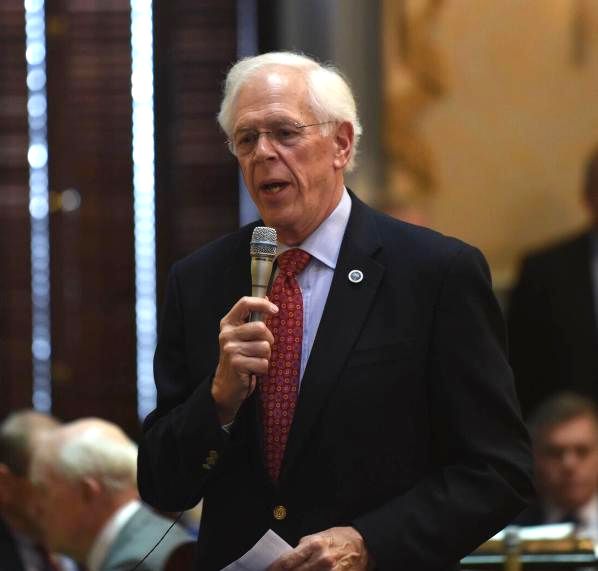 It is my honor to be of service. If you need assistance during these trying times, navigating state government, or have any thoughts or concerns about the legislature, please do not hesitate to contact me. 
In Your Service,
Bill Taylor
Representative
South Carolina General Assembly
Email: Bill@taylorschouse.com
www.TaylorSCHouse.com  
Newsletter not paid using taxpayer funds.   
Legal Notice: This newsletter is not a solicitation for contributions to any SC registered lobbyist.