Originally Posted on May 8th
Dear Friends:
The South Carolina legislature looks a lot like a Kentucky Derby race. With only three days left in the regular legislative session, there is a crowded field of bills jockeying for position to see which ones have the stamina and support to cross the finish line. These last weeks of a two-year session produce winners and losers. 
PUSHBACK VICTORY — Women in Sports
The House recently passed legislation that bans biological men, despite sexual identity, from participating in women's sports. This week the Senate voted 30-10 in favor of the "Save Women's Sports Act' (H.4608) that requires transgender students to compete with the gender listed on their birth certificates. Senators tweaked the bill, which will require one more vote by the House. 
I'm a cosponsor of this common-sense bill and I look forward to voting to outlaw these dangerous situations in girls' locker rooms. Gov. Henry McMaster said he supports its underlying concept telling reporters, "I think the girls ought to play girls and the boys ought to play boys. That's the way we've always done it," A dozen other states have passed similar laws in recent years.  
UP IN SMOKE
! 
The Medical Marijuana bill got burned in the SC House this past week. Just as the debate began on this controversial bill, the Speaker was called to rule the bill (S.150) unconstitutional because it creates new taxes — a 6% fee on marijuana sales for medical purposes. After several hours of consideration, the Speaker ruled that new tax bills have to be initiated by the House, not the Senate, which likely ends the hope of passage this year. There is still a flicker of hope; proponents vow to find another path forward to keep the bill alive this coming week.
The Compassionate Care Act has been seven years running through the legislative gauntlet. The bill allows licensed physicians to prescribe certain forms of marijuana to people with certain chronic, debilitating, or terminal conditions. The use of the drug would be limited to non-smokable forms. Patients prescribed medical cannabis would be required to get the drug from a limited number of licensed therapeutic cannabis pharmacies. 
I have long supported this legislation, although there are concerns with some specifics of this bill. The House cannot pass legislation that is deemed unconstitutional only to invite lawsuits aimed at overturning it. This ruling is disappointing for those who suffer debilitating pain and find cannabis provides them relief. 
Competing Tax Cutting Plans
During this year's session, the House already passed an impressive state income tax overhaul that restructured our state's convoluted and outdated tax bracket system. Once fully phased in, this plan will cut over $1 billion in taxes for SC taxpayers and exempts all military retirement from taxable income. It provides significant relief to almost all taxpayers, focusing on lesser taxes for the working middle-class folks. 
The Senate has a different approach. S.1087 is their response to our tax plan. When comparing the House and Senate plans, our plan saves more money for more South Carolinians. The House plan consists of a two-pronged approach. It focuses on bringing down the top tax rate and collapsing the middle tax brackets to help hard-working South Carolinians, where most people find themselves. 
This is why during a meeting of the full House Ways and Means Committee on Thursday, the committee voted to strike the Senate language and insert our tax plan, sending it to the House floor next week for a vote. I look forward to supporting this legislation, which will significantly lower state income taxes for most South Carolinians.
URGENT: Sex Offenders Registry Fix
A bill to fix SC's sex offender registry is fast-tracking to the finish line. Senators unanimously passed legislation to avoid SC courts being clogged by sex offenders seeking to get off the lifetime sex offender registry. Last June, the state Supreme Court ruled there's no rational basis to keep offenders on the registry for life. They instructed the Legislature to develop a way for ex-convicts who are unlikely to re-offend to be removed from the registry. This must be fixed by June 9 — the court's deadline — or all 17,000 sex offenders on the registry will become eligible to seek a court hearing to be removed from the list. The legislation ranks sex crimes into three tiers, with the lowest including computer crimes and others in which the offender didn't actually harm someone. Those first-tier offenders would be eligible for removal 15 years after completing their punishment. People who committed the worst sex crimes wouldn't be qualified to come off the registry until 30 years after completing their sentence. SC has required a lifetime registry for sex offenders since 1994. The bill heads to the House for a vote.
DHEC Split Slows
Government at all levels needs to run more efficiently and effectively. That's why I support legislation (S.2) that calls for splitting the Department of Health and Environmental Control (DHEC) into separate health and environmental agencies. While cutting DHEC in half, the bill would also merge the state Department of Mental Health with DHEC, a move opposed by many, including me. The DHEC reorganization is mammoth, causing the House Ways & Means committee to call for further study utilizing the Department of Administration to make recommendations to the General Assembly. We will vote on this approach next week.
Certificate of Need
I'm a strong advocate of doing away with SC's Certificate of Need (CON). That restrictive law governs where hospitals can build, move or add beds or expensive equipment. It allows competitors to appeal projected appeals and tie them up for years. All this makes your healthcare more costly and restrictive. Regretfully, the House Ways and Means Committee did not pass the Senate version of CON, even though there is much legislative support for the reform. This issue will, most certainly, be a priority next year.
Redistricting Settlement
Every decade after the national census, states are required to realign State House and Senate districts and Congressional districts. And, every decade, the new maps are challenged in courts by groups such as the NAACP, the American Civil Liberties Union, and the League of Women Voters. They claim the maps aren't fair and discriminate against blacks. This week, an agreement was reached to settle the federal court challenge. The SC House agrees to adjust district lines in five counties (Orangeburg, Richland, Kershaw, Dillon, and Horry) to be effective in the 2024 elections. This will not affect the elections this year. 
The head of House Democrats, Minority Leader Todd Rutherford, told reporters there was nothing to fix with the state House lines saying he never saw any evidence of any racial intent on any of the lines. "I'm not seeing what it accomplished, but if it allowed the ACLU and NAACP to pat themselves on the back, I guess it was a good thing."  
Looking Ahead
Next week will be marked by long days on the House floor with many bills trying to make their way through the legislative process before the end of the regular session next Thursday.
We have to finalize the state budget process in the coming weeks and into the summer. Weeks ago, we passed our House version of the budget, which focused on the 4 R's: Reserves, Raises, Relief, and Roads. The Senate came up with its version of the budget, drastically different from ours. These differences will be reconciled in the next couple of months to ensure that we have a budget that adequately serves the people of South Carolina.
Note: Legislation listed in this newsletter can be reviewed by utilizing QUICK SEARCH at SC Legislature Online.
Abortion Reversal: The House voted for H.4568, Chemically Induced Abortion Reversal Medical Information, and sent it to the Senate. If enacted, this proposed legislation would require a medical disclosure of specific effectiveness information to anyone seeking an induced abortion, including, but not limited to a Plan B or a "morning-after pill," with a few stated exceptions.
Giving Teachers a Break: This was Teacher Appreciation Week! Often, teachers are so much more than educators: they are role models, a listening ear, a shoulder to cry on, and they truly shape the lives of our children. This week, my colleagues and I voted unanimously to pass a bill (S.946) that entitles elementary school teachers to 'unencumbered' time. Essentially, this is duty-free time to eat lunch and have some downtime to regroup before returning to educate our children. 
SC Wins: The Senate passed a bill that would permanently enact the SC Workforce Industry Needs Scholarship (SC WINS). This scholarship supplements a Technical College System student who is already receiving lottery tuition assistance and is pursuing a degree in a critical workforce program area such as advanced manufacturing, nursing, transportation & logistics, IT, among others. 
Tax Credit for 2nd Chance Hiring/Veteran Employment: The House amended a bill (S.233) relating to property tax exemptions for surviving spouses to include language from a previously passed House bill (H.3348) that would give employers a tax credit for hiring veterans or formerly incarcerated non-violent individuals. The bill now returns to the Senate for their consideration.
Expanding Foster Care: The House gave a final vote to a bill (S.222) allowing for fictive kin to be eligible foster parents under the Kinship Foster Care Program. A "fictive kin" means an individual not related by birth, adoption, or marriage to a child but who has an emotionally significant relationship with the child or the child's family. 
Supporting our Veterans: Giving back to those who sacrificed it all to protect us is one of my top priorities. This week, I was proud to support a bill (S.968) establishing the Veterans Service Organization Burial Honor Guard Support Fund. This fund offsets the cost of SC veterans service organizations that help provide honor guard detail at veteran burials. I was glad to see this bill pass the House without opposition.
Federal $$$ Approved: The House amended Senate amendments to H.4408, a joint resolution authorizing the expenditure of American Rescue Plan Act funds, and returned the legislation to the Senate.
SC is a Major Agriculture State: Agribusiness, agriculture, and forestry drive SC's economy — creating over 212,500 jobs with a $41.7 billion yearly impact. I support and encourage our SC agriculture industry and farmers. This week, I voted for a bill that expands the SC grain producer's guaranty fund (existing self-assessment commodity program paid for by SC Farmers) to cotton farmers. Additionally, it establishes the SC Agriculture Commodities Commission, which will advise the Department of Agriculture on administering the fund. This legislation was passed by a vote of 103-1 and sent back to the Senate.
Crackdown on Carolina Squats: No doubt you have seen those trucks commonly referred to as the "Carolina Squat" or the "California Lean," that have the front end raised so high they look like they are about ready to take off and fly. It's a modification that has caused deadly accidents because drivers can't see fully what is in front of them. The House amended and sent back to the Senate S.908, a bill that makes it unlawful to drive a passenger motor vehicle, including a pickup truck, that has been altered so that the height of the front fender is raised or lowered four or more inches above or below the height of the rear fender. 
Also tagged onto the Squat bill was legislation previously approved by the House (H. 3600) governing utility terrain vehicles, including conditions and requirements that allow for a UTV to be operated on roads. Another provision was included (previously approved by the House in H. 4534) that restructures penalties and makes other changes to targeting catalytic converter theft. These bills were not considered in Senate committees, so this tactic gives them a chance to be approved by the Senate.
USC Board Overhaul: A bill to remake the University of South Carolina Board of Trustees by shrinking it from 20 voting members to 15 has hit a roadblock. The legislative proposal would wipe out all current board members in June 2023, requiring any who wish to continue serving to run for reelection with tighter competition, as fewer seats will be up for grabs. The bill was fast-tracked but stalled when a Senator objected to the bill being taken up by the full Senate because of concerns that rural counties would not be represented under the proposed board configuration. The bill has only three days to pass the Senate before it dies.  
PHOTO OF THE WEEK
I was in the work zone today at J.D. Lever Elementary this week with Principal Michael Truitt. Construction will soon begin on a gymnasium for the school, while work is already underway to improve student and parent safety with the creation of new car line lanes designed to keep traffic on school grounds and off busy Hwy. 1 North. We are also investigating other safety improvements on Hwy. 1 to slow speeders in that four-lane school zone. Sheriff's Deputies and State Troopers are patrolling regularly. One recent speeder got ticketed at 71 mph in the 35 mph school zone! 
Want to Know More?
Do you want to learn more about me, my positions, bill sponsorships, voting record, and past writings? Here are some handy links:
I'm Available and AT YOUR SERVICE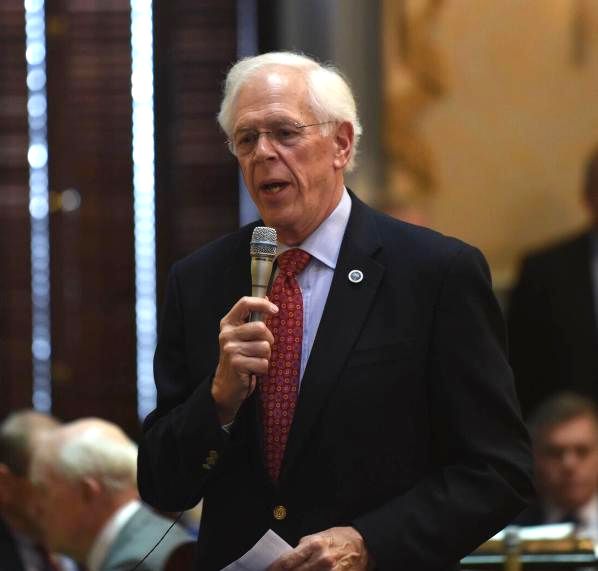 It is my honor to be of service. If you need assistance during these trying times, navigating state government, or have any thoughts or concerns about the legislature, please do not hesitate to contact me. 
In Your Service,
Bill Taylor
Representative
South Carolina General Assembly
Email: Bill@taylorschouse.com
www.TaylorSCHouse.com  
Newsletter not paid using taxpayer funds.   
Legal Notice: This newsletter is not a solicitation for contributions to any SC registered lobbyist.