Dear Friends:
Time is running out for this legislative session. There are only six legislative days left before the regular session ends, as the State Constitution requires. There is a flurry of activity to meet the deadline because bills that have not passed in both chambers will die.
The Election Fix
As we approach the finish line, of most significant concern is passing legislation to improve SC's election laws to ensure the integrity of our election process, making our voting system more secure, uniform across the State, and free of voter fraud.
Two weeks ago, I voted to pass a vital bill (H.4919) to safeguard the SC election system from voter fraud. The bill unanimously passed in the House and has the overwhelming support of the Governor, election officials, and political parties. It also has the support of citizens (I know because I have heard from many of you).  
Last week, the Senate amended our bill, jeopardizing its final passage into law.
Fortunately, my colleagues in the House and I understand the absolute urgency of passing this bill and are committed to ensuring that our elections are secure NOW.
Thursday, bold actions gave our Election Integrity legislation another chance. The House Judiciary Committee voted to include language from our election bill into eight different Senate bills. Now, the Senate has eight more chances to pass this legislation.
I trust Senators will take advantage of this opportunity to pass meaningful election reform because election integrity cannot wait until next year.
Protecting Human Life
A woman who seeks an abortion may choose to change her mind during the process. This week, the House voted 71-29 to approve legislation (H.4568) requiring abortion providers (mostly Planned Parenthood) to give women information about changing their minds after receiving the first of two pills that induce abortion. The bill was sponsored by Rep. Melissa Oremus (R-Graniteville); I am a cosponsor. We are late in the legislative session, so it is unlikely the bill will receive a vote in the Senate which means it will have to be restarted next session.
PUSHBACK VICTORY – Religious Freedom
Many states did the unthinkable during the pandemic — they forbid church gatherings. That didn't happen in SC, where individual liberty and religious freedom are paramount. Most SC churches chose voluntarily to curtail worship services temporarily for safety concerns. Recognizing that a government can trample on religion wrongly, the "South Carolina Religious Freedom Act" (H.3105) was signed into law by Gov. Henry McMaster this week. The bill prohibits the state from closing churches and other places of worship during a state of emergency if other essential services are allowed to operate.
New House Speaker
There was a changing of the guard in the House of Representatives this week. Rep. Murrell Smith ascended Thursday to the House's most powerful position. Representatives elected the Sumter Republican as the next Speaker of the House by a unanimous vote. Smith succeeds House Speaker Jay Lucas, who is stepping down from that position on May 12, the last day of the legislature's regular session. The Speaker sets the agenda for the chamber, decides who gets placed on which committee and where bills go, and determines whether legislation lives or dies. Speaker-Elect Smith is a Sumter attorney who has served in the House for 22 years.
Speaker Lucas, who has served in the House for 24 years, and as our leader for the last eight years, announced his retirement earlier this year. He will be missed. His leadership, kindness, and most of all, his friendship will never be forgotten. His reputation as a consensus builder and true statesman will forever be part of South Carolina's history. 
A personal observation – Murrell Smith is the right choice for these times. He is a collaborator who values the opinions of colleagues. He is also a leader who is highly focused and decisive. He will make the tough decisions and forge forward. An astute attorney, he is also financially savvy. As Chairman of the House Ways & Means Committee in recent years, he has the know-how to bolster state finances in the increasingly difficult financial times caused by the ill-conceived plan of President Joe Bidden and Washington's Democrat elite.
Senate Passes State Budget
After two days of debate, the Senate advanced its $12.6 billion version of next year's state budget that is set to go into effect July 1. The Senate's budget version spends over $2 billion to implement the Senate-passed tax relief legislation. The spending package now heads back to the House, where it will run into stiff headwinds. The House will most certainly amend the Senate's plan before sending it to a conference committee that will attempt to iron out the many differences. Meanwhile, a Continuing Resolution is being advanced if a budget deal is not struck.
There's much more legislative news to report, but first, here's news from around House District 86.
Farewell to a Hero
One of Aiken County's own, Cayce Police Officer Drew Barr, was laid to rest Thursday evening. Drew, a Lieutenant with the Monetta VFD, was shot and killed while answering a domestic violence call last weekend in Cayce. His funeral service at Batesburg-Leesville High School drew police officers and firefighters from across the state. During the service, Cayce Police Chief Chris Cowan shared how Barr's life has become a legacy, calling him a "28-year-old superhero." Pastor Mark Williams shared stories of Barr's youth and family and how his life had impacted the community. An estimated 1,500 people attended the service, with many more in an overflow room and outside. A caravan of emergency vehicles escorted Drew to his final resting place at Mt. Ebal Baptist Church, Monetta.
Back to School
Friday morning, I took my annual "State House to the School House Tour" to the new Ridge Spring-Monetta Elementary School. The fourth graders are studying SC government. They knew a lot and asked me smart questions. Well done, teachers!
There is much to report so these items will be brief:
BBA Moves Forward: Another Article V Convention of States Resolution won initial approval by a House panel Thursday. The Balanced Budget Amendment (S.133) calls for the states to convene to propose amendments to the U.S. Constitution that would force the federal government to live within its financial means. The current national debt has doubled in the past decade and now exceeds $30 trillion.
Splitting DHEC:  Legislation to split the Department of Health and Environmental Control (DHEC) has hit a speed bump. It is a massive restructuring of state government, and many believe more time needs to be devoted to studying the alternatives. The House Ways & Means Committee did not consider the bill (S.2) as scheduled this past week.
COVID-19 Vaccine Mandates: The House agreed to Senate amendments to (H. 3126) declaring the practice of discrimination against an individual because he/she has chosen not to receive a COVID-19 vaccination. The legislation prohibits SC's State and local governments, including school districts, from imposing a COVID-19 vaccine mandate for any employee, independent contractor, nonemployee vendor, or student as a condition of employment or attendance.
Paid Leave for State Employees: The House gave final approval to S.11, legislation that provides for six weeks paid parental leave for state employees due to the birth, adoption, or foster care of a child. The bill was sent to the Governor for his approval.
South Carolina Opioid Recovery Act:  The House voted approval of legislation that establishes the SC Opioid Recovery Fund, and other funds, to meet the settlement agreement prerequisites for states to participate in receiving funds from the national opioid litigation settlement proceeds.
Ousting School Board Members: The House gave final approval to S.203, a bill allowing the Governor to remove school board members who willfully commit or engage in the act of malfeasance, misfeasance, chronic unexcused absenteeism, conflicts of interest, misconduct in office, or persistent neglect of duty in office, or are deemed medically incompetent or medically incapacitated. The bill has been sent to the Governor for approval.
Private School Students to Play Ball: A Senate bill (S.615) that would allow some private school students to try out and play team sports at public schools is advancing in the House. It has already been approved by the Senate. Sponsored by Aiken Sen. Tom Young, the legislation would open that window of opportunity to students if their private school doesn't offer that sport.
Catching Red Snapper: A bill (S.980) that allows for the catch of Red Snapper in state waters only was amended and sent back to the Senate. There is still a ban on catching Red Snapper in federal waters. The catch limit is two fish per person per day, with a minimum size of twenty inches in total length. There is no closed season.
Electronic Dog Collars: The House amended and approved H. 4538, a bill making it unlawful to intentionally remove or destroy an electronic collar or other electronic device placed on a dog by its owner. A person who violates this section is guilty of a misdemeanor.
Massage Therapy Practice Act: The House amended (S.227) and sent back to the Senate a bill that updates and strengthens the licensure requirements for massage therapists. The bill increases the massage therapy required educational hours and requires passing the Federation of State Massage Therapy Board (FSMTB) or any other board-approved examination.
Expanding Home Cooking: A bill that expands the type of non-potentially hazardous foods that may be sold was amended by the House and returned to the Senate. The bill (S.506) calls for retail stores, including grocery stores that sell or offer home-based food products, to post visible signage indicating that home-based food products are not subject to commercial food regulations.
Your Home Improvements: The House gave final approval to a bill (H.3606) and enrolled it for ratification, to be sent to the Governor. The legislation clarifies what sort of decks can be built by homeowners and what other kinds of improvements to residential property can be undertaken by owners for their homes without becoming subject to requirements for obtaining building permits, inspections, and licensure. 
PHOTO OF THE WEEK
We joined with friends this evening to support the annual 'Table of Hope Banquet' sponsored by the Salvation Army of Aiken. It was held at the Red Barn. The event brings awareness to the issue of homelessness and raises money to help those who are without a home to get back to a stable life. It is a challenging initiative. Can you help?
Want to Know More?
Do you want to learn more about me, my positions, bill sponsorships, voting record, and past writings? Here are some handy links:
I'm Available and AT YOUR SERVICE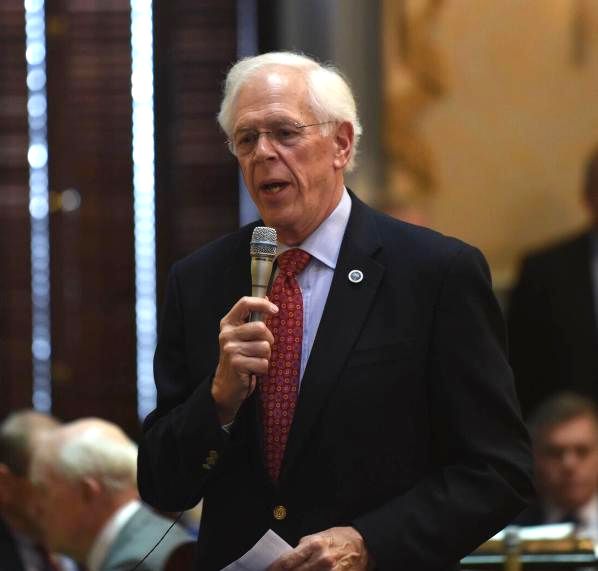 It is my honor to be of service. If you need assistance during these trying times, navigating state government, or have any thoughts or concerns about the legislature, please do not hesitate to contact me. 
In Your Service,
Bill Taylor
Representative
South Carolina General Assembly
Email: Bill@taylorschouse.com
www.TaylorSCHouse.com  
Newsletter not paid using taxpayer funds.   
Legal Notice: This newsletter is not a solicitation for contributions to any SC registered lobbyist.