Dear Friends:
The gavel fell Thursday on South Carolina's regular legislative session. It was a whirlwind! It was a hectic race to get bills across the finish line; otherwise, they die. Depending on the critic, we either did too much or not enough.
In my view, this two-year session, which began with the pandemic at the start of 2021, successfully tackled many major issues while leaving some behind. 
This newsletter recaps the highlights and lowlights of this final week. In the weeks to come, legislators will return to the Statehouse to finalize the state budget and to work out differences on legislation sent to conference committees. I'll keep you posted on developments.
#1 Election Integrity Bill Passes
Finally, we passed the Election Integrity Bill that's been nearly two years in the making. It has been the #1 priority of many citizens and most legislators who want to fortify S.C.'s election system to avoid the shenanigans experienced in some states during the 2020 Presidential Election.
Even though this legislation passed both the House and Senate unanimously last month, the election bill nearly fell victim to a political tug-of-war over who would approve appointments to State Election Commission. In the end, Senators and Gov. Henry McMaster compromised – Senators will approve the executive director of the Election Commission, but not the entire Commission, which the Governor appoints. The milestone legislation was ratified Thursday and Gov. McMaster quickly signed it into law Friday.
Easier to Vote, Harder to Cheat
Here are the highlights of the Election Integrity Bill (S.108):
Voter Accessibility:
A first for S.C. – creates an 'Early Voting' process, which extends two weeks before an election for all qualified voters.
Allow no excuse for early voting three days before a runoff election.
Establishes a set number of early voting sites in each county.
Modifies why an absentee ballot can be cast by replacing being "on vacation" with "absent from the country for the duration of early voting and Election Day."
Fortifying Election Integrity:
This bill drastically improves and fortifies the integrity of our election system by introducing safeguards and protections. Most notably, this bill enhances identity verification and addresses those voting early and absentee voting:
Strengthens the law on absentee mail-in voting by requiring any witness to be at least 18 years old.
A witness must print their name on the outer envelope.
The absentee voter must print the last four digits of their social security number on their ballot.
Bans ballot harvesting by limiting to five the number of absentee ballots a person can return (previously, there was no limit resulting in ballot harvesting).
Any person delivering absentee ballots must provide a current photo I.D. and must have a completed authorization form from the person for whom they are delivering the ballot.
Only those who are hospitalized, disabled, or outside the county of residence on election day may vote absentee.
Those over 65 may continue to vote absentee.
The Election Commission Director must conduct maintenance on the voter registration list every year using Bureau of Vital Statistics information, provided monthly. Additionally, the DMV will provide the Election Commission with a list of non-residents to clean up voter rolls.
Voting systems (i.e., voting machines) must comply with security protocol, including not having internet or wireless connection capability, may not have automatic adjustment functions and must preserve a secure image of each ballot cast for 24 months.
Random Election audits will be conducted of precincts and must be made public.
Prohibits third-party funding for elections (Bans Zuckerbucks!).
The President of the Senate and the Speaker of the House may intervene in any cases regarding challenges to an election.
Anyone found guilty of voter fraud will be charged with a felony and must be fined no less than $1,000 or more than $5,000 and imprisoned for five years.
Ballot Processes:
Election officials to begin examining and tabulating absentee votes before Election Day so that results will be available in hours rather than days. It also makes disclosing information about results a punishable offense.
Eliminates Fusion Voting:
It prevents candidates from being nominated by more than one political party or appearing on the ballot more than once. This provision takes effect after the 2022 General Election because candidates have already filed for this year.
Breakthrough for School Choice in S.C.!
I have advocated for school choice options for a dozen years. I stand with parents and students! No two children learn the same way – every parent knows that. Each has unique learning abilities, and sometimes public education can't meet individual student needs.
At long last, the General Assembly took a significant step on the journey to expand education freedom for S.C. families by passing S.935, the bill to create Education Savings Accounts (ESAs). Final details need to be ironed out between the Senate and House versions, so the bill has been sent to the conference committee, hopefully finding a compromise between the competing versions of the House and Senate bills. Both bills provide opportunities for children whose needs are not being met by public schools but whose parents cannot afford private education options.
PUSHBACK: Save Women's Sports
This week, it took one more vote, but the House voted to agree with Senate changes to the Save Women's Sports Act. The bill requires student-athletes in the state to compete in sports based on their gender assigned at birth. It's headed to Governor McMaster to be signed into law.
Fixing the Sex Offender Registry
This bill could be called just-in-time legislation! The legislature was on a deadline to update the state's sex offender registry. Last year, the State Supreme Court ordered the legislature to change the registry's rules to allow ex-convicts to be removed if they aren't likely to be re-offenders. The overhaul eliminates the requirement to register for life without a hearing.
PUSHBACK: Medical Freedom
The Medical Ethics and Diversity Act (H.4776) won approval in the Senate on a 28-15 vote this week. The bill protects doctors, nurses, and health care facilities from lawsuits for denying non-lifesaving services they find wrong on moral or religious grounds. Doctors and other medical providers in S.C. will be able to refuse to perform non-emergency procedures they find objectionable under legislation that will likely become law. Medical professionals fired for refusing to participate in treatments against their convictions could sue their employer. Senators amended the bill, so a Conference Committee needs to resolve the differences.
Availability of Birth Control Pills
In a move to make it easier for women to thwart unwanted pregnancies, in the final moments on Thursday, Senators approved legislation that passed the House that allows women over 18 to get birth control pills or other hormonal contraceptives from a pharmacist without a doctor's prescription.
Washington, Do You Hear Us? 
S.C. is sending another message to Washington politicians to STOP SPENDING America into bankruptcy. The SC House passed the Article V Balanced Budget Amendment Resolution. S.133 is like the Convention of States bill we passed, and the Governor signed last month. That Resolution was more expansive in putting limits on D.C. The BBA is solely focused on fiscal restraints. I have been assigned as one of three Representatives who will meet with Senators in a Conference Committee to resolve differences. With the passage of the bill, SC will be the 28th state, of the 34 required, to call for a BBA convention.
Convention of States Grassroots Celebrate
It was a jubilant celebration Saturday in Columbia. Grassroots activists from across the state, who worked tirelessly
for nine years to win passage of the Article V Convention of States Resolution, came together to enjoy their victory. It was my honor to thank them for their dedication to the Constitutional process aimed at saving America by bringing the federal government back inside the guardrails established in the U.S. Constitution. Their successful efforts once again prove that citizens (WE THE PEOPLE) possess the power to change the government.
Milestone: Police Reform
As the General Assembly finished its regular session, we were able to get Police Reform (H.3050) across the finish line! This law will require minimum standards for all agencies and centralizes reporting of officer misconduct. Law enforcement is a profession, and those who wear the badge should be confident that their honor won't be tarnished by those who can't meet the standard. It also set standards for the use of force and vehicle pursuits for the state's law enforcement officers. This legislation was supported by the S.C. Sheriff's Association, S.C. Police Chief's Association, SLED, the S.C. Criminal Justice Academy, and many more.
Abortion Ruling Response
In crafting the Sine Die legislation that guides the General Assembly through the summer and fall, we agreed that we reserve the right to come back in session anytime this year to consider state actions if the U.S. Supreme Court changes the landmark Roe v. Wade abortion decision.
State Budget: Big Differences
Conferees from the House and Senate have their work cut out for them. They have been assigned to hammer out differences in their state budget proposals.  The House version cuts income taxes by $1 billion when fully implemented, provides more road money, and includes larger teacher pay hikes. The Senate version calls for a $1 billion tax cut and $1 billion in tax rebates. Legislators return on June 15 to pass the final version of the state budget.
Other News Notes
In a moment, I'll report on what didn't happen, but first, other news.
Hixon Elected Chairman
Proud of my colleague and deskmate, Rep. Bill Hixon (R-North Augusta), who was elected Chairman of the S.C. House Agriculture Committee this week. It is a well-deserved senior leadership role for Bill, a dedicated, passionate, and hardworking legislator — he truly cares for his constituents and shows his love for S.C. every day.
Mobile Mental Health Help
Most folks are unaware of the vast array of services provided by the Aiken-Barnwell Mental Health Center. Rep. Bart Blackwell (R-Aiken) and I toured their new Mobil Service Unit at their open House Friday. It still needs its graphic wrapping before it starts its rounds to every part of the two-county area served by the ABMHC. The S.C. Department of Mental Health is an innovative health provider.
Aiken GOP Rally
It's Election Season! The June 14 Primary Election is just a month away, and Uncle Sam Wants You…
Major Legislation Derailed
There have been many successes in this legislative session, starting with the passage of the Heartbeat Bill in January 2021. I'll recap the highlights in an upcoming newsletter. On the other hand, I'm grateful that awful legislation rarely gets out of the starting gate. Many bills gain traction and notoriety but fail to cross the finish line. Here's a topline list of those bills that died and will have to start over next session:
Critical Race Theory Passes the House – AGAIN! Fails in Senate:  One piece of legislation that Republican Representatives had to fight for again in the final week was a bill to outlaw Critical Race Theory indoctrination from being taught in our classrooms and to give parents more insight into what their children are being taught. Unfortunately, our original House bill never made it out of the Senate, so our original language was incorporated into a different Senate bill and sent back for approval. Senate Democrats blocked it. I sponsored legislation that was incorporated into the CRT bill. I assure you that passage of CRT legislation will be a high priority next session.
Hands-Free – Put the Phone Down & Drive:  I have championed this common-sense legislation since I first filed it in 2017. Citizens see distracted driving every day, and a vast majority want this legislation. After hitting roadblocks in the House every session, I encouraged Sen. Tom Young to file a companion bill in the Senate. He was more successful and won passage in the Senate, but the House Judiciary Committee never considered it. We'll try again in the next session.
Medical Marijuana: For seven years, Sen. Tom Davis has pushed his "Compassionate Care Act," which would allow for the use of medical marijuana. This time it passed the Senate but ran into stiff opposition in House debate. The bill was ruled out of order because it calls for a tax, and tax bills must originate in the House. It's up for a do-over in 2023.
DHEC Break Up:  DHEC is BIG – Real BIG! Reform legislation passed by the Senate would split DHEC into two separate agencies – one for health and the other for the environment. The bill stalled in the House late in the session, with Representatives saying they didn't have enough time to devote to this major government reorganization so late in the session. This issue will be back on the agenda next January. 
Hate Crime: The House passed Hate Crime legislation last year, but it was blocked in the Senate. S.C. remains one of two states without a hate crime law.
USC Board Reform. Time ran out while Senators debated a bill that would significantly reform the University of South Carolina Board of Trustees. Senators opposed to the measure used stall tactics while proponents complained that not making changes would allow for more mismanagement to occur by the board, which has been under the gun in recent years for various decisions. The clock struck 5:00 p.m. Thursday, bringing the legislative session to an end. 
WHAT CAN WE DO NOW?
Many are seeing our food growing, distribution, and supply disappearing rapidly. Drought, dozens of processing plants in both Canada and the USA have suffered fires, poultry is being slaughtered by the tens of millions because of bird flu, and skyrocketing fuel costs are severely impacting truckers. These factors, combined with bad political decisions in Washington, are leaving supermarket shelves bare and prices skyrocketing. Where is this all going to end up? What can we do to prepare and protect ourselves?
PHOTO OF THE WEEK
A personal highlight for me during the last week of SC's Regular Legislative Session was a visit from our son, Ryan, and his family — wife, Jackie, and grandchildren Laurel, Lydia & Heath. They are a joy in our lives.
Want to Know More?
Do you want to learn more about me, my positions, bill sponsorships, voting record, and past writings? Here are some handy links:
I'm Available and AT YOUR SERVICE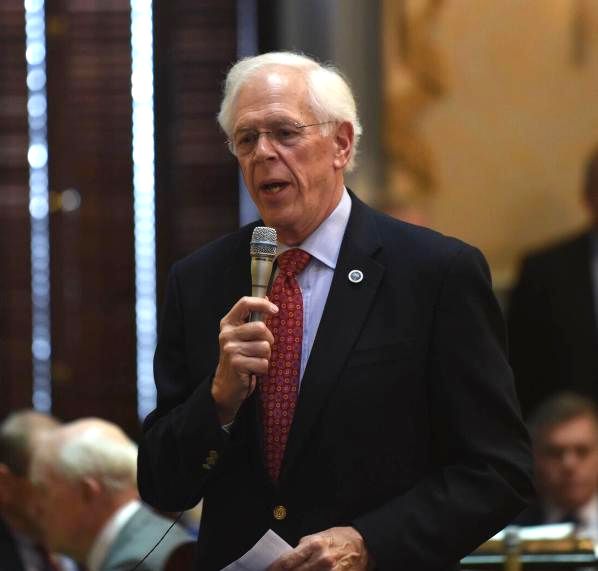 It is my honor to be of service. If you need assistance during these trying times, navigating state government, or have any thoughts or concerns about the legislature, please do not hesitate to contact me. 
In Your Service,
Bill Taylor
Representative
South Carolina General Assembly
Email: Bill@taylorschouse.com
www.TaylorSCHouse.com  
Newsletter not paid using taxpayer funds.   
Legal Notice: This newsletter is not a solicitation for contributions to any SC registered lobbyist.