Dear Friends:
I trust you had a very Merry Christmas, and this festive time of the year is filled with family and friends and all the many blessings of our great nation.
With the New Year fast approaching, we can put 2021 in our rearview mirror and look forward to a new year with an abundance of opportunities. We live in the greatest nation in the world that offers each of us life, liberty, and the pursuit of happiness. Of course, we are not guaranteed happiness; we must find that personal satisfaction on our own. I trust you will find your joy and share it with others because happiness is more infectious than any form of the Covid virus.
What's Ahead in 2022?
It is risky to speculate on what will be forthcoming from the General Assembly in the 2022 session beginning on January 11. Legislative priorities are always fluid, but here is my best thinking on top agenda items:
Money tops the agenda. For the counties adjacent to the Savannah River Site, decisions will be made on the disbursement of the $525 million from the legal settlement with the federal government for failing to remove plutonium from SRS as agreed. The Aiken legislative delegation is pressing hard for all the money to be spent on meaningful projects in our area.
Also high on the money agenda is how best to spend the $2 billion from the federal government's American Rescue Plan. I advocate for a sizeable portion of that funding to bring high-speed broadband to rural South Carolina. That will have an enormous impact on educating students, creating jobs, and luring business and industry to rural areas.
Pushing back on the over-reaching federal government will come in many ways. After the House passed the Article V Convention of States bill, the bill was sent to the Senate, where leadership has promised to move it to a vote. The bill to pushback on federal vaccine mandates was passed by the House in early December and await Senate approval. Other bills have been filed this session pushing back on Washington. Hopefully, they will be heard.
Bills to increase election integrity are also top agenda items. South Carolina was recently ranked #8 among states with high election integrity. Still, we will be doing more to pass common-sense reforms to ensure our elections are fair and secure.
Legislation that would add real choice for parents to determine the best course for their children's education has significant support among legislators. 2022 could likely be the year South Carolina joins other states in offering parents Education Saving Accounts (ESA's) to aid them in their quest to best educate their child.
Critical Race Theory is a flashpoint in public education nationwide. While South Carolina school districts deny they teach those Marxist-based theories, the legislation I sponsored will be a step forward in forbidding the use of CRT in our schools. That legislation is a priority and will be heard early in the session.
Taxes – A Big Miss!
I have served on various tax reform committees in the House for a decade. It has been a waste of time. We heard from tax experts and studied ways to realign, reform, and provide tax relief to citizens. We craft legislation, but nothing happens.
Meanwhile, our neighboring states are running rings around us. North Carolina has been the most aggressive in slashing taxes. The Tar Heel State began reducing its top marginal income tax rate from 7.5 percent in 2013 and just this fall, they dropped that rate to 3.99 percent over the next six years. South Carolina's top income tax rate remains at 7 percent.
Our neighbor to the north has also reduced its corporate income tax rate dramatically and is running rings around us. This hurts South Carolina's growth in recruiting business and industry. Our high-income tax rate is not only unnecessary and unfair, but it also places a barrier to folks choosing to locate from other states. Why would they want to go to a state that takes a huge chunk out of their paycheck?
How does South Carolina rate against its major competitors in the Southeast? Not well. The Tax Foundation's just-released Business Tax Climate Index rates South Carolina #33 among all states for individual taxes. North Carolina ranks #16, and Tennessee is #6.
2022 Tax Reform
We can do better! We have been studying the issue for a decade. We know how to reform and reduce taxes while stimulating the economy. The only thing missing is the will to do it. With two-thirds of the South Carolina House and Senate controlled by Republicans, there is no reason we can't pass significant tax reform yet this session. That would truly make 2022 a Happy New Year!
PHOTO OF THE WEEK
I took a group of Aiken Boy Scouts on a behind-the-scenes tour of the Statehouse a few days before Christmas. The Scouts, from Troup 115, got a huge surprise as we wound up the tour. Gov. Henry McMaster and Lt. Gov. Pamela Evette greeted them and posed for a picture. The state's two top officials' welcoming them, was the icing on the cake for the Boy Scouts as they pursue their Citizen of the Nation requirement.
I'm Available and AT YOUR SERVICE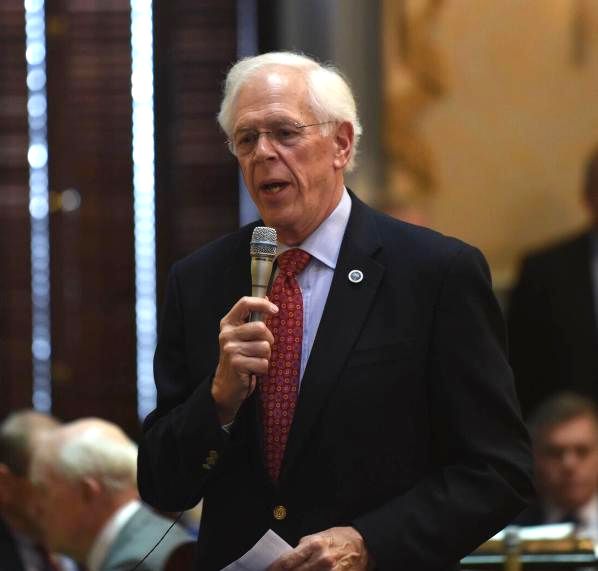 It is my honor to be of service. If you need assistance during these trying times, navigating state government, or have any thoughts or concerns about the legislature, please do not hesitate to contact me. 
In Your Service,
Bill Taylor
Representative
South Carolina General Assembly
Email: Bill@taylorschouse.com
www.TaylorSCHouse.com  
Newsletter not paid using taxpayer funds.   
Legal Notice: This newsletter is not a solicitation for contributions to any SC registered lobbyist.