Dear Friends:
These are desperate times for those standing for LIBERTY! Federal government overreach is expanding exponentially and threatening to rob every American of their God-given freedom enshrined in the Constitution. Our founders put limits on Washington DC's power, but those limits don't deter those in power today.
It's Personal
For many workers, the choice is between taking the VAX JAB or losing their job and livelihood. The request for religious waivers must be company-approved. Since when do businesses evaluate the legitimacy of one's religious beliefs? Others are finding their legitimate and necessary medical exemptions are being denied. What basis does government, corporations, or businesses have in determining an individual's health circumstances to the point of ignoring a physician's recommendation?
It is not the government's job to force Americans to take an experimental vaccine that has had deadly consequences for thousands.
I'm not anti-vax, but I firmly believe each American has the right to decide for themselves the best medical options for their unique situation. 
Many employees are standing up to the tyranny. As an example, Procter & Gamble employees are being threatened with termination if they refuse to get vaccinated. In response, they produced this video describing their plight – it's worth watching.
Court Battles
SC Attorney General Alan Wilson is preparing to file a lawsuit over the Biden Administration's vaccine mandate for healthcare workers. The suit would target the federal rules directed at hospital workers that come on the heels of last week's OHSA vaccine mandate. This new lawsuit is in addition to Governor McMaster's executive order barring state cabinet agencies from complying with the mandate. 

A federal court has already put Biden's vax mandate in flux. The U.S. Fifth Circuit Court of Appeals halted the requirements pending further review. The court-ordered pause doesn't stop the White House, which has encouraged businesses to continue preparing for the new mandate despite the delay ordered by the court.
Multiple trucking and retail groups filed a lawsuit Thursday against the Biden Administration, seeking to block the implementation of the federal vaccine mandate. The suit explicitly targets the OSHA; the primary federal agency Biden has tasked to carry out the many sweeping vaccine mandates. The organizations say this is a case about American businesses that do not want to face the immediate, irreparable harm of losing employees, incurring substantial and unrecoverable compliance costs, and worsening already fragile supply chains and labor markets.
 The SC Legislative PUSHBACK
This week, legislators pre-filed almost a dozen bills to curb the COVID-19 vaccine and masking requirements they hope will gain traction when the legislature reconvenes in January.
SC VACCINATION RIGHTS ACT: I joined 43 of my colleagues in sponsoring legislation that would ban employers and public accommodation settings from requiring proof of vaccination and would stop the emergency use of authorized vaccines from being mandated. H.4560 would make requiring proof of any vaccination a form of discrimination. The bill also seeks to bar employers from discriminating against potential employees because of their vaccination status. However, employers would be able to recommend that employees or potential employees get vaccinated. The bill would not extend to those employed by the military because they work in a federal setting. Any private school and daycares would also be exempt from the bill since private employers can refuse entry and deny religious exemptions. 
THE SC MEDICAL PRIVACY ACT: This proposed legislation prohibits all medical mandates (masks, vaccines, quarantines, testing, etc.). H.4565 is wide-ranging. In essence, the bill states no employer has the right to demand to know your personal medical information. This bill does not prohibit an employer from requiring appropriate safeguards regarding an employee with Cocid symptoms. It DOES prohibit employers from requiring safeguards such as masking, testing, and quarantining for ASYMPTOMATIC employees. This bill does not prohibit an employer from firing employees; however, the employee will be eligible to collect unemployment, providing a financial disincentive to employers who might engage in this behavior.

ALTERNATIVE COVID TREATMENTS: Another pre-filed bill would allow the use of investigational drugs or treatments for those who become infected during a pandemic. It is well known that some medical providers have refused to offer treatments not government-approved. H.4567 would allow for the use of investigational drugs after all other FDA-approved treatment options have been exhausted.
MORE PUSHBACK LEGISLATION:
Term Limits for Professors
National surveys consistently show 90% or more of university professors are Liberal. That gives new meaning to students' "liberal" education. Tenure leads to lifelong bulletproof jobs. How about modified TERM LIMITS for professors? This week, I filed legislation (H.4522) to end tenure in S.C.'s public universities and colleges. This legislation would allow professors to receive employment contracts for up to five years and earn the right to have their employment contracts renewed.
Honoring Veterans
You can count on Aiken County to show its love and respect for veterans. It was an honor to join Aiken Mayor Rick Osbon and retired Army combat nurse, Capt. Linda Caldwell, in addressing those in attendance at Aiken's Veterans celebration. My remarks: "Veterans, Your Oath has No Expiration Date."

Signs for Veterans
As part of the week celebrating veterans, Aiken legislators and veterans gathered in downtown Aiken to unveil the SCDOT sign declaring Hwy. 78 across eastern Aiken County the 'GOLD STAR FAMILIES MEMORIAL HIGHWAY' in honor of families who lost loved ones in military service. In a second ceremony, signage was unveiled on York Street in front of the Center for African American History, dedicating Hwy. 1 North to I-20 in the name of veterans.
House District 86 Expanding
SC House District 86, which I serve, will expand into Lexington County under the proposed Redistricting plan sent to the House Judiciary Committee. The once-a-decade reapportionment is based on new census data showing population growth and shifts across the state. Each Representative must serve about 41,000 residents. To make that happen, HD-86 adds 4,600 Lexington County residents in the voting precincts adjacent to Aiken County (Mack Edisto, Fairview & a portion of Mims). As you can see on the map, HD-86 is a vast, rural district that spreads across three-quarters of Aiken County and adds a portion of Lexington County. The plan is not final until approved by the General Assembly in December.
PHOTO OF THE WEEK
'Tis the season for giving! We kicked off the Aiken Salvation Army Kettle Drive Thursday, so you will soon hear bells ringing as you shop. This year, I enlisted Santa Claus to help make the first contribution. His bucket drop was met with cheers from the kids and adults in attendance. This year's goal for Aiken, Barnwell & Edgefield Counties is $90,000. Please help by depositing your coins or cash when you see a Red Kettle. Many families in need will benefit.
I'm Available and AT YOUR SERVICE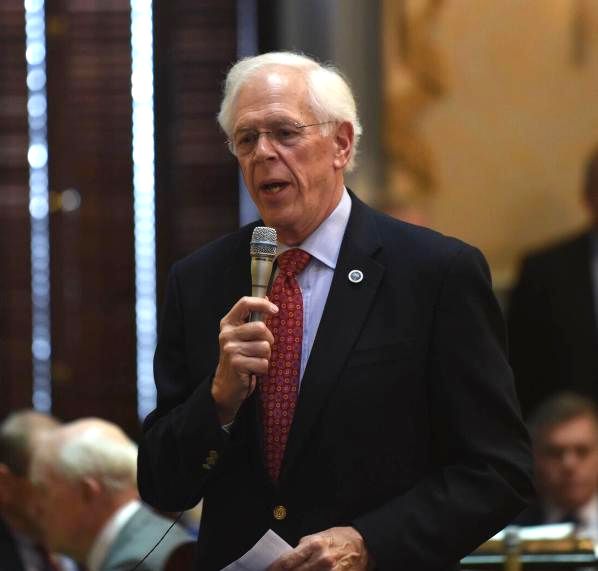 It is my honor to be of service. If you need assistance during these trying times, navigating state government, or have any thoughts or concerns about the legislature, please do not hesitate to contact me. 
In Your Service,
Bill Taylor
Representative
South Carolina General Assembly
Email: Bill@taylorschouse.com
www.TaylorSCHouse.com  
Newsletter not paid using taxpayer funds.   
Legal Notice: This newsletter is not a solicitation for contributions to any SC registered lobbyist.