Dear Friends:
Our nation is politically divided with nearly opposite visions for America's future. There is alarm and anger over the direction of our country. This isn't new; it has been brewing for decades whether Democrats or Republicans wield power. But now, change is in overdrive.
The unthinkable is unfolding – avowed Socialists have been elected and sent to Washington DC, and they are on a mission to radically change America. They're meeting with only mild resistance. Many political elites are appeasing and encouraging them because they are more concerned with holding power rather than stopping the political and cultural takeover.
The Lame-Brain-National-Media-Propaganda-Machine fuels the flames of disconnect with purposeful lies, distortions, and omissions. Tossing free speech to the wind, 'Big Tech' has stepped in to serve as Washington's censor. The federal government prints money it doesn't have, and we get poorer. America's superpower status has dimmed, and other nations view us as weak and untrustworthy. We're in a deep mess.
Remember, our nation's Founders were clear when they wrote in the Declaration of Independence:
"Governments are instituted among Men, deriving their just powers from the consent of the governed. That whenever any Form of Government becomes destructive of these ends, it is the Right of the People to alter or to abolish it…"
What's our way out of this mess? 
Historic Week
This week was eight years in the making. I filed the first Convention of States legislation (CoS) in December 2013. Along with Virginia, we were the first states in the nation to propose this type of call for an amending convention.
CoS grassroots supporters came from across the state and filled the Statehouse lobby this week carefully listening to Senator's debate. It took two days but ended with a vote of 27-13 in favor of the Article V Convention of States Resolution. Only Republicans voted in favor. Democrat Senators spoke for hours opposing the safety valve our Founders embedded in Article V of the Constitution, allowing states to join to propose amendments to stop a runaway federal government that is spending us into ruination. (Read News Report Here)
The CoS Resolution was victorious in the House last May during the last week of the regular session. With the Senate's approval, the Resolution (H.3205) returns to the House to approve the Senate's changes. It will then be sent to Governor McMaster for his signature. (I foresee a historic bill signing with hundreds of cheering SC patriots crowding the Statehouse.) At that point, SC will be the 19th of the 34 states needed to call a convention to propose amendments to the U.S. Constitution limiting Washington's power and irresponsible spending. Any proposed Constitutional Amendment would be sent to the states where it takes 38 states to ratify.
The Convention of States SC is the ultimate PUSH BACK on our bloated, out-of-control federal government.
Gas Price Push Back
Republican and Democrat SC Representatives united Thursday to implore Washington to relieve skyrocketing gas prices. 80 Representatives sponsored legislation calling on President Biden and Congress to reauthorize the Keystone XL pipeline construction immediately. Biden revoked the permit for the pipeline, effectively canceling it, on his first day in office. That has been a disaster for your pocketbook. Completing the construction of Keystone would allow the U.S. to import 830,000 barrels of oil a day from Canada. Proud that my seatmate, Rep. Bill Hixon (R-North Augusta), initiated this vital bill.
"I'll see Your Tax Cut, and Raise You"
The Senate voted unanimously to cut your taxes by $2 billion this week. Two weeks ago, the House passed a $1 billion tax cut (H.4880) by reducing the state's top income tax rate from 7% to 6.5% next year and keeps cutting to 6% over five years. Not to be outdone, the Senate's bill (S.1087) proposal cuts the state's top income tax rate from 7% to 5.7%, costing nearly $1 billion. The other $1 billion comes in the form of rebates ranging from $100 to $700 to every person or married couple who files an income tax return regardless of whether they ended up paying any state income tax. The 44% of filers who don't make enough to pay state income tax — about 1.1 million total — would get a $100 rebate because they pay sales tax.
Senate Finance Committee Chairman Harvey Peeler, primary sponsor of the legislation, also committed to further tax reform, saying, "We've only just begun to trim." These proposals are far from a done deal. The House and Senate will eventually have to work out their differences.
Budget Week Ahead
Monday begins one of the busiest and most important weeks in the South Carolina House – debating the proposed state budget for the next fiscal year. This week, the House Ways and Means Committee held a briefing for legislators and the public. You can see the BUDGET BRIEFING ONLINE.
The theme of this year's budget is 4 R's: improving our Roads, increasing our Reserves, tax Relief, and Raises for teachers, state law enforcement, and state employees. I pledge my cotes toward ensuring the House budget allocates appropriate dollars to fund core state functions and improvements while putting more money back in the pockets of South Carolinians.
UTV's On the Road
The House debated and approved a bill (H.3600) that would allow for the registration of utility terrain vehicles (UTVs), so they could be operated on our roads. UTVs must be registered like a passenger vehicle, display a license plate, have insurance like a vehicle, have safety equipment, and be operated by a licensed driver over 16. UTVs would only be allowed to travel on roads with a speed limit of 55 mph or less. I have heard from many rural constituents in favor of this legislation. I was the #2 bill sponsor.
Don't Bet on It!
Gambling on horse races drew Statehouse attention this week. Bills were filed in the House and Senate that would make a type of pari-mutuel wagering legal in SC. If passed, South Carolinians would be able to bet on horse races in other states online through a form of gambling known as advanced deposit wagering (ADW). ADW requires a bettor to first fund an account before being allowed to make wagers. SC would form the Equine Gaming Commission to oversee the gambling platform. The House bill is H.5085. Controversial bills, like this, introduced halfway through the second year of a legislative session, are considered trial balloons to gauge response.
CRT Hearing
The House Education Committee heard nearly seven hours of sometimes contentious discussion over Critical Race Theory. This was the third lengthy hearing in which they heard testimony from citizens.
The Education Committee will meet soon to review and debate several bills (including mine – H.4343 – The SC Academic Integrity Act) that address the troubling issues of Critical Race Theory slipping into SC's K-12 curriculum. The work is long, but I feel confident the committee is closing in on finalizing legislation and sending it to the Floor. 
Charter School Legislation
Several years ago, I co-chaired an Ad hoc House Committee that spent more than a year reviewing our state's charter school system. The goal of the many hearings was to learn how the original statute creating charter schools needed to be modernized to meet today's educational challenges. The COVID pandemic interrupted our finalization of changes, but this week we filed comprehensive legislation (H.5093) to improve our state's charter schools.
Education Scholarships
School choice is a top legislative push in both the House and Senate. The Senate Education Committee advanced a bill (S.935) that would provide roughly $7,000 to parents to cover tuition, fees, course materials, transportation, or other qualified expenses to send their children to charter or private schools. Eligible students must come from a Medicaid-eligible family and have been previously enrolled in the public school system. Enrollment in the program for year one will be capped at 5,000 students. The House scholarship bill (H.4879) is on the calendar and ready for debate.
Building Gaming Machines Gets OK
The House passed legislation (H.4161) allowing the manufacturing of gaming machines to be used in other states, not in SC. These manufacturers are registered with the U.S. Justice Department and would be authorized to build the gaming equipment in our state and ship it elsewhere. SC's SLED supported the legislation, which now goes to the Senate.
Caring for Vulnerable Kids
The House passed a bill (H.3509) that extends the Department of Social Services protections for children in foster care to age 21 to make the transition into adulthood more supported and smooth. 
Preparing for Emergency
I voted in favor of a bill that deems ambulance services essential in South Carolina. This bill (H.4601) ensures that each county is prepared to provide services necessary to save a life when an emergency strikes. It unanimously passed the House and is on its way to the Senate.
Better Vision
The House amended, approved, and sent the Senate H. 4837, a bill establishing requirements and authorization that allows a not-for-profit program to operate mobile optometry units to visit Title I public schools and provide services onsite to their students.
Good News!
Barnwell County will be the new home of a famed American-made door and cabinet manufacturer. Koch & Co announced plans to invest $5.1 million to establish operations in Barnwell County that will create 101 new jobs.
PHOTO OF THE WEEK
Even 'Uncle Sam' got bored with the endless speechifying by Senate Democrats over the Convention of States Resolution. He did, however, snap alert when Sen. Dick Harpootlian mocked 'Uncle Sam' during his long-winded Senate speech. 'Uncle Sam' lamented that Democrats didn't seem to know what they were talking about. With the final vote, 'Uncle Sam' was very pleased.
Want to Know More?
Want to learn more about me, my positions, bill sponsorships, voting record, and past writings? Here are some handy links:
I'm Available and AT YOUR SERVICE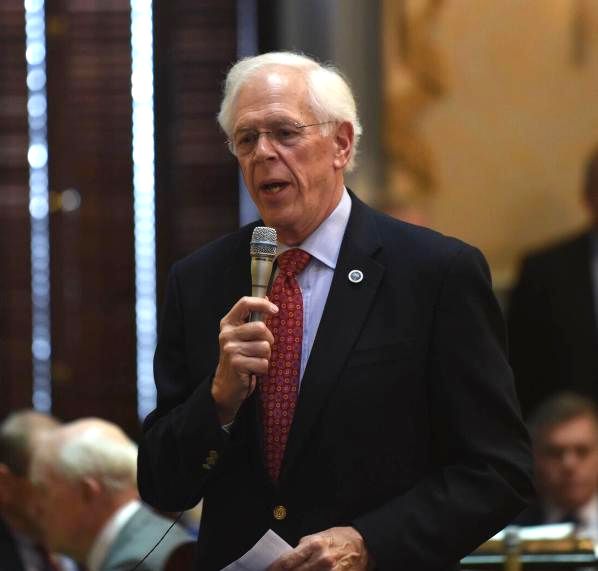 It is my honor to be of service. If you need assistance during these trying times, navigating state government, or have any thoughts or concerns about the legislature, please do not hesitate to contact me. 
In Your Service,
Bill Taylor
Representative
South Carolina General Assembly
Email: Bill@taylorschouse.com
www.TaylorSCHouse.com  
Newsletter not paid using taxpayer funds.   
Legal Notice: This newsletter is not a solicitation for contributions to any SC registered lobbyist.