Dear Friends:
As a legislator, I hear a lot about roads, rarely a compliment, mostly complaints. Nearly every day, I receive emails or phone calls from people complaining about potholes, road drainage, or nearly undrivable dirt roads. Most complaints are justified. That pothole that jarred your vehicle may have caused costly damage. And, that bumpy road you drive daily to and from work reinforces the belief that all South Carolina roads are in bad shape.
This newsletter will bring you up to speed on road improvements and alert you where to find those orange traffic cones. But first, a little historical perspective for those who arrived in the Palmetto State in the last several years.
Looking Back
In 2017, a small plane flew over the RBC Heritage golf tournament in Hilton Head, towing a sign that read "FIX THE DAMN ROADS." That pretty much summed up the frustration of most South Carolinians on the deteriorating roadways.
The 'Great Recession' had taken its toll. Gas tax revenues had fallen. The tax at the pump pays for road improvements, and we were falling further behind. Worse, South Carolina had the second-lowest state gas tax in the nation at 16.75-cents-a-gallon. The S.C. Chamber of Commerce, the 'Fix Our Roads Alliance' of businesses across the state, as well as the voices of thousands of citizens fed up with poor roads, put pressure on the legislature to raise the gas tax. In Conservative South Carolina, there were also loud voices opposed to increasing that tax or any tax.
By the end of the 2017 legislative session, the General Assembly enacted a prescription to fix South Carolina's deteriorating roads. It voted to hike the 16.75-cents-a-gallon gas tax by 12 cents, increasing by 2 cents a year over six years. When fully phased in, the increased gas tax will raise an additional $600+ million a year to repair the state's roads and bridges.
Playing Catch Up
It took the South Carolina Department of Transportation (SCDOT) a couple of years, starting in 2017, to ramp up road improvements. Many road contractors had relocated to other states where there was more money for road projects. Those road crews were eventually enticed back to the Palmetto State, and road work has ramped up to a fever pitch.
Since 2017, nearly $2 billion from the New Gas Tax Trust Fund has been spent on new paving projects across the state. That's a record for the SCDOT. In total, the state gas tax, vehicle sales tax, and other fees, along with federal funding sources, have enabled SCDOT to triple its work program to a historic $3.2 billion.
SCDOT's 2021-2022 paving program will result in nearly 1,000 more miles of the state's roads being rehabilitated and resurfaced during the coming two years. The agency credits the increased gas tax with creating additional sustainable funding, making this year's paving plan the most extensive annual program in state history. In total, SCDOT will have repaved more than 5,000 miles of roads across the state during the past five years.
Statewide Paving
History suggests there was plenty of 'politics' in selecting roads to pave. That was back then. Now, SCDOT prioritizes paving projects based on specific criteria. It ranks all its projects based on safety and crash data, the condition and age of roads and bridges, and traffic information.
The nearly 1,000 miles scheduled for new pavement include more prominent primary routes, which carry the most traffic and secondary, or farm-to-market, roads, and neighborhood streets. Some interstate paving is included in the $642 million plan.
SCDOT is currently implementing $1.7 billion of projects during year four of its 10-Year plan to improve road quality. The new program includes projects in all of South Carolina's 46 counties. Paving the state's major corridors in the greatest need of improvement is the most significant part of the 10-Year plan's four programs, including replacing or repairing aging bridges, making rural roads safer, and improving critical portions of interstates.
More Federal Money
SCDOT is poised to receive about a 30% boost in federal road and bridge funding over the next five years if the controversial federal infrastructure bill passed by the U.S. Senate gets approval by the House. That 30% increase translates into an estimated $1 Billion in additional federal funding directed to the state's road and bridge network over the next five years. SCDOT says the additional funding would address the remaining gaps in South Carolina's road and bridge program. 
Orange Traffic Cones
If you are a constituent living in House District 86 or in Aiken County, this section of the newsletter is just for you.
When folks say they don't see newly paved roads around Aiken County, I suspect they are saying the road they want paved hasn't been done. That's understandable. There is only so much road money, and there are many roads in Aiken County in need.
If motorists look closely, they will see orange traffic cones dotting the Aiken County landscape:
·     5.5 miles of SC 19 through New Ellenton – recently completed
·     More than 8 miles of U.S. 78, the Charleston Highway that dissects House District 86, has been repaved:
·     10 miles of US 278 from Beech Island to North Silverton – recently completed
·     4 miles of Five Notch Rd. in North Augusta – recently completed
·     4 miles of Cooks Bridge Rd. – recently completed
·     5 miles of US 278 from U.S. 1 to Beech Island – recently completed
·     10 miles of Old Jackson Highway – recently completed
·     Eight miles of Atomic Road repaved and improved with broader shoulders and safety rumble strips – recently completed
·     Three miles of Wire Road have resurfaced – recently completed
·     Improvements to Exit 11 on I-20 – recently completed
·     Hitchcock Parkway around the City of Aiken – undergoing improvements
·     The intersection of SC 125 at North Silverton Street – undergoing improvements
·     Bettis Academy Road Intersection Improvements at Whaley Pond Road and Ascauga Lake Road – to be completed in a few months
·     Improvements to the Whiskey/Eagle Roads Intersection in New Ellenton – begins Spring 2022
·     Williston Road (US 278) at Silver Bluff Road (SC 302) intersection improvement – beginning soon
Numerous road rehabilitation projects are slated for next year. Among the resurfacing projects:
·     Nearly 10 miles of New Holland Rd.
·     The Rudy Mason Parkway
·     Hwy. 1 North from downtown Aiken – almost 4 miles
·     Hwy. 19 North from downtown Aiken – nearly 3 miles
·     Jefferson Davis Hwy, North Augusta – 3.3 miles
·     South Boundary Ave S.E. in Aiken
·     Green Pond Rd. – 5 miles
·     Chinquapin Church Rd, Monetta – 3 miles
·     SC 126 Belvedere Clearwater Road widening
·     US 278 from North Silverton to just past the Barnwell County line – 14 miles
Aging Aiken County bridges are also being replaced:
·     The I-20 Bridge replacement over the Savannah River and widening to West Martintown Road is under construction
·     The replacement Hwy. 302 bridge over the Edisto River is targeted for completion in February/March
·     U.S. 1 bridge replacement over South Edisto River will be completed in early next year
·     SC 421 (Augusta Road) bridge replacement over Little Horse Creek – Spring 2022
·     U.S. 1 bridge replacement over Horse Creek – Spring 2022
·     U.S. 1 bridge replacement over Shaws Creek – Spring 2022
The Neighborhood Streets
Because South Carolina's state road system is so vast, it includes many in-town streets, some only a few blocks long. There are 33 neighborhood streets on SCDOT's 2022 Pavement Improvement Program.
Final Thoughts
I trust this newsletter has provided perspective on South Carolina's aggressive program to improve roads and bridges. You can learn more on SCDOT's website.
I'm Available and AT YOUR SERVICE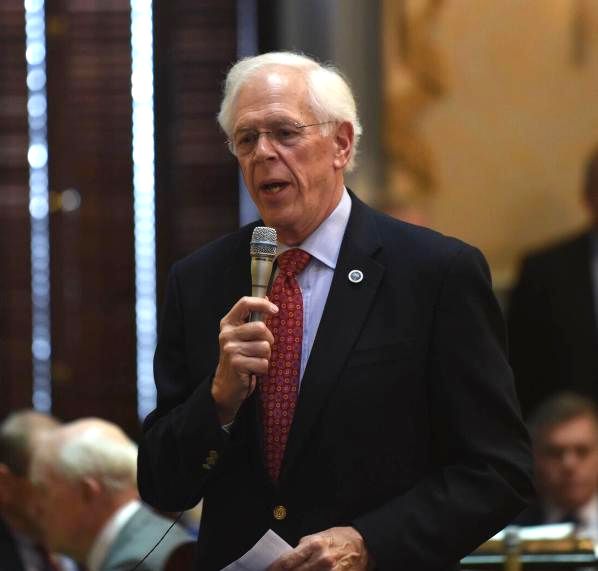 It is my honor to be of service. If you need assistance during these trying times or have any thoughts or concerns about state government or the legislature, please do not hesitate to contact me. 
In Your Service,
Bill Taylor
Representative
South Carolina General Assembly
Email: Bill@taylorschouse.com
www.TaylorSCHouse.com  
Newsletter not paid using taxpayer funds.   
Legal Notice: This newsletter is not a solicitation for contributions to any SC registered lobbyist.