Dear Friends:
For years educators have lamented that many parents are not engaged in their children's education. They cited parent-school visitation nights with teachers ready to greet parents, and few showed up. Nearly every parent wants a better life for their children, but many are likely no-shows because they are burning the candle at both ends, trying to make ends meet.
Involved Parents
Then came the pandemic with schools closing and online instruction replacing in-person learning. Many parents also sheltered-in-place with their children. Virtual learning provided the opportunity for parents to see first-hand the educational process. By necessity, parents became engaged, and some didn't like what they saw.
Parents started attending school board meetings asking legitimate questions about their kids' learning, and holding their elected school board members accountable for educational decisions. Public, government-run schools are funded by taxpayers making school administrators and teachers responsible to parents and the people who pay for and expect quality education.
Around the nation, some encounters between parents and school boards devolved into heated exchanges of words, accusations, and shouting. That has not been the case in Aiken County. Elsewhere, some school boards have not been receptive to parental pushback, and verbal confrontations have resulted in parents being forcibly ejected and even arrested.
Demonizing Parents
That led the National School Boards Association to complain to the Biden administration, describing the protests as a form of domestic terrorism and hate crimes. The South Carolina School Board Association re-tweeted the NSBA letter with seeming approval. In the face of much blowback, the NSBA rescinded and apologized for its letter this week. Unfortunately, government action has been launched.
In response to the NSBA complaint, U.S. Attorney General Merrick Garland instructed the FBI to mobilize against parents who oppose critical race theory in public schools, citing threats. No specific threats were adduced.
It is chilling to know there is a possibility the FBI could come knocking on the door of parents who have the nerve to be involved and speak up concerning their child's education. We seem to have come a long way from the days where educators complained about absent parents and begged them to participate.
New Opportunities
The challenges brought about by the pandemic have sprung a new awareness of educational opportunities on the part of parents. Many more involved parents seek to enhance their child's education and not just count on government-run schools.
The S.C. General Assembly recognizes that desire. When we return to the regular legislative session in January, a top priority will be the passage of H.3976. That bill creates Education Saving Accounts (ESAs), allowing parents to withdraw their children from public district or charter schools and receive a deposit of public funds into government-authorized savings accounts. Those funds can cover private school tuition and fees, online learning programs, private tutoring, and other approved customized learning services and materials. Some ESAs, but not all, even allow students to use their funds to pay for a combination of public-school courses and private services.
A Good Idea
It is not a difficult "sale" to show parents their child's education can be improved by changing the ways public schools are funded. Rather than letting the government determine how our tax dollars are spent, give control to parents, and watch the world change. 
Across the nation, ESAs are enjoying strong bipartisan, legislative, parental, and taxpayer support. Eight states have created ESAs. Arizona was the first to launch ESAs in 2011, and since then, Florida, Indiana, Mississippi, New Hampshire, North Carolina, Tennessee, and West Virginia have created similar programs.
EdChoice, the former Friedman Foundation, conducts an annual national education survey. The latest survey shows:
Current school parents are pessimistic about the direction of K-12 education, and 55% say schools are on the wrong track.
A far more significant proportion of private school parents (92%) report being very satisfied with their children's schooling experience.
Parents are more likely to give private schools in their area an A or B grade than local districts schools (74% for private, 45% for public schools).
Broad bipartisan support, with nearly 80% of American's surveyed supporting ESAs.
Approximately 3 out of 5 Americans surveyed agree ESAs allow parents more freedom and flexibility, focus on more individual attention, and provide access to better learning environments.
Not For the Rich
South Carolina needs better learning outcomes, particularly in poor, rural areas. High-income families have opportunities that low-income families do not, and low-income families are often locked into their neighborhoods because of affordable housing. Often those schools have poor academic outcomes with the same funding as other schools.
South Carolina's education system will not be equitable until disadvantaged children have access to a full range of educational providers, public and independent. The goal of ESAs is to even the playing field.
This proposed ESA legislation aims at helping those that can ill afford to purchase educational options. Expressly, it is limited to students whose adjusted gross family income is two hundred percent or less of the federal poverty guidelines. These parents know their child's needs well and can use ESA funds for specialized tutoring or enroll them in a private school for more specialized attention.
The Myth of Private Schools
Mention private schools and opponents of school choice claim they are for the rich. It is a common misconception that tuition at South Carolina's independent schools costs more than $20,000 a year. In reality, there are only a handful of pricey private schools. The median tuition cost at South Carolina's private schools is $5,200. A modest education scholarship account of $5,000 would nearly pay tuition, making them affordable for lower-income families.
The Funding Lie
Critics of parental choice for schools always claim that these scholarships defund public schools. The proposed ESA program would direct the portion of state school funding to parents to decide which approved education endeavors best bit their child's needs.
Dr. Ben Scafidi, a professor and director of Kennesaw State University's Education Economics Center, provides this explanation: "When a student leaves a public school district – for any reason – not all dollars follow. Specifically, funding from local taxpayers is not allocated on a per-pupil basis. When a public school district loses students via private school choice – or for any reason, such as moving to another district – it retains locally generated funding and a significant portion of federal funding as well, such as funding for special-needs students.  So public schools get to retain large portions of funds for students they no longer serve."
He added, "Let me state that again—public schools get to retain large portions of funding for students they no longer serve. So, when students leave public schools for any reason, there are actually more funds available on a per-student basis."
Dr. Scafidi concluded, "The charge that choice programs would somehow defund public schools is simply a myth. Further, it does not seem that South Carolina public schools have been starving of cash – for example, since 1994, the number of public school students in South Carolina has increased about 21 percent, while the number of public school employees has increased over 40 percent. Thus, employment growth in South Carolina public school has been almost double what has been needed to accommodate enrollment growth."
Choice is the Future
The old 20th Century public-government schools tend to use a one-size-fits-all approach designed for an agrarian, industrial age. Indeed, there are pockets of innovation, as we see here in Aiken County. Those efforts are laudable but fail to reach most students, and one need only look at flagging student achievement scores.
The future of education is to customize learning to the needs of every student – a flexible education system designed for the innovation economy that doesn't rely on a single education provider.
No one program will overcome every challenge that South Carolina faces in providing equal opportunity for every student. But it's time to experiment with a new approach. With 767,000 public school students in the Palmetto State, the ESA program would likely start with less than one percent of students – a worthy step forward for education innovation – and the real lives of real students would benefit.
PHOTOS OF THE WEEK
A PATRIOTS CROWD! It was my honor to talk with Aiken County Republicans. So many more folks are attending party functions they have moved to the large space at the Red Barn. Biden labels these people "Domestic Terrorists". Hillary called them "Deplorable's." Obama said they "cling to their guns and bibles." I call them PATRIOTS who love their country are committed to taking it back from the Democrats/Socialists/Marxists who control our federal government. The focus of my talk was today's REAL DEPLORABLES — the Biden Administration.
I'm Available and AT YOUR SERVICE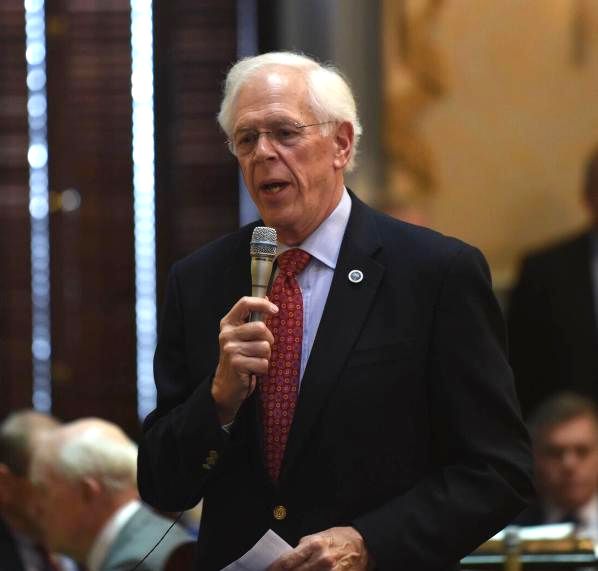 It is my honor to be of service. If you need assistance during these trying times, navigating state government, or have any thoughts or concerns about the legislature, please do not hesitate to contact me. 
In Your Service,
Bill Taylor
Representative
South Carolina General Assembly
Email: Bill@taylorschouse.com
www.TaylorSCHouse.com  
Newsletter not paid using taxpayer funds.   
Legal Notice: This newsletter is not a solicitation for contributions to any SC registered lobbyist.