Dear Friends:
Here's the question I'm often asked by folks frustrated by what's happening in and to America, "What can I do? I'm just one person." My answer? PUSHBACK! If we all PUSHBACK, we have mega-millions of collective voices joined together to be heard and ultimately effective.
Speak Up!
To remain silent (or quietly grumble) allows the 'Cancel Culture Warriors' and those who hate America to expand and intensify their campaign to rot our society further. They aim to divide Americans into warring factions, pitting one group against another. They strive to tear down traditional American values, diminish the important and critical family structure, silence our churches, remove God from the public square, degrade public education with their radical beliefs, defund police, and ferment riots and lawlessness in cities large and small. This revolution paves the way for liberal, Marxist-leaning Washington politicians to shred our Constitutional values and further expand big government control over our lives, robbing us of our personal liberty.
The 'Cancel Culture Warriors' are being enabled and funded by many of America's WOKE corporations. Worse, big tech like Facebook, Twitter, and Google have silenced and censored millions of Americans for speaking freely to question the WOKE narrative or government-approved "opinions."
We're PUSHING BACK!
In February, I rolled out the SC PUSHBACK AGENDA, a summary of legislation filed by various Representatives. It's not my agenda (although I have sponsored several critically important bills). The PUSHBACK AGENDA represents the independent work of many members of the House Republican Caucus. We're the majority consisting of two-thirds of House members. We can PUSHBACK on Washington and even SC edicts that go too far.
The Scorecard – Work in Progress
So, in the few short months, since the PUSHBACK AGENDA debuted, it's fair to ask, "How did we do?" Judge for yourself. Here's the end-of-session report on this year:
In my view, we made a reasonably good start. The Senate needs to move forward with the bills sent to them by the House and get them to the Governor to be signed into law. And the House needs to move forward more aggressively and swiftly address the remaining legislation on the agenda.
As one online Conservative SC news source wrote this past weekend, "Every single South Carolinian should be standing up for what's right. Follow The Pushback Agenda. The second half of the 124th SC Legislative session starts in January 2022. Contact your legislators and tell them you support The Pushback Agenda! Download the SC Legislative app today and follow these filed SC House bills."
Budget Approved; Goes to the Governor
House and Senate returned to the Statehouse this week and gave final passage to a $10.6 billion state budget for the next fiscal year starting July 1. I have long advocated SC move to a biennial budget (like Texas and other states), so we develop a two-year budget cycle. Because of the financial uncertainties brought on by COVID, that's exactly what happened.
This current fiscal year ('20-21) continued the '19-20 budget with no increases. That means this new budget covers two years, making the growth in this upcoming budget relatively modest when split over two years. Critics yelp that it's a bloated budget. They fail to consider these facts – this budget contains $525 million of new recurring money. That equates to an increase spending of about 2-1/2% per year for the two years since the last budget. That is less of an increase than in previous years.
CRT PUSHBACK
The budget puts the brakes on the Critical Race Theory (CRT) curriculum, so it doesn't get a foothold in our K-12 public schools. It will be January before we can debate and vote on H.4343 (the permanent law), but the approved budget proviso serves as a one-year ban on the CRT curriculum.
Budget Highlights
State employees, who are under-paid compared to comparable jobs in the private sector and in the federal government, will receive a 2.5% across-the-board pay raise. There is also significant funding for the state prison system and state law enforcement.
A significant focus of the budget is public education:
Teachers will get a $1,000 pay raise on top of their annual increases based on years of experience and education.
To combat the national teacher shortage and be more competitive, starting teacher salary is raised to $36,000 (a few years ago, it was $29,000).
Funding for a resource officer and a full-time nurse in every public school in the state.
$34 million to expand 4-K statewide.
$36 million to assist public charter schools experiencing a huge surge in enrollment because of the pandemic.
$93 million for K-12 instructional material.
The state's per-pupil funding is raised to $2,516, the largest in history.
$100 million fund established to assist poor rural districts in renovating and constructing schools.
A substantial investment in higher education (particularly in the much-needed repair buildings). This comes with agreement that universities and colleges will freeze tuition.
Other Budget Highlights
$10M for expanded broadband in rural areas (much more to come this fall in the distribution of federal COVID funds. Stay tuned.)
$200 million for the Port of Charleston – avoiding the bond bill passed by the Senate.
Our state's economic forecasters estimate tax revenue will continue to surge ahead by $640 million ahead of expected revenue. Rather than spending that money, it has been agreed that much of it will be saved and placed in SC's 'rainy day fund'.
The BIG Litter Fix
With this budget, the legislature voted to wage a multi-million dollar 'War on Litter' to clean up SC's littered roads. $8 million is going to support SCDOT's NEW initiative to pick up litter on our Interstate highways, as well as our main and secondary roads. SCDOT's successful initiative this spring, focusing on littler pick-up on the Interstates using contractors, set the path forward. This is a smart and needed expenditure. With SCDOT in charge of cleaning up litter statewide, they will be able to coordinate with the mowing contractors, so litter is not shredded before it's removed.
COVID Mandates Blocked
Budget provisos have the force of law for one year. Provisos included in this budget:
Prohibition on requiring face masks in SC's public K-12 schools.
Prohibition on requiring face masks at SC's public colleges and universities.
Prohibition of SC's universities and colleges (public & private) from mandating COVID-19 vaccinations.
Other Critical Provisos
Prohibition on the use of public money to purchase fetal remains.
SC law enforcement is prohibited from enforcing new federal laws that require the seizure of firearms from SC citizens.
Counties will be prohibited from accepting private funds to conduct elections or voter registration initiatives. Facebook's Mark Zuckerberg poured millions into SC before to the 2020 election, and many counties, including Aiken, took the money.
MORE NEWS
Bringing Rural Aiken County into the 21st Century
A ceremony at Aiken Electric Cooperative Wednesday marked the noteworthy accomplishment of bringing high-speed broadband service to rural eastern county and other areas served by the Coop. It's worthy of celebration! The Aiken Coop has embarked on a $100 million project with an aggressive 3-year rollout plan to provide fiber-to-the-home internet service to its thousands of members in the counties it serves. The Coop has already strung 300 or 350 miles of fiber backbone and 40 miles of distribution fiber to homes and businesses. As they ramp up, they expect to run 35 miles of distribution cable weekly. Customers will receive the gold standard in high speed – one gigabit per second with unlimited data, no usage limits, no throttling of speeds, and no buffering. The Aiken Coop is on the leading edge of bringing broadband service to rural SC. It's a great day for SC and Aiken County.
Standing with SC's Patriots
This past weekend, I spoke to the gathering of Article V Convention of States grassroots activists who came from across the state to meet in Columbia. We celebrated our recent victorious vote in the SC House and heard from Senate Majority Leader Sen. Shane Massey on the strategy to win a similar vote in the Senate early next year. I was humbled to be recognized for my 7-year effort to win passage of the CoS Resolution in the House. In a nation divided, I'm thankful to know and work with true American Patriots who believe we live in the greatest nation ever — one that allows every person to reach their God given potential.
Hwy. 302 Bridge Update
We see action on Hwy. 302 in eastern Aiken County. The 90-year-old condemned bridge is coming down. SCDOT reports the demolition is coming to an end, and utility relocations are finished. That clears the way for the construction of the new (safer) bridge. The target date to have the new bridge opens to traffic is next February (2022).
PHOTO OF THE WEEK
We have a grandSON! William Heath Taylor is a mere two weeks old. We have three granddaughters, so Heath is the first grandson. His parents, Ryan & Jackie Taylor, are the proud parents. I displayed my 'Grampa Pride' during this moment before my colleagues at the House of Representatives. (View Video)
I'm Available and AT YOUR SERVICE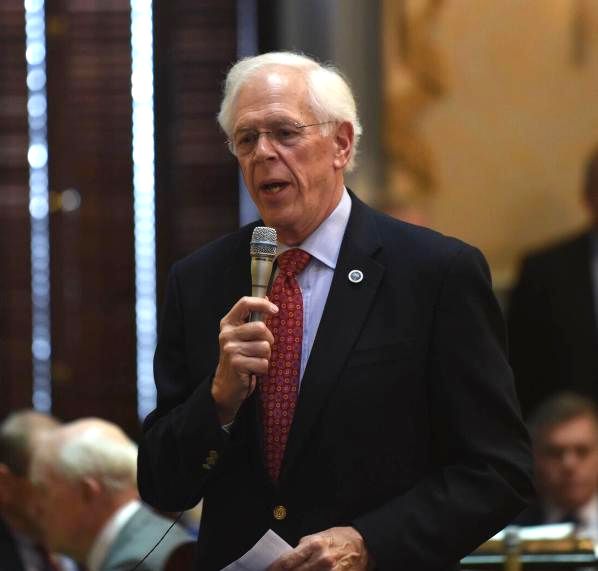 It is my honor to be of service. If you need assistance during these trying times, navigating though the flow of information on COVID-19, navigating state government or have any thoughts or concerns about what the legislature, please do not hesitate to contact me.
In Your Service,
Bill Taylor
Representative
South Carolina General Assembly
Email: Bill@taylorschouse.com
www.TaylorSCHouse.com
Newsletter not paid using taxpayer funds.
Legal Notice: This newsletter is not a solicitation for contributions to any SC registered lobbyist.