Dear Friends:
I'm pleased to report the SC House Republicans are highly focused on election integrity. We're working to improve election procedures to safeguard SC's elections. We want voting to be fair, and eligible voters must be confident that their ballot will be counted correctly.
This week, I joined many of my Republican colleagues in sponsoring legislation to make it easier to vote, while harder for fraudulent votes to be cast in SC. Currently, in-person absentee voting extends for up to 45 days before an election. This bill repeals the in-person absentee voting system, so all absentee ballots must be submitted by mail. H.4919 calls for early voting two weeks before each General Election, reducing the reliance on mail-in absentee ballots, which can be problematic. 
Early Voting
The early voting opportunity should significantly reduce absentee mail-in voting and improve security. Early in-person voting will give every individual a chance to vote if voting on Election Day is not possible. The bill enforces voter ID requirements when voting absentee by mail, just as they are enforced on Election Day and at in-person early voting. ID's would mirror what is already in SC law. Every absentee ballot must have a signature of a witness. Additionally, the witness would be required to sign and print their name and provide an address so their identity can be verified.
Improved Voting Security
The number of early voting polling locations is dependent on the population and geographical size of each county. For example, Aiken County would have six in-person polling locations spread around the county. In the November 2020 election, Aiken County legislators insisted on satellite voting locations to allow voters to cast their ballots early to avoid long lines on Election Day during the pandemic. The early voting was well received by voters, particularly in rural communities such as Wagener, Monetta, and Windsor.
Fusion Voting
Additionally, the newly filed bill eliminates fusion voting, an archaic voting technique that allows a candidate to appear on a ballot under the name of various political parties. Fusion voting was popular in the 1800s but has fallen out of favor, with about 40 states banning the practice. Experts view the practice as a corrupting influence on politics that traditionally benefits Democrats. H.4919 incorporates the legislation I filed (H.3206), ending fusion voting in SC.
Tax Cut Finally Moving
The old phrase, "A day late and a dollar short," may come to mind with this issue. On the one hand, I'm pleased to report that House budget writers have started debating legislation that would lower the top state income tax rate by 1%, from 7% to 6% over five years. On the other hand, the legislature should have done this years ago! 
I have served on various House Tax Committees for a decade. We studied, studied, and studied, heard hours of testimony from tax experts, and we filed legislation to cut our income taxes. While SC has dilly-dallied, neighboring states, like NC, have aggressively cut their income rates.
Bottom line: I'm glad the tax reduction legislation is finally being considered. It's an excellent first step. I will enthusiastically vote for it when it gets to the House floor for debate.
Military Pensions
A House subcommittee approved legislation (H.3247) waiving all state income taxes on military pensions. The cost to the state is less than $10M a year. Subcommittee Chairman Rep. Gary Simrill told reporters, "We want to be one of the states that reward our veterans." Similar legislation has passed the House in previous sessions but failed in the Senate.
Shared Parenting
Legislation calling for shared parenting in child custody cases is gaining traction in the legislature. The bill (H.3569) has 53 cosponsors (including me) and bipartisan support. Shared parenting is a child custody arrangement for divorce or separation in which both parents share the responsibility for raising their children. Family Court judges often give custodial rights to one parent while the other is termed non-custodial with limited input into child-rearing decisions. Shared parenting would not be mandatory but starts with a rebuttable presumption that equal and shared parenting is the starting point for parents who are willing, able, and fit.
New Judges on the Bench
Members of the Senate joined us in the House chamber to vote on Judicial nominees. The South Carolina Constitution requires judges to be elected by members of the General Assembly in a Joint Assembly. Prior to being judicial candidates, individuals seeking judicial office are screened by a committee to ensure they are upstanding citizens and possess the competency and qualifications necessary to serve on the bench. Congratulations to all of those elected and thank you for your willingness to serve!
LEGISLATIVE BRIEFS
Medical Marijuana: The State Senate continues to debate the bill (S.150) that would authorize the use of edible medical marijuana in certain situations with a prescription from a physician. This would not allow smokable marijuana, even for medical purposes.
School Bus Safety: The House passed and sent to the Senate a bill (H.3100) requiring all school busses to be equipped with extended school bus stop arms. It also allows the State School Superintendent to overrule a local school board if it is determined a local school bus stop is too dangerous for students.
Removal of School Board Trustees: The House debated and amended S.203 that authorizes the Governor to remove School Board Members who willfully commit or engage in malfeasance, misfeasance, chronic unexcused absenteeism, conflicts of interest, or criminal misconduct while in office, among other issues. The legislation was returned to the Senate.
Duck Stamps: The House approved a bill (H.4177) that increases the cost of migratory waterfowl permits (duck stamps) from five to fifteen dollars for five years. The additional funds will be used to repair the state's impoundments that have not been maintained for years. Duck hunters testified in support of the increase.
Offshore Wind Energy: The House sent a bill (H.4831) to the Senate which would authorize the SC Department of Commerce to evaluate SC's opportunities for effectively competing in attracting offshore wind energy supply chain industries to the state.
PHOTO OF THE WEEK
The Silver Bluff High School Athletic Gala & Auction was a smashing success. The evening began by honoring the Bull Dogs football team that won Regionals and was runner up in the Class AA State Championship. Head Varsity Coach De'Angelo Bryant accepted Statehouse Resolutions from Sen. Tom Young, Rep. Melissa Oremus, and me marking the team's achievement
I'm Available and AT YOUR SERVICE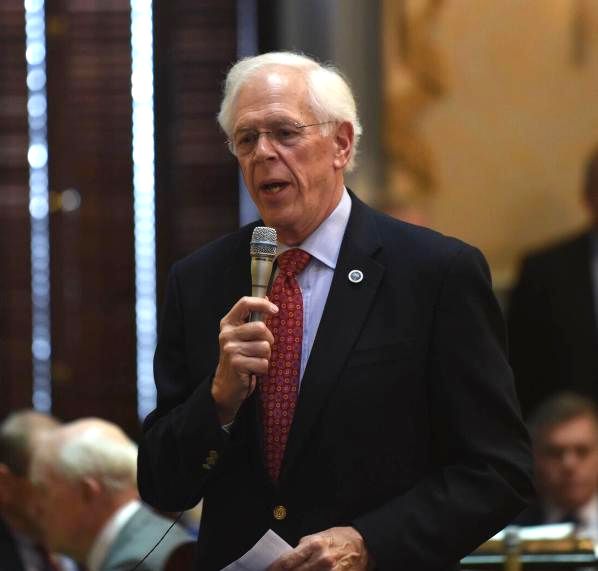 It is my honor to be of service. If you need assistance during these trying times, navigating state government, or have any thoughts or concerns about the legislature, please do not hesitate to contact me. 
In Your Service,
Bill Taylor
Representative
South Carolina General Assembly
Email: Bill@taylorschouse.com
www.TaylorSCHouse.com  
Newsletter not paid using taxpayer funds.   
Legal Notice: This newsletter is not a solicitation for contributions to any SC registered lobbyist.