Dear Friends:
Cha-Ching! That is the sound of money in your pocket.
In a historic vote, the SC legislature voted to provide taxpayers more Cha-Ching this week. The new state budget returns $2 billion to citizens because of SC's strong economy and record revenues the state has experienced. Given today's shaky economy with sky-high inflation and prices, the Cha-Ching will be a welcome sound to South Carolinians.
The approved $13.8 billion spending plan makes transformational investments in infrastructure, public education, and law enforcement while providing massive tax relief. 
Because of unwise decisions by Washington's political elite, we all recognize recession headwinds are blowing up a storm. That's why legislators were wiser and more prudent. This budget goes to extraordinary lengths to protect state finances. In an unprecedented move, more than $1 billion has been sent to the "rainy day" fund or designated not to be spent.    Those savings total 11% of this state budget that is saved and not spent! 
Tax Relief Explained
The largest tax cut and tax rebate in the history of South Carolina.
$1 billion rebates this year to all tax filers with the tax liability. That could provide up to $800 for some income taxpayers with checks mailed before Christmas.
$1 billion in income tax relief this year.
Fixes SC's tiered income tax rates by collapsing 4%, 5% at 6% brackets into the lowest 3% bracket.
Brings the top income tax rate (currently 7%) down to 6.5% immediately and to 6% over the next five years.
Reduces taxes on almost all tax filers and raises taxes on no one while simplifying SC's income tax system.
K-12 Education
$275 million increase in annual funding for public education.
Increases starting teacher salary from $36,000 to $40,000 – a 32% increase in the past five years.
$140 million for capital improvements in disadvantaged school districts.
More money for rural and poor school districts.
Focuses state dollars on classrooms and teachers, not administration.
Reforms the old school funding formula for simplicity, flexibility, accountability, and transparency.
Higher Education
No inflation for tuition at SC's public universities and colleges. For the 4th year, tuition for in-state undergraduate students is frozen at both 4-year and 2-year campuses.
Fully funds LIFE, HOPE, Palmetto Fellows Scholarships, and Lottery for Tuition Assistance for the seventh consecutive year.
Infrastructure Investments
$1 billion in additional state road funding using federal ARPA funds and state money to improve the fourth largest state highway system serving the 10th fastest population growth state.
These recurring dollars provide access to hundreds of millions more in federal road funding.
Funds two significant Interstate projects: the widening of 70 miles of I-26 and the widening of 33 miles of I-95. This one-time infusion will accelerate both projects.
Local road funding – $250 billion additional money goes to the 46 County Transportation groups for paving local secondary roads.
Law Enforcement
Significant increases in starting salaries and pay for state law enforcement and correctional officers to address state law enforcement recruiting and retention issues.
State Employees
3% pay increase for all state employees, the largest pay raise in six years.
$1500 bonus this year for all state employees.
The budget is now on the desk of Governor Henry McMaster. We await his approval, as well as line-item vetoes.
SRS Plutonium $$$, but First, a Few Pictures
Honoring The Chief
Family and friends of the late Glenn Poole gathered to memorialize his decades of public service by dedicating a roadway in his name. For many years Glenn served as the Fire Chief of the Hollow Creek VFD (I jokingly referred to him – as the "Mayor of Hollow Creek"). Sadly, he passed away in January. In his honor, Hollow Creek Road east of Perry gained an additional moniker — 'The Chief Glenn Poole Memorial Highway.' I was honored to sponsor the legislative Resolution authorizing the tribute with this SCDOT signage.
Hooray for the New House Speaker
Friends and supporters of Rep. Murrell Smith, the newly elected Speaker of the SC House of Representatives, gathered in his hometown of Sumter last week to celebrate his election to that leadership post.
SRS Plutonium $$$
Big Win for Aiken & Surrounding Counties!
The split of the SRS Plutonium settlement money was approved along with the state budget. The Budget Conference Committee worked out differences in the House and Senate versions last week.
Aiken and surrounding counties will receive $343 million. That totals 70% of the $525 million settlement with the federal government for their failure to move stored plutonium from the Savannah River Site as agreed. That amount distributed locally is more than anticipated. The remainder of the settlement goes to the SC Ports Authority to complete the Navy Base Intermodal Facility infrastructure project. The port is an economic driver for the entire state. 
Big Winners
$30 million: Aiken Schools' new Career Development Center HS
$25 million: Aiken Downtown Redevelopment
$20 million: New Savannah River Lock & Dam
$20 million: SRS National Lab at USCA
$15 million: Cyber Command Center in North Augusta
$10 million: Nation Guard Dreamport at USCA
$11.5 million: New Nursing Center at Aiken Tech
$10 million: Industrial Park in Eastern Aiken County
$4 million: Major water line along Hwy 39 Eastern Aiken County
Also included:
$6 million: Aiken County Rural Health Services' new building
$500,000: Children's Place's new facility
$250,000: Aiken County United Way infrastructure
Hat's off to all the local leaders who collaborated on creating a meaningful list of projects that benefit education, jobs, and health services with this windfall of money to provide a long-range impact on our area.
PHOTO OF THE WEEK
WARNING: PROUD GRANDPARENT ALERT!  My wife, Donna, and I have three lovely granddaughters, but this week brought a milestone. Our only grandson, Heath, had a cake-smashing good time at his 1st birthday celebration!
Want to Know More?
Do you want to learn more about me, my positions, bill sponsorships, voting record, and past writings? Here are some handy links:
I'm Available and AT YOUR SERVICE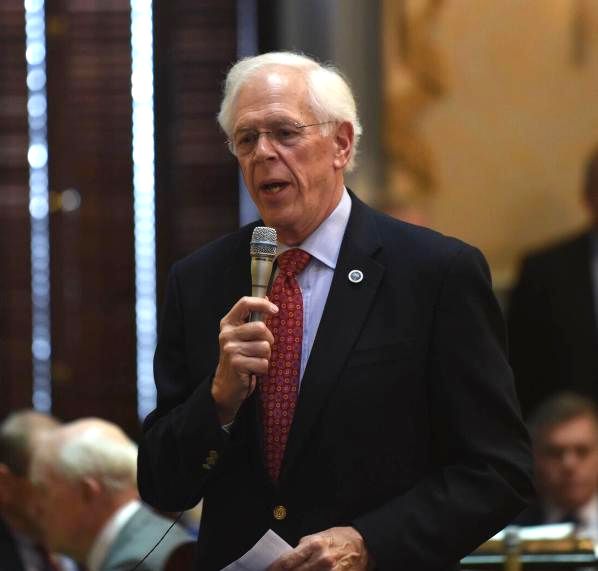 It is my honor to be of service. If you need assistance during these trying times, navigating state government, or have any thoughts or concerns about the legislature, please do not hesitate to contact me. 
In Your Service,
Bill Taylor
Representative
South Carolina General Assembly
Email: Bill@taylorschouse.com
www.TaylorSCHouse.com  
Newsletter not paid using taxpayer funds.   
Legal Notice: This newsletter is not a solicitation for contributions to any SC registered lobbyist.