Dear Friends:
It's time for South Carolina to get back to business!
A Stark Reality
The imposition of stay-at-home orders on everyone hasn't worked well – just take a look at the crowds at the big box stores and grocery stores that were not closed by government edict. Big and small manufacturers are struggling. While remaining open, they have suffered from supply chain disruptions. Now, we learn our food supply chain is breaking.
I'm optimistic by nature, so grim predictions don't come easily.
America and South Carolina business owners are being starved out of their hard-earned livelihoods. Big businesses, small retailers, barbers, hairstylists, cosmetologists, restaurants and other business owners and their employees have suffered the consequences of the government-ordered shutdown. The livelihoods of hard-working employees have been throttled (except for the lifeline of temporary government handouts). It's personal — soon families without income and little savings will likely face financial disaster and possible homelessness. Some entrepreneurs, who risked everything to create a business and jobs, will be forced to shutter their doors; bankruptcies will rise. Economic devastation could be widespread. It is time to reverse course.
Plagues & Epidemics have Ravaged Humanity Throughout its Existence
Yes, the coronavirus is more contagious than past epidemics; but it is also less deadly. By comparison, just look back a decade. The H1N1/Swine Flu outbreak during the Obama administration infected more than 60 million Americans and resulted in the death of more than 12,000. At the time, there was no clamor for an economic shutdown. Schools and businesses were not ordered closed and the CDC only recommended employers encourage physical distancing and keep sick workers home.
Regrettably, the initial COVID-19 computer model predictions, on which the current government-ordered shutdowns were based, were wildly wrong predicting as many as 2.2 million American deaths. Thankfully, that is a far cry from reality.
Those models were pushed onto the government and the public as absolute when they should have been viewed more like hurricane models that show a visual 'cone of uncertainty'. Those forecasting models of a hurricane forming in the mid-Atlantic show it could potentially strike anywhere from Texas to North Carolina.
The original goal of the lockdown was to slow the spread of the virus so as to allow hospitals to prepare and not be overwhelmed. It was not intended to eradicate the virus. We succeeded. We have plenty of available hospital beds in South Carolina – only 57% are currently occupied.
An Expert's Views
Dr. Allen Kirchner, a retired physician and former U.S. government expert on pandemic planning, lives in Aiken. He offered his expert perspective in today's Aiken Standard:
"There may have been better alternatives to the isolation procedures for COVID-19. Very early on, we identified the at-risk population: the elderly and those with certain co-morbidities. We also identified the low-risk population: basically everybody else.
We could have isolated the high-risk and educated the low-risk on their critical role in preventing their transmission of the disease to the at-risk population. We definitely should have shut down hospitals and nursing homes, isolated the elderly and infirm, and instituted comprehensive and conscientious social distancing, hygiene and cleaning, as we did. There was no reason to close schools, offices, parks and most businesses."
Dr. Kirchner concludes:
"Absent a vaccine, herd immunity is the key to defeating COVID-19. In order to develop herd immunity, low-risk individuals must be out in the community where they can be exposed to the disease and develop immunity. That makes it much more difficult for the virus to circulate amongst the population. Without herd immunity, the disease will quickly re-emerge when safeguards are lifted."
Checks & Balances
The American principals of "Life, Liberty and the Pursuit of Happiness" are in jeopardy. Never before has our government shutdown our American way of life and killed the economy because of a pandemic. What's changed? Maybe it's American's acceptance that 'Big Brother' has the answers and is in control. That's a huge mistake. Our Founder's knew that an all-powerful government would be extremely dangerous; that's why they put checks and balances in U.S. Constitution.
To ensure that critical balance of power in South Carolina, I am putting forth legislation that requires a Governor to seek legislative approval to renew any State of Emergency Declaration beyond the 15 days currently allowed in statute. If either a Governor or the Legislature sees a need to extend an Emergency Declaration, I propose the legislature convene and invite the Governor to present reasons to the General Assembly. That means not one person, but 170 legislators representing the people of every area across this state, would have the final say.
This Pandemic has Changed Us; it Must Not Control Us
It's understandable that not everyone agrees that we need to get back to business. For those who feel unsafe, please don't participate; stay home. That's your choice. For those who have been identified as most vulnerable, it's recommended you continue to stay home and be vigilant.
As a close friend says, "Tell us what to do and trust us to do it; don't try to make us do it by law."
Hopefully, we have all learned a lot about being responsible citizens over the past couple of months. Social distancing and more frequent hygiene are vitally important. I also trust business owners to do what's right to keep us safe while pleasing their customers.
As liberty-loving Americans we can all make individual choices — stay home or go out. You choose, not the government.
For certain, it's time for South Carolina to get back to business!
I'm Available and AT YOUR SERVICE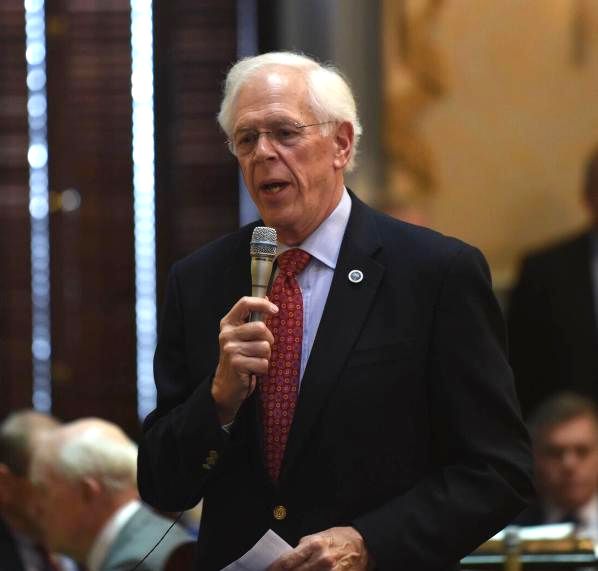 It is my honor to be of service to you. If you need assistance during these trying times, navigating though the flow of information on COVID-19 or navigating state government, or have any thoughts or concerns about what we are doing, please do not hesitate to contact me.
In your Service,
Bill Taylor
803-270-2012
Representative
South Carolina General Assembly
Bill@taylorschouse.com
www.TaylorSCHouse.com
Newsletter not paid for by taxpayer funds.
Legal Notice: This newsletter is not a solicitation for contributions to any SC registered lobbyist.
Photo of the Week