Dear Friends:
The South Carolina General Assembly returned to the Statehouse last week and successfully dealt with pressing issues caused by the pandemic.
We arrived Tuesday – the day after Gov. McMaster announced a schedule for lifting many of the remaining emergency restrictions, particularly the ability to get a haircut or go to a beauty salon. After we departed, on Wednesday the Governor issued his fifth state of emergency. The new emergency order expires May 27th. (More on that controversy later in this newsletter.)
Absentee Voting is OPEN to All
Because of the pandemic both the House and Senate voted to allow all South Carolinians to vote absentee for the upcoming June 9 Primary Election and any resulting runoff election. The bill was quickly signed into law by Gov. McMaster.
You don't have to be over 65 or have one of the other 16 reasons to vote absentee; this temporary provision is for everyone. You can now request a mail-in absentee ballot or vote in-person in advance of Primary Election day. This provision is needed to make certain every voter has an opportunity to safely cast their ballot.
Election officials want this change because polling places are facing numerous challenges on June 9th. Many veteran poll workers are older and don't wish to risk their health in the polling environment. Some traditional polling places are not willing to open their doors to voters because of COVID-19. Alternative polling places are difficult to secure. Additionally, polling in SC shows a reluctance by older voters to show up on Election Day. That's why this ONE TIME "No Excuse" balloting measure is being extended to all voters. We face huge obstacles in conducting this Primary Election because of the pandemic and we don't want a repeat of Wisconsin!
Funding – Legislative Priority
The pandemic has triggered an economic shock wave that has impacted everyone. State government is no exception. Economic forecasts for projected state revenues are gloomy. Next year's budget that was passed by the House in mid-March utilizing an additional $1.8 billion in general fund revenues. Those forecasts have evaporated, but it's impossible to calculate tax revenues until there is an economic rebound.
The General Assembly's responsibility is to assure that state services continue into the new fiscal year starting July 1. We passed a "Continuing Resolution" (CR) to keep state government funded at current spending levels into the new fiscal year. Additionally, the CR authorized the spending of both federal and state funds for COVID-related emergency measures, including:
$25 million to the Medical University of South Carolina to expand COVID-19 testing efforts.
$155 million to a COVID-19 reserve account for public health and safety needs.
$15 million to ensure the safety of poll workers and voters for the June 9th Primary Election.
The General Assembly will return in September to craft a new state budget based on updated revenue projections when the financial impact of the pandemic can better be measured.
Praise for SC's Pandemic Response
As Gov. McMaster issued his fifth state of emergency amid the pandemic, support for the state's overall response to COVID-19 came from Dr. Anthony Fauci, the nation's top infectious-disease expert. Testifying before a Senate panel in Washington, Fauci praised SC for its handling of the virus. He characterized SC's response as something he would "almost want to clone."
The Governor's Emergency Declarations Debated
Dr. Fauci's views are not fully shared by some members of the General Assembly. During our one day session, Senators passed a non-binding measure – what amounts to a letter of recommendation from the Senate – that the governor needs to ask legislators' permission beyond an initial state of emergency. According to the Resolution, without explicit approval from the General Assembly, the order should expire.
Checks & Balances Going Forward
Looking to the future and to ensure a critical balance of power in SC government, I filed legislation this past week that requires a Governor to seek legislative approval to renew any State of Emergency Declaration beyond the 15 days currently allowed in statute. H.5488 states that if either a Governor or the legislature sees a need to extend an Emergency Declaration the legislature would convene and invite the Governor to present reasons to the General Assembly. That means not one person, but 170 legislators representing the people of every area across this state, would have the final say. (Aiken Standard reports)
Forced Immunizations
There's a lot of chatter in the news and on social media about making any future COVID-19 vaccine mandatory. This past week, I joined Rep. Bill Chumley in sponsoring legislation H.5489 that makes any COVID-19 vaccine optional, not mandatory, in South Carolina. Historically, vaccines rushed to market have come with consequences. In 1976 mass immunization in the U.S. of the swine flu vaccine was halted after it was linked to causing paralysis, respiratory arrest and death.
The vaccine legislation garnered a lot of media attention. Here is one example from WJBF-TV:
The New Normal
'Normalcy' is slowly returning – many businesses are cautiously opening. Indoor restaurant dining has resumed and starting Monday barber shops, hair salons and other close contact businesses open their doors. It is encouraging to see South Carolinians get back to work so they can provide for their families. Most folks will ease back into life as they knew it, but many questions remain.
Bonus – Dr. Allen Kirchner
To help answer questions, I offer (once again) my interview with a Pandemic expert that was the focus of my last legislative newsletter. Dr. Allen Kirchner is a retired physician. He worked for the U.S Department of Homeland Security where his team wrote the federal government's Pandemic Response Plan. I interviewed Dr. Kirchner in this brief video which provides practical answers. First and foremost, should people feel safe mingling with others and how should that be done?
I'm Available and AT YOUR SERVICE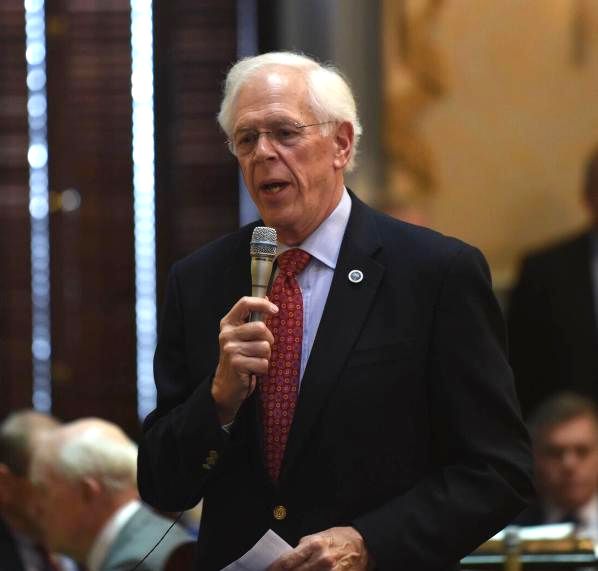 It is my honor to be of service. If you need assistance during these trying times, navigating though the flow of information on COVID-19, navigating state government or have any thoughts or concerns about what the legislature, please do not hesitate to contact me.
In your Service,
Bill Taylor
803-270-2012
Representative
South Carolina General Assembly
Bill@taylorschouse.com
www.TaylorSCHouse.com

Newsletter not paid using taxpayer funds.
Legal Notice: This newsletter is not a solicitation for contributions to any SC registered lobbyist.