Dear Friends:
Want to know what's really happening today in our nation? When it comes to anything political (and it seems everything is political), that isn't easy to determine. Surfing for "news" on cable TV, streaming video sources, or on the Internet, you will most likely find twisted stories full of political bias. Many of those are from the "lamebrain, nation media, propaganda machine." Most folks yearn for just the facts, not biased opinions.
Facts & Fairness Matter
Parents are increasingly concerned that a similar bias is oozing into our public schools. Whether it's the teaching of critical race theory (CRT) or the sly promotion of the LGBTQIA+ agenda, parents are discovering these concepts are being taught and advocated in some classrooms. I regularly hear from concerned parents when they find out what is being taught, yet they feel somewhat powerless to stop the indoctrination of their children.
This week, the S.C. House of Representatives came to their aid. We passed the Transparency and Integrity in Education Act (H.3728). The bill will ensure that students will not be indoctrinated through the lens of liberal teachings and allows parents to have a greater say in their children's curriculum. It bans the teaching of CRT and seeks instruction that is unbiased and includes a broad scope of history, both the good and bad.
The legislation, which passed 83-34 along party lines, prohibits teaching that any race, gender, or ethnicity is inherently superior to another. It also bans teaching that discrimination against anyone because of their race, sex, ethnicity, religion, color, or national origin is acceptable.
Help for parents comes by establishing a transparency policy, making it far easier to learn about the curriculum being taught and a path to get answers and file formal complaints. The bill now heads to the Senate.
School Choice = Parent Power
Each child learns differently; sometimes, the rigidity of the public school model doesn't fit, and parents need to find alternatives to help their children learn.
In another potentially big win for parents, the Senate passed legislation to provide Education Savings Accounts (ESAs) to help parents. A February 2022 Real Clear Opinion Research poll found that more than 72% of parents supported school choice, including 68% of Democrats and 82% of Republicans.  
For decades, opponents have screamed those so-called vouchers rob public schools of money and steal students. That's MALARKEY – and I said so in my Op-Ed in Thursday's Aiken Standard. (Read Op-Ed)
Pro-Life Legislation Advances
Just one month ago, the S.C. Supreme Court threw out the fetal heartbeat law citing privacy rights in the state constitution. That decision makes abortions legal in the Palmetto State for up to 22 weeks.
Republicans in the S.C. Senate responded to that decision this week by approving a new six-week abortion ban they hope will withstand the next court challenge responding to judicial concerns.
The Senate's vote sets up a challenge to the House. Ardent pro-life Republican Representatives insist they will accept nothing less than an all-out ban on abortion starting at conception. The House will debate its bill next week. The competing bills could result in another stalemate that scuttled last year's effort following the Roe v. Wade decision by the U.S. Supreme Court.
The political reality is the Senate doesn't have the votes to go beyond six weeks, so the passage of the all-out abortion ban by the House is merely symbolic. Senate Majority Leader, Sen. Shane Massey, offered his advice to House Republicans, "Take the win, man, and pass the Senate version."
Court Says No
This week, the S.C. Supreme Court said they would not reconsider their January ruling striking down a six-week abortion ban. The decision mirrors the court's 3-2 ruling in January tossing out the state's fetal heartbeat law, which bans abortion after a heartbeat can be detected — usually around the six-weeks. Attorney General Alan Wilson, Gov. Henry McMaster, and legislative leaders asked for the rehearing of the case.
New Supreme Court Justice
Gary Hill will become the state Supreme Court's next justice. Hill was elected by the House and Senate Wednesday on a 140-8 vote. Hill succeeds Justice Kaye Hearn, who retired this year after she reached the state-mandated retirement age of 72.
Abolishing CON
SC's Certificate of Need ("CON") is an archaic stumbling block created by the federal government, which hits you in the pocketbook by driving up your healthcare costs. It gives the state government the authority to approve hospitals to build or expand, what equipment they can purchase, etc.
Credit goes to the Senate for voting to repeal CON (S.164), which protects those healthcare providers with a certificate. It allows them to delay or shut out competitors, reducing your choices. Abolishing our CON law is a step in the right direction to enable healthcare innovators and entrepreneurs to expand access to care. Hopefully, the House will agree with the Senate.   
Stopping Prisons Revolving Door
To make S.C. a safer place for all of us, we must stop the revolving door for repeat criminals.  
H.3532 passed out of a House Judiciary Panel this week. This bill creates an additional criminal offense and penalty for committing an additional violent crime while out on bond resulting in automatic revocation of bond for the first violent crime and a mandatory minimum prison sentence of 5 years. 
Strengthening 2A Rights
I am a staunch defender of our 2nd Amendment rights. My Republican colleagues and I are taking steps to ensure anyone who can lawfully own a firearm has the right to carry it openly or concealed, except with limited exceptions. H.3594 keeps the concealed weapons permit process in place to allow for reciprocity carry in other states but removes the need for a permit to carry a firearm in SC. The bill received subcommittee approval this week and is expected to make its way to the House floor later this month.
Income Tax Alert:  Last year, the General Assembly approved $1 billion in tax rebates for South Carolina taxpayers to offer relief from economic hardship, including inflation. If you received the state tax rebate during November and December, the IRS recommends holding off filing your federal income tax. The IRS hasn't decided if tax rebates might be taxed on the federal level this year. The S.C. Department of Revenue stated that the state would not tax the rebate. However, in a recent statement, the IRS confirmed that it was still trying to clarify if tax rebates would be taxable on the federal level.
Official Palmetto State Flag: Last session, one state Senator killed a bill to approve a bill to establish an
official state flag design. Not deterred, a Senate panel is trying again. They unanimously sent the rekindled flag bill to the Senate floor. S.C. has had no official state flag design since a provision of state law was repealed in 1940, meaning that the flags that fly over government buildings around the state are different based on the designs chosen by the suppliers.
Gambling Bill Gets OK:  Gambling on horse racing in S.C. has another chance to become legal after a failed effort a year ago. A Senate panel unanimously advanced S.303, the South Carolina Equine Advancement Act, which would legalize advance deposit horse betting, regulated by a newly created equine commission. The bill is primarily aimed at revitalizing the declining equine industry in South Carolina, where horse trainers say they're having a hard time operating their facilities.
Death Penalty: A Senate Committee has approved a bill that would shield the identities of the companies that dispense the drug cocktail used to execute people on death row. The full Senate will take up the latest effort in the state's search for a method of capital punishment. S.C. has gone nearly 12 years without an execution.
New Veterans Affairs Director: Gov. Henry McMaster has nominated retired Maj. Gen. Todd McCaffrey to head one of the state's Veterans Affairs Department, a cabinet agency. He would replace outgoing Secretary William Grimsley. McCaffrey's nomination follows a 34-year career with the U.S. Army, where he served as the U.S. Africa Command's chief of staff.
Banning TikTok: A few days after a Chinese spy balloon was shot down off S.C.'s shore, several legislators filed a bill to permanently ban the Chinese-owned TikTok app from state government-issued cellphones. There are concerns the Chinese government could use the social media video app to collect private data. In December, at the request of Gov. McMaster, the Department of Administration blocked TikTok on the state's network, which most state agencies use. However, colleges and universities, the legislative and judicial branches, were not part of the TikTok ban.
PHOTO OF THE WEEK
Rep. Bill Clyburn and I had the opportunity to welcome to the House members of The Links, a 76-year-old organization for professional women of African descent. It is one of the nation's oldest and largest volunteer service organizations of extraordinary women committed to enriching, sustaining, and ensuring the culture and economic survival of African Americans and other persons of African ancestry.
Want to Know More?
Do you want to learn more about my positions, bill sponsorships, voting record, and past writings? Here are some handy links:
I'm Available & AT YOUR SERVICE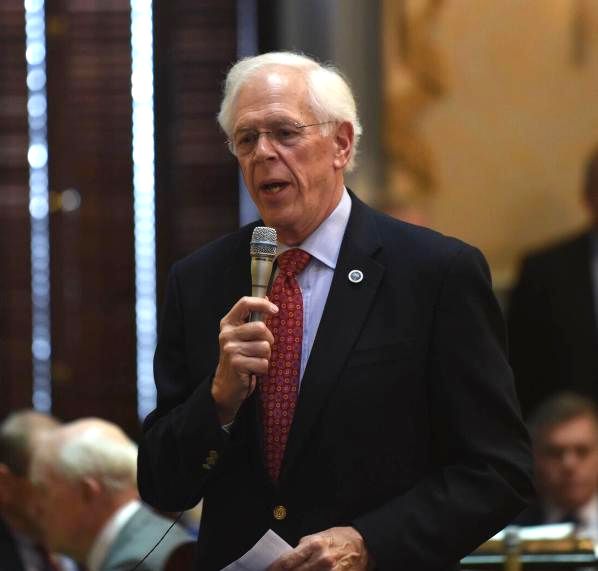 It is my honor to be of service. Please do not hesitate to contact me if you need assistance navigating state government or have any thoughts or concerns about the legislature.
In Your Service,
Email: Bill@taylorschouse.com
www.TaylorSCHouse.com  
Newsletter not paid using taxpayer funds.   
Legal Notice: This newsletter is not a solicitation for contributions to any SC registered lobbyist.