Dear Friends:
Barely a day goes by that I don't hear from a constituent objecting to the 'Critical Race Theory' curriculum seeping into the classrooms nationwide. They have a reason for concern.
Indoctrination from the Left & Washington
The Biden administration is on a campaign to address so-called "systemic racism" and "affirmatively" promote equality and racial justice by pushing this curriculum into schools. Biden has proposed offering grants for K-12 history classes that use the curriculum, claiming that America is inherently racist (even though he had to backtrack last week on his previous assertions by saying, "I don't think America is racist.").
They cleverly disguise the true intent of the goals by using creative, acceptable words to describe it. The curriculum's priorities are to "incorporate racially, ethically, culturally, and linguistically diverse perspectives" in school curricula. The funding will support the teaching of critical race theory and the "1619 Project," the New York Times series that contends the United States was founded on slavery, regarding it as the defining characteristic of the American experience. The grants also recommend the works of critical race theorist Ibram X. Kendi as exemplary materials for K-12 educators to use.
Most Americans are unaware of CRT. You best quickly come to speed on this Marxist program that is overwhelming government agencies, the military, corporate America, universities, and worse, public education. Experts have described it as the practice of viewing all social and cultural issues through the lens of race and racial identity and casting all human relations in terms of power structures related to that identity. (Learn more in this article)
PUSHBACK — Time for Action in SC
This week, I proposed 'The South Carolina Academic Integrity Act'. This bill (H.4343), was filed with 23 sponsors. It has these objectives:
A requirement for full transparency requiring schools to list all curricula and instructional materials, ensuring parents are aware of the details of what's taught to their children.
Failure to post and update the curricula requires state funding to be withheld from the school.
A prohibition on the use of items related to Critical Race Theory.
A prohibition on using the 1619 Project.
A reporting requirement on the receipt of federal social studies grant funds.
Do We Have a Problem?
One Aiken County educator wrote me, "I know full well the insidiousness of this so-called "Critical Race Theory." This theory masks itself as fact, as truth, taking on a quasi-religious nature. Its aim is to re-segregate society, discriminate against those who are "white," victimize those who are "black," and render America a nation of identity groups rather than as Americans."
The educator concluded, "Critical Race Theory has become THE perspective. Students in institutions of higher learning are indoctrinated into this divisive ideology, and it has found its way into elementary school classrooms."
There are many examples elsewhere. One example, two professors at a university in Chicago who serve on a local school board were caught on an open Zoom call boasting of their influence on "social justice" teaching in schools. One said, "I mean, it's all social justice. All-day, every day, I get to talk about the things I love."
SC is Not Alone in PUSHING BACK on CRT
The Idaho State Legislature has become the first in the nation to pass put a bill to ban Marxist-based critical race theory from being taught in public schools. Tennessee, Arkansas, Georgia, Oklahoma, Iowa, Missouri, Texas, South Dakota, Arizona, and West Virginia are among other states considering bans on such teaching.
PUSHBACK — Senate Passes 'Open Carry'
The Senate passed legislation allowing gun owners with a CWP to 'open carry' if they choose. SC would join 45 other states who can carry their handguns openly in public. The Senate voted 28-16 after three days of debate to pass H. 3094, a House-sponsored bill that would allow only concealed weapons permit holders the right to carry their handgun in the open. The bill was amended, so it heads back to the House for another vote next week. We'll send it to Gov. McMaster, who is eager to sign it.
PUSHBACK — Ultimate 2A Legislation
Senators amended the gun bill to make SC a Second Amendment Sanctuary State. The House passed that measure last month in another bill, so we will most certainly vote for it again in H.3094. That measure resists federal gun-grabbing attempts and, in general, forbids SC law enforcement from enforcing federal gun laws or assisting federal agents in those activities.
PUSHBACK — SC Gun Grabbing City Gets Rebuffed
The City of Columbia's efforts to impose a trio of gun laws was nixed by a state judge this week. The city adopted the three gun ordinances in 2019. One of them added homemade "ghost guns" to the city's nuisance ordinance. Another allowed for the seizure of guns from people under an extreme risk protection order (Red Flag Law). The judge ruled in favor of the Attorney General's office that challenged the ordinances. The judge said that the city's gun laws violate the state's statutes and are invalid. For three decades, state law hasn't allowed cities, towns, or counties to regulate firearms.
SC's Death Penalty Methods
South Carolina last executed a death row inmate ten years ago. The reason – a lack of lethal injection drugs. After 8 hours of debate, the House remedied that by adding death by firing squad to the state's execution methods. Currently, inmates can choose between the electric chair and lethal injection. Since the drugs are not available, they select injection. The bill (S.200) retains lethal injection as the primary method of execution if the state has the drugs, but requires prison officials to use the electric chair or firing squad if it doesn't. The Senate approved the bill in March by a vote of 32-11. SC is one of only nine to use the electric chair and will become only the fourth to allow a firing squad.
Back to Work – You're Needed!
Ask any business about the staffing shortages they are experiencing. They'll tell you that too many unemployed people would rather stay home and collect the special federal government COVID unemployment hand-out rather than work. Gov. McMaster aims to cure that problem. He issued orders Thursday to turn off the government money spigot, forcing people back to work. 81,000 jobs statewide that need to filling.
McMaster statement, "South Carolina's businesses have borne the brunt of the financial impact of the COVID-19 pandemic. Those businesses that have survived—both large and small, and including those in the hospitality, tourism, manufacturing, and healthcare sectors—now face an unprecedented labor shortage. This labor shortage is being created largely by the supplemental unemployment payments that the federal government provides claimants on top of their state unemployment benefits. In many instances, these payments are greater than the worker's previous paychecks. What was intended to be short-term financial assistance for the vulnerable and displaced during the height of the pandemic has turned into a dangerous federal entitlement, incentivizing and paying workers to stay at home rather than encouraging them to return to the workplace."
The Governor directed SCDEW to terminate SC's participation in all the federal pandemic unemployment programs effective June 30, 2021. It's wrong for folks to use COVID unemployment payouts (taxpayer's money) as an excuse not to work.
Santee Cooper Reform
Some call Santee Cooper a rouge, out-of-control, state agency. The state-owned power company was instrumental in the nuclear financial debacle that lost $4 billion of its ratepayers' money when constructing the V.C. Summer nuclear power plant failed, which is widely recognized as the greatest business failure in state history.
The General Assembly has been working to reform Santee Cooper for five years. This week, the House voted approval of changes aimed at making Santee Cooper more accountable to keep electric rates low for its customers and the many members of electrical cooperatives across the state. That comes with needed transparency, accountability, and much-needed state oversight. One sticking point to be worked out between the House and Senate versions of the bill — the House voted overwhelmingly to set up a process to potentially selling the utility in the future.
Something Good from California!
Moving van and U-Haul statistics show that thousands of California residents are fleeing their home state for liberty-loving states like SC. A California wine giant has joined that movement, at least partially. E&J Gallo Winery seeks to set up a winery in Fort Lawn, a former mill town in Chester County. The SC House passed 98-11 legislation tweaking the state's alcohol regulations allowing the California wine giant's $400 million bottling and distribution plant to come with nearly 500 jobs. The legislation gives the company three off-site tasting rooms. Gov. McMaster says he will sign the bill (S.619) when he receives it.
PHOTO OF THE WEEK
In honor of National Teacher Recognition Week, this morning we surprised veteran teacher Melanie Driscoll with a presentation of a Resolution from the SC House of Representatives recognizing her teaching career spanning more than a half-century. While her students looked on, joining me in making the presentation was Principal Michael Truitt. Melanie is currently the special education teacher at J.D. Lever Elementary, Aiken. In her 51 year career in the classroom, she has taught every grade from kindergarten through seniors in high school. She is a true professional with a passion for teaching and a love of students. Congratulations, Melanie Driscoll.
I'm Available and AT YOUR SERVICE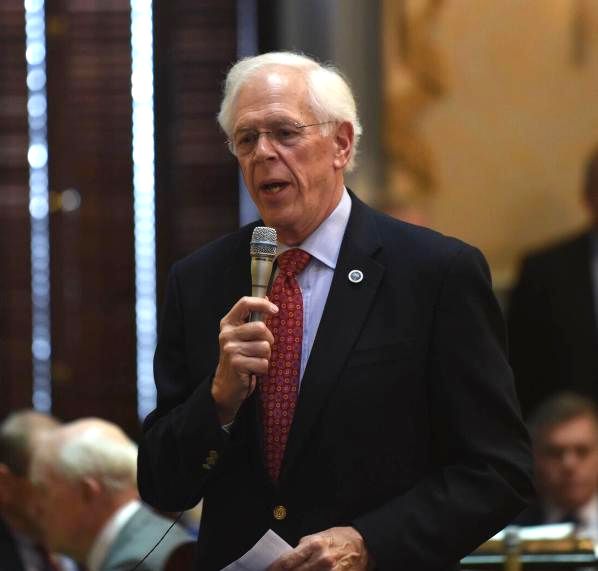 It is my honor to be of service. If you need assistance during these trying times, navigating though the flow of information on COVID-19, navigating state government or have any thoughts or concerns about what the legislature, please do not hesitate to contact me.
In Your Service,
Bill Taylor
Representative
South Carolina General Assembly
Email: Bill@taylorschouse.com
www.TaylorSCHouse.com
Newsletter not paid using taxpayer funds.
Legal Notice: This newsletter is not a solicitation for contributions to any SC registered lobbyist.