Dear Friends:
Welcome! This week, many new subscribers joined the nearly 10,000 readers of this newsletter. I suspect it's because they are troubled by the myriad of challenges facing America and the ongoing assault on personal liberty. They are likely seeking ways to PUSHBACK on our over-reaching federal government. At the SC Statehouse this week, we did just that.
PUSHBACK on Washington DC
In a critically important vote, a House Judiciary panel voted in favor of the Article V Convention of States (CoS) Resolution (H.3205) that I have been championing since I filed the original legislation in 2013. Their decision to send the bill to Judiciary Committee is a significant step forward in winning passage in the General Assembly, so SC joins 15 other states in the effort to put limits on the federal government.
Scores of citizen activists from across the state, and many from Aiken County, braved Thursday's stormy weather to fill the overflow rooms at the Statehouse to watch the proceedings on TV screens. The committee's vote was met with jubilation.
I led off testimony by describing Washington's dysfunction and how every survey shows a vast number of Americans don't trust the federal government. That's sad but understandable. Only state legislators have the power to put limits on the federal government as our nation's founders intended in Article V of the US Constitution.
I invite you to view my brief remarks to the committee on this video starting at the 2:00 minute mark. Then stay tuned for Mark Meckler, an American Patriot of the highest order, with his brilliant summation of the CoS initiative that is sweeping the nation.
Want to learn more? Read this summary in FITS News.
Expanded 2nd Amendment Rights Wins House Approval
This week, the House passed the first major Second Amendment legislation in over 25 years! Forty-five other states have adopted firearm legislation similar to this bill. The "Open Carry with Training Act" is a critical step in bringing SC in line with a vast majority of the country, including every neighboring state. This bill (H.3094) allows individuals to openly carry handguns in SC, so long as they have a valid conceal carry permit (CWP). This advancement is good for safeguarding our 2A rights. Next up is the Constitutional Carry bill (H.3096). That's out of committee and will receive a House vote in a couple of weeks.
My Commentary: Two gun-rights advocacy groups have generated a lot of angst and misunderstanding among SC'S 2A supporters. My colleagues and I have each received hundreds of emails and phone calls triggered by these advocacy groups. I believe they purposely confuse the issue to stir up their followers. In reality, they are using these gun bills to raise money for themselves. As an example, here's one mailer that went to my constituents featuring a very creepy image:
These folks wasted a lot of mailing expense — they could have just asked me or checked my NRA A+ rating. I'm a cosponsor of both H.3094 & H.3096. Their goal was to insert Constitutional Carry into the Open Carry with Training legislation. A combined bill would have far more difficulty passing the Senate. Regardless, if we didn't meet their demands, they labeled us anti-2A. Hard to grasp a political strategy that rips and alienates legislative allies. I call them "absolutists" — they have to have it their way absolutely.
As one friend wrote me, "These people take an all-or-nothing approach and despise incremental steps toward the goal. The problem with all-or-nothing is it usually results in nothing. Imagine if every play in a football game was a Hail Mary pass toward the end zone instead of a methodical march down the field."
Important legislation takes thoughtful strategy, not blunt force. My voting strategy is to advance gun rights, not kill them. We did just that this week in the House — we advanced. The Constitutional Carry bill will get my vote in a couple of weeks. (By the way, thanks to the pot-stirring, I did appreciate hearing from many constituents this past week.)
PUSHBACK SETBACK!
It appears some of my Republican colleagues think it's OK to let guys (trans women) participate in women's sports in our public schools even though transgender women have a natural athletic advantage over biological females. The House Judiciary Committee shelved the "Save Women's Sports Act" that would have banned transgender women/girls from participating in high school and middle school women's sports. This legislation is part of our SC PUSHBACK AGENDA. One Republican legislator said he thought its definition of gender was too simplistic and failed to consider science used by sports organizations to determine eligibility. He also was worried over lost economic opportunities if the bill passed, like boycotts from left-leaning organizations and corporations. We are working on strategies to resurrect this legislation.
Hate Crime Bill
Hate Crime legislation is progressing in the House and is getting a lot of attention. This week, the Judiciary Committee added back sexual orientation and gender to the list of characteristics that would be protected after facing backlash for their decision to remove them just a few days earlier. However, they also voted to limit the bill to violent crimes, removing sections that would have also enhanced penalties for stalking, harassment or vandalism if the victims were targeted because of specific personal characteristics. SC is one of only three states without some hate crime law.
Federal Judge Nixes Fetal Heartbeat Bill
Very predictable! A federal judge, nominated by President Obama, has issued an order blocking implementation of the recently passed "Fetal Heartbeat Bill" by the General Assembly. That sets up appeals to higher courts, and, hopefully, the Supreme Court could use this legislation to consider overturning Roe vs. Wade. The law prohibits abortions after a fetal "heartbeat" is detected, typically around six to eight weeks into a pregnancy.
Protecting SC Businesses
This week, members of a House Judiciary subcommittee voted in favor of S.147 after amending it. The bill has already been passed by the Senate. This legislation protects businesses operating by health guidelines from liability associated with COVID-19. This legislation is critical to the business community and helps us get South Carolina back to work!
Budget Week Ahead
Next week, my colleagues and I debate the state budget for 2021-2022. It's a long week with late nights of debate as we vote on the budget recommended by the House Ways & Means Committee. Once we vote, the budget will move to the Senate. Finally, it will move back to the House for final modifications and approval before being sent to the Governor for his veto considerations.
The past year has been unique and challenging in many ways. Due to the financial impact of COVID-19, the House made the hard decision not to pass a budget that would authorize new spending in South Carolina for 2020-2021. This was the best option for our state at the time as we get back on track.
COVID Good News!
It's time for loving and hugging. Under new rules issued by SCDHEC, all nursing homes, assisted living facilities, and long-term care facilities in the state must open their doors to loved ones. There are a few cautionary exceptions that could temporarily halt visits. For example, if fewer than 70 percent of their residents have been fully vaccinated and community spread is high. In that scenario, visits can be withheld from unvaccinated residents only. Other exceptions include not allowing visits with a resident who has COVID-19 or is in quarantine for being in close contact with someone who's sick. The new rules should greatly expand indoor visits with loved ones.
Money Windfall for Public Schools
SC's K-12 public schools will share $2 billion from the latest federal COVID-19 aid package, on top of the more than $1 billion already allocated that largely hasn't been spent. The money must be spent to keep our schools safely open and address the immediate and long-term impacts of COVID-19. Local school boards have until September 2023 to spend. They have broad discretion where the money goes toward meeting the law's broad goals of reopening schools, keeping them open safely, and addressing students' social, emotional, mental, and academic needs. Twenty percent of districts' share must address learning loss, however, they decide to do that.
PHOTO OF THE WEEK
At the Taylor home, we fly two very cherished flags.
I'm Available and AT YOUR SERVICE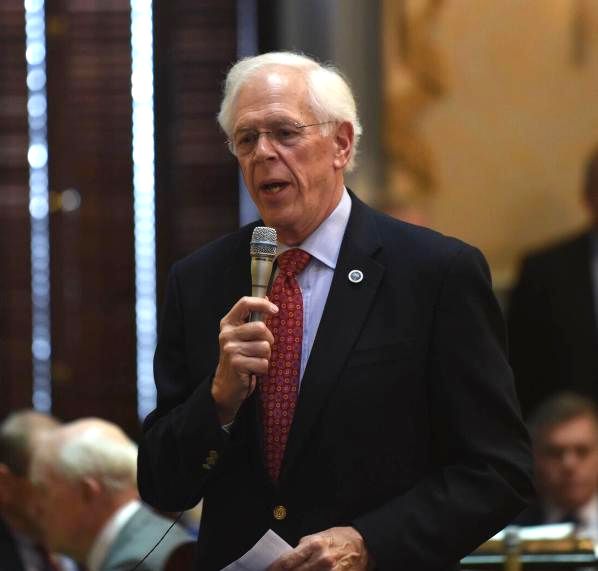 It is my honor to be of service. If you need assistance during these trying times, navigating though the flow of information on COVID-19, navigating state government or have any thoughts or concerns about what the legislature, please do not hesitate to contact me.
In Your Service,
Bill Taylor
Representative
South Carolina General Assembly
803-270-2012
Bill@taylorschouse.com
www.TaylorSCHouse.com
Newsletter not paid using taxpayer funds.
Legal Notice: This newsletter is not a solicitation for contributions to any SC registered lobbyist.