Dear Friends:
With the beginning of every new legislative session, it often takes the General Assembly time to crank up to speed as committees consider newly filed bills before sending them to the House or Senate floor for debate and votes. Not so this year. Our legislative irons are on fire!
Heartbeat Bill Passes Senate!
Some words rarely used in the same sentence: "The SC Senate Moved Swiftly." That's what happened this week when the Senate gave final passage to the Heartbeat Bill. That bill stalled and died in the Senate in past sessions. The 'deliberative body' took only three days of debate to pass the Heartbeat Bill on a vote of 30-13. The legislation prohibits abortions after a fetal heartbeat is detected, which typically occurs around six to eight weeks into pregnancies. The bill moves to the House where its passage is assured with Republicans holding a two-thirds majority.
House Targets Vaccine Improvements
The House voted overwhelmingly (116-1) to spend $208 million to speed up the state's ability to give South Carolinian's the COVID-19 vaccine if they want it. The money would go to the DHEC, MUSC, hospitals, and other vaccine providers. It would be available to pay for staff to give the vaccine, personal protective equipment, and additional related costs.
The House legislation would also direct DHEC to allocate vaccines on a regional basis instead of on a county basis. That would help take into account poverty levels, infection rates, age, and high-risk populations. DHEC would also have to consider recommendations from regional advisory panels comprising local providers who will consider what areas are receiving vaccines, what areas aren't, and what distribution plans are working.
Vaccine Helpers
Another COVID-19 bill that won House approval allows qualified healthcare personnel such as South Carolina-licensed Advanced Practice Registered Nurses, Physician Assistants, and Registered Nurses and specified healthcare retirees to administer the vaccine under supervision.
Governor Calls for Repurposing Vaccine Doses
On Friday, Governor Henry McMaster requested DHEC reallocate 37,800 doses of Moderna vaccine from the federal Pharmacy Partnership for Long Term Care Program to other vaccine providers in the state. The LTC Program partners, CVS and Walgreens have completed their first pass through our state's long-term care facilities and have determined that there will be a surplus once every resident and staff member have been offered both doses. The governor wants the surplus vaccines made available to the general public right away.
New Vaccine Help Line
DHEC started a new phone line Friday to provide information and answer questions about the COVID-19 vaccine. The new phone line — 866-365-8110 — launched with 240 operators. It will be available from 7 a.m. to 7 p.m. every day and help people search for vaccine providers' information. For information about vaccine distribution in South Carolina, scdhec.gov/vaxfacts.
Great Shots in the Arm for SC
Contrary to social media and some news reports, SC ranks #10 among states for how quickly the state gets COVID-19 vaccine doses into people's arms. The analysis comes from Becker's Hospital Review, a national healthcare information forum that released its "States ranked by percentage of COVID-19 vaccines administered". DHEC data indicate that, as of Friday, the state has received 657,250 total doses of the Pfizer and Moderna COVID-19 vaccines and has administered 362,789 of those doses.
Reforming Santee Cooper
The fate of Santee Cooper has been under fire since 2017 when its partnership failed in the $9 billion V.C. Summer nuclear plant project. After learning about corruption in the agency, it's time to hold Santee Cooper accountable for their wrongdoings to taxpayers and stakeholders.
This week, House members voted 89-26 to continue to receive offers for a sale of the state-owned electric utility while also pushing forward with reforms of the agency. Santee Cooper could be sold in part or totally under this legislation. Both the House and Senate and the governor would have to approve any deals.
Reforming Santee Cooper remains a priority. The legislation creates a rate-making process similar to privately owned or investor-owned utilities. However, the Santee Cooper board would have ultimate authority over proposed rate increases but would make the decision independent of the utility's management. The Senate would need to agree to move forward with this dual path plan.
Teacher Appreciation!
With a unanimous vote by the House, SC public school teachers are on track to receive additional pay in their final paycheck of the school year. Representatives approved spending up to $50 million to pay for the state portion of annual step-increases in income to the state's public school teachers. An average teacher would receive about $650, before taxes. The state's salary schedule provides an annual pay bump through 23 years, with some districts going beyond the 23 years.
Charter School Demand is "Off the Charts"
The upheaval and disruption in public schools caused by the pandemic have caused parents to look for other options. Enrollment in public charter schools has exploded by 25%, increasing by 9,000 students statewide. The charter school districts have a waiting list of 41,000 students! As one charter school leader stated, "The demand is off the charts." The House voted to send an additional $9 million to the Public Charter School District and the Charter Institute at Erskine to help meet their financial shortfall for this school year.
Picture of the Week
It is a privilege to worship at various churches in the vast House District I serve (House District 86 is two-thirds the size of Rhode Island). This month my wife, Donna, and I visited Kedron Baptist Church. My friend, Pastor Brad Willis, invited me to share my message. I was blunt. It's way past time for churches to resist government edicts that in some states have forced churches to shutter their doors. That is unheard of in our nation's history. The church must reassert itself in its vital role in society as a refuge. It must not surrender its freedom granted under the Constitution. It must boldly repel the wicked war on religion that's being waged in America.
I'm Available and AT YOUR SERVICE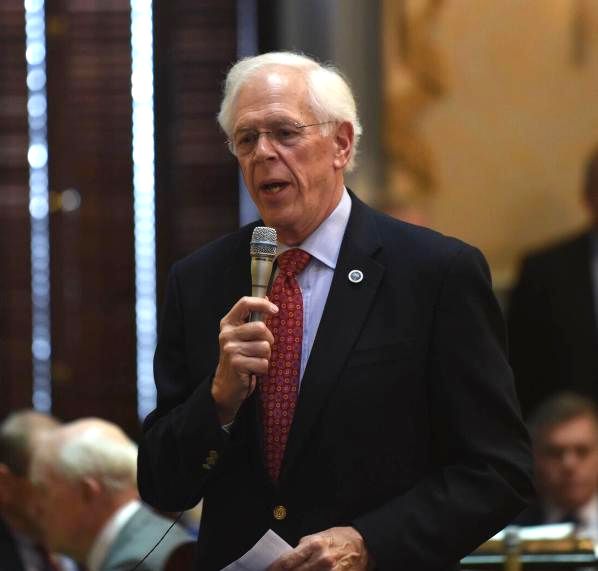 It is my honor to be of service. If you need assistance during these trying times, navigating though the flow of information on COVID-19, navigating state government or have any thoughts or concerns about what the legislature, please do not hesitate to contact me.
In Your Service,
Bill Taylor
Representative
South Carolina General Assembly
803-270-2012
Bill@taylorschouse.com
www.TaylorSCHouse.com
Newsletter not paid using taxpayer funds.
Legal Notice: This newsletter is not a solicitation for contributions to any SC registered lobbyist.