Dear Friends:
Baseball great Yogi Berra might as well have been referring to the SC legislature when he famously said, "It's like déjà vu all over again" or "It ain't over till it's over."
Yogi would have been right about this legislative year because we are heading into extra innings after this year's regular session concluded last Thursday at 5 pm, as the state Constitution requires.
Hours after the session officially wrapped up, Governor Henry McMaster used his authority to call legislators back to the Statehouse for a special session. Foremost, the House of Representatives will focus on a solution to SC becoming the abortion destination state in the Southeast.
Urgent Need for Pro-Life Legislation
With the state Senate's recent rejection of House-passed legislation that would have clamped down on abortions but allowed for limited exceptions, the House will reconvene Tuesday to debate and pass pro-life legislation. With the leadership of the House and Senate seeking a path forward, the House Judiciary panel held a hearing this past Tuesday to consider S.474, the Senate's revised version of the 'Fetal Heartbeat bill 2.0'.
The Senate passed its bill earlier in this session. It generally limits abortions after six weeks and includes exceptions for the mother and baby. It has been improved to help inoculate it from suffering the fate of the original Heartbeat bill enacted more than two years ago but ruled unconstitutional by the State Supreme Court in January.
Last week, in advance of the pro-life/abortion debate in the House, women Democrat Representatives symbolically paraded into the empty chamber to deliver boxes full of more than 1,000 amendments in opposition to the Heartbeat 2.0 bill. When the House gavels into session Tuesday at noon, we anticipate extended debate on the House floor.
The need to pass pro-life legislation in SC has become increasingly urgent in recent months due to the actions of neighboring states. With North Carolina recently approving a ban on nearly all abortions after 12 weeks of pregnancy, down from their current 20 weeks, SC could soon become the only state in the Southeast where abortions are still widely available. This, coupled with the fact that women from neighboring states are already coming to SC to end their pregnancies, highlights the importance of urgently addressing this issue. With nearly half of the almost 3,000 women who were provided abortions in SC during the first three months of this year coming from out of state, the need for clarity and resolution on this issue is paramount.
FINAL WEEK WRAP-UP
The final week of this year's regular session was a flurry of activity, with legislators working tirelessly on the floor over the last three days to pass important legislation.
At the beginning of this year, House Republicans set an ambitious agenda that included improving statewide economic development, reforming our education system, implementing fiscal discipline, increasing personal freedom, and prioritizing public safety. Despite challenges and bumps along the road, we remained committed to advancing these important tenets and making meaningful progress toward achieving them.
Reflecting on our accomplishments over the past 18 weeks of this legislative session brings excitement and optimism for our great state. As the session officially adjourns, we have significant strides toward a brighter future for SC and its citizens.
Preparing Our Workforce – PASSED
The SC Education and Workforce Development Act (H.3726) aims to prepare 60% of South Carolinians with postsecondary degrees or industry credentials by 2030 by mandating measures such as preparing high school students for college-level math and reading, developing articulation agreements, and utilizing technical colleges for workforce training. The Senate amended the bill, and the House concurred with the Senate amendments. The bill has been enrolled for ratification. The next stop will be the Governor's desk.
DHEC Restructuring – a positive break up – PASSED
Modernizing government agencies and making them more efficient has been a major priority, and we took a huge step in doing that. S.399 will split the Department of Health and Environmental Control (DHEC) to create the Department of Health and the Department of Environmental Services. Under this restructuring:
Both the Department of Public Health and the Department of Environmental Services would become cabinet agencies, with their directors appointed by the Governor with advice and consent of the Senate.
Certain veterans' nursing homes would be transferred to the Department of Veterans Affairs.
The food safety program would be transferred to the Department of Agriculture.
The flood mitigation program currently housed with the Department of Natural Resources would be transferred to the Office of Resiliency.
Water Resources would be transferred from the Department of Natural Resources to the Division of Water within the Department of Environmental Services.
Protecting Our Children through Gavin's Law: PASSED!
In 2022, Gavin Guffey was a 17-year-old victim of sextortion that resulted in him taking his own life. The scammers tricked Gavin into sharing compromising photos and then threatened to share these photos publicly. He ended his life out of fear and shame. Gavin had just graduated from high school and was planning to study education in college to become an art teacher.
Rep. Brandon Guffey, Gavin's father and one of my colleagues, has turned a tragedy into action to prevent other families from suffering a similar fate. His bill, H.3583, would make sextortion a crime punishable by up to twenty years in prison and an additional twenty years if the crime results in the victim's death. The bill separates the offenses of a minor from those of an adult perpetrator. The bill would also require school districts to inform students and faculty about the dangers of sextortion.
The Senate honored Rep. Guffey's late son by unanimously adopting an amendment naming the bill Gavin's Law. The bill will be returned to the House for concurrence before being ratified and sent to the Governor for signature.
BANNING CRT – One Step Closer to Becoming Law
The "South Carolina Transparency and Integrity in Education Act," passed by the House in February, was debated on the Senate floor this past week and passed with a few amendments to encourage parental involvement. H.3728 intends to keep bias out of the classroom, and schools should foster a positive learning environment where they have a positive learning experience free from discrimination. The bill will now come back to the House so we can vote on the revised bill.
Coming Up in Special Session
Pro-life legislation isn't the only item on the agenda this week. We will finish crafting the State budget and finalizing bond reform. Both are in conference committees to work out the differences between the House and Senate versions. Here is some more information on these bills:
Budget – Fiscal Conservatism for Economic Prosperity
The most important responsibility of the legislature is passing a balanced state budget. Last week, the House and Senate made their last rounds of changes to the 2023-2024 state budget. It now heads to a conference committee to be finalized.
I am proud to have supported this budget, which focused on lowering tax burdens for working families, budgeting for people and not programs, increasing our savings and reserves, investing in our infrastructure and economy, and taking care of the hard-working individuals who serve the people of South Carolina by providing much-needed salary increases. This budget positions SC for continued economic growth and will ensure our people have opportunities to prosper.
Stopping the Revolving Door for Repeat Criminals
The Bond Reform bill (H.3532) will help make SC a safer place to raise our families by stopping the revolving door for repeat criminals. This bill creates sentence and bond enhancements for a person convicted of a violent crime while out on bond for a previous violent crime. The Senate non-concurred with House amendments to the bill, and the House insisted on those amendments, putting the bill in a conference committee where legislators will work together to compromise and get the bill sent to the Governor.
Protecting Our State from Fentanyl
Fentanyl is an epidemic killing South Carolinians! The Trafficking in Fentanyl bill (H.3503) declares fentanyl a Schedule 1 drug and increases the penalties on dealers who sell it. This bi-partisan bill provides a mandatory minimum sentence of 10 years. It sends a strong message to drug dealers and those trafficking fentanyl that SC will no longer tolerate their dangerous activity in our state. I am confident this bill will get pushed through in our special session and signed by the Governor this month.
First Responders' Death Benefits
A House/Senate conference committee was appointed to address the differences between the House and Senate versions of S.108, a bill that makes provisions for death benefits for first responders killed in the line of duty.
Around House District 86
This weekend, I honored "CELEBRATE RECOVERY" at Aiken's Cedar Creek Church for faithfully serving those in need for 20 years. I presented a Resolution from the SC House of Representatives marking the milestone to pastor Phillip Lee and Clair Levesque, who has led "CELEBRATE RECOVERY" with her late husband, Ray, since 2009.
Legislative Briefs
Getting Tougher on DUI Violators
The Senate agreed to amendments made by the House to S.36 and enrolled it for ratification. It expands the scope of using interlock ignition devices for habitual offenders seeking reinstatement of their driver's licenses.
Protecting Law Enforcement & Judges
It is imperative we protect law enforcement and judges. We are sending the governor a bill (S.252) that allows judges and law enforcement officers to file documents to keep their personal information confidential.
Proceeding with State Executions
The General Assembly approved the Execution Team Identity and Lethal Injection Drug Provider Information Protections (S.120), protecting the personal identifying information of state execution team members and information related to pharmacists, other healthcare professionals, and providers of lethal injection drugs for executions to be performed by our Department of Corrections.
Airport Alcohol
The Governor is also being sent a bill (S.459) that allows passengers to consume liquor drinks purchased from authorized airport concessionaires throughout the secured areas of the Charleston International, Columbia Metropolitan, Florence Regional, Greenville-Spartanburg, Hilton Head Island, and Myrtle Beach airports.
Parental Leave for Teachers
On Friday, Gov. McMaster signed into law H.3908, legislation that makes provisions for paid parental leave for teachers and other school district employees upon the birth of a child or initial legal placement of a foster child or a child by adoption.
Workforce Housing Approved
The House and Senate are sending the governor legislation (S.284) that authorizes a county or municipality to expend up to fifteen percent of its annual local accommodations tax revenue for the development of workforce housing, which must include programs to promote home ownership.
Help for Small Towns
Many small SC towns cannot afford the high cost of an annual financial audit as currently required. The House and Senate agreed on legislation (S.31) that small towns may elect to provide for either an audit of financial statements or follow a provide a compilation of financial statements in lieu of an audit.
Sent to the Senate
Last week also saw the passage of several House bills sent to the Senate for consideration likely next year.
Disabled Veterans Property Taxes
The House approved and sent the Senate H.3116, a bill addressing the timing of the property tax exemption for disabled veterans. The legislation provides that a qualified veteran, who is permanently and totally disabled because of a service-connected disability, may immediately claim the property tax exemption for the entire year the disability occurs.
Not so Fast, Tax Man
The House approved and sent the Senate H.3072, a bill providing for the continuation of the owner-occupied property tax assessment ratio and homestead exemption following the owner's death while the estate is in probate.
Incentives for Retired Law Enforcement Officers
The House voted approval of H.3425, a bill facilitating retirees in state pension systems returning to covered employment without being subject to earnings limitations. The legislation establishes conditions that allow earnings limitations not to apply when a retiree in the SC Police Officers Retirement System returns to covered employment in a critical needs law enforcement position.
PICTURE OF THE WEEK
At the Aiken County Gamecock Club 'Welcome Home Tour' this past week, I laughed heartily with USC football coach Shane Beamer and local Gamecock Club President Chris Fulmer. It was a great turnout at the Fairground.
Want to Know More?
Do you want to learn more about my positions, bill sponsorships, voting record, and past writings? Here are some handy links:
I'm Available & AT YOUR SERVICE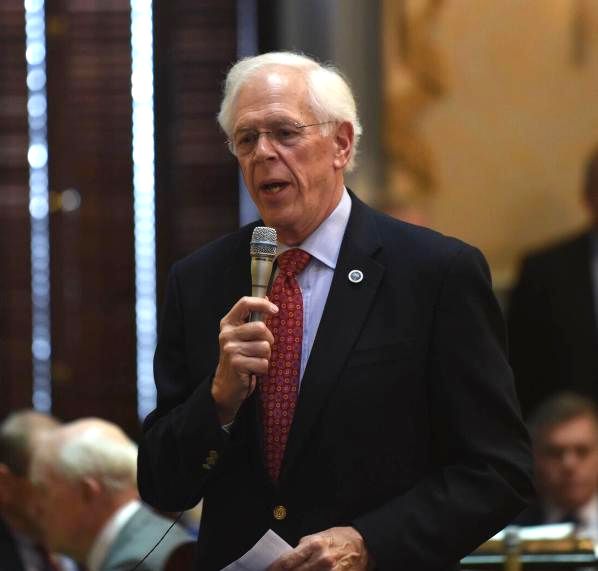 It is my honor to be of service. Please do not hesitate to contact me if you need assistance navigating state government or have any thoughts or concerns about the legislature.
In Your Service,
Email: Bill@taylorschouse.com
www.TaylorSCHouse.com  
Newsletter not paid using taxpayer funds.   
Legal Notice: This newsletter is not a solicitation for contributions to any SC registered lobbyist.