Crackdown on Fentanyl Trafficking
Dear Friends:
In a legislative session that never seems to end, the House of Representatives returned to the Statehouse Wednesday to continue passing significant legislation that didn't get finalized by the May 11th end of the 'regular' legislative session. We must get essential bills across the finish line during this special session called by Governor McMaster.
Crackdown on Fentanyl Trafficking
Every seven minutes. That's how often someone dies from Fentanyl poisoning or overdose in the United States. Mexican cartels smuggled this killer powder into our nation with ingredients imported from China. 
That's not a long-distance problem. Every four days, a resident of Aiken County dies of an accidental drug overdose! Last year, Fentanyl was found in 80% of the overdose cases in Aiken County. The drug killed nearly 1,500 people statewide in 2021, more than cars or guns, and accounted for more than two-thirds of all fatal overdoses that year. 
Aiming to stem the rising overdoses, the House of Representatives voted 103-1 to send the Governor legislation that will soon have Fentanyl traffickers face decades in a SC prison and years more if they're caught with a gun under legislation that aims to stem rising overdoses. Fines range up to $200,000.
House Speaker Murrell Smith called the vote a "huge win" for public safety. 
The bill (H.3503) threatens up to 25 years in prison for a first conviction of trafficking less than 14 grams of Fentanyl, about a half-ounce. A second conviction comes with a mandatory 25-year sentence. Punishment escalates to as much as 40 years for people caught with 28 grams or more. 
The President of the state's Sheriffs' Association, Orangeburg County Sheriff Leroy Ravenell, told the Post & Courier, "Fentanyl has wreaked havoc in communities across our state, but today, our Legislature took definitive action to combat this lethal substance."
Gov. McMaster says he will sign the bill into law. 
Boating Safety Training
The increased boat collisions with injuries and death in SC have prompted legislation. Another bill on its way to the Governor should eventually make boating safer in SC. The House and Senate compromised on S.96, requiring water safety education for those operating boats and watercraft. If you are over 16 (born before July 1, 2007), this law doesn't directly impact you. It is being phased in, starting with the young, because we heard from adult boat owners who objected to taking a boating safety course, although many adults have wisely done that.
This legislation starts with minors aged 16 and younger and requires them to obtain a safety certification to go jet skiing or operate a boat. The SC Department of Natural Resources (SCDNR) and the US Coast Guard offer approved boating safety education classes.
The bill exempts someone operating a personal watercraft while hunting or fishing or when an operator is heading out to lawfully hunt or fish.
Adoption Waiting Periods
A priority of House Republicans is fixing SC's antiquated child adoption system, which is complex, expensive, takes too long, and discourages those who seek to adopt unwanted children. This week, the House agreed to Senate amendments to H.3553, which removes the Adoption Waiting Period in specified situations. This bill would eliminate the current statutory 90-day waiting period after petitions have been filed before adoptions may be finalized with a decree. Adoptions would still have to be completed within six months of the adoption petition's filing.
AROUND HOUSE DISTRICT 86
Abundance of Water
I was on hand last week at the Clemson Research Facility near Blackville to learn the status of our state's water resources, particularly in Aiken and Orangeburg Counties.
The final report of the Edisto River Basin was unveiled. Hydrologists proclaimed South Carolina a "water-rich state" but warned we must prepare for occasional droughts and statewide population growth. The state-authorized and funded study stated the Edisto Basin has an "abundance of groundwater and sufficient surface water to meet future needs."
There are a host of recommendations to conserve water and prepare for the 50 years they used in their planning. The Edisto Basin is the first to report; similar studies are being conducted or launched in the seven other SC river basins. These statewide data are critical in managing our precious water resources so we don't fall victim to water shortages currently experienced in some western states.
JOBS! JOBS! JOBS!
I was on hand for a historic moment that will impact kids' lives for decades to obtain critical skills for real-world jobs.
The Aiken County Public School District and Aiken Technical College signed an agreement to construct the new Career & Technical Center on Aiken Tech's campus. The new facility will allow high school students to develop tech skills for trades in demand.
The General Assembly funded the $30 million state-of-the-art
Career Center from the SRS plutonium settlement money. The new facility will be twice the size of the current Career Center that was constructed in the late 60s, and is scheduled to be completed in two years.
With the Career Center moving across Hwy. 1 to the Aiken Tech campus, high school students will more easily receive the dual enrollment and dual college credits. This is a milestone moment for Aiken County's future economy.
LEGISLATIVE BRIEFS
Septic Tank Inspections
If you are building a house that requires a septic tank, you are likely to run into months of delays (maybe as many as eight months) because DHEC doesn't have enough inspectors to keep up with increasing demand. The House approved and sent the Senate H.4486, a bill giving DHEC authority to create a pilot program that allows septic tank installers to conduct septic tank field evaluation tests for DHEC. A septic tank installer must be licensed and registered to be approved by DHEC.
Youthful Offender Driving Under Suspension Conviction Expungements
The House overrode the Governor's veto of H.3890, which facilitates Youthful Offender Driving Under Suspension Conviction Expungements. Youthful offenders convicted of driving under suspension could expunge these convictions after they meet specified prerequisites.
Helping Small Towns
Many small SC towns cannot afford the high cost of an annual financial audit as currently required. The House and Senate agreed on legislation (S.31) that small towns may elect to provide for either an audit of financial statements or a compilation of financial statements in place of an audit. Gov. McMaster vetoed the legislation. This week, the House and Senate overrode the Governor's veto allowing the bill to become law.
Bond Reform
We still await final votes on reforming the state's bail bond system to stop the revolving jailhouse door. The bill has passed the House and Senate but hasn't made it to the Governor's desk during this special legislative session. The conference committee has not finished its work. Hopefully, this critically important bill will soon cross the finish line.
Constitutional Carry Stalls
I frequently hear from constituents asking about the status of the Constitutional Carry legislation. The Constitutional Carry bill (H.3594) was approved by the House 90-30 on February 23 and sent to the Senate. The Senate recalled it from a committee on May 9 when it received a second reading by the full Senate on a vote of 24-18. Regretfully, it did not get that all-important third reading for its passage. It remains on the Senate calendar.
Held Hostage
The ESG Pension Protection Act moved swiftly through the House and Senate Committees but hit a roadblock
when it got to the Senate floor. One Senator has objected to the bill moving forward and is holding it hostage. I'm the primary sponsor of this legislation, and 50 cosponsors have joined me. The bill ensures the $39 billion in SC's pension system will be invested to maximize the returns for the 600,000+ state and local government employees and bans using the ESG scheme. It is unclear whether Senators will stop that objection and vote on this vital legislation during this special session.
Gov. Does What Joe Biden FAILS to Do
Governor Henry McMaster has directed the deployment of South Carolina National Guard troops to help secure the U.S. Southern border in Texas amid the ongoing national security crisis following the end of Title 42. 
The mission remains in the planning phase, and exact details, including the number of troops, will be finalized in the coming weeks, with the deployment goal by July 1. 
DID YOU KNOW?
Aiken Arts Center Honored
We recently celebrated the Aiken Arts Center, the "heartbeat" of creativity and the arts located in downtown Aiken. Supporters were on hand to witness the Center receiving the 2023 Governor's Award for the Arts, the highest honor SC awards in the arts. Aiken legislators also presented recognitions from the House and Senate.
Southern Migration
New York City has lost nearly a half-million residents in the wake of the COVID-19 pandemic, with most of them flocking to southern states, including SC, according to the US Census Bureau estimates. That's a decline of 5.3 percent. Smart folks are also bailing on San Francisco, which has experienced a loss of 7.5 percent of its residents. According to census bureau data, most city-dwellers fled to the South. In the past decade, SC grew by more than 500,000 people. It is estimated our state has increased by 150,000 from 2020-2022 (and they're still coming).
PICTURE OF THE WEEK
There's no better fun entertainment than Aiken County's Eudora Wildlife Safari Park! This adventure continues to expand and improve since it opened three years ago. We took three of your grandchildren on a Sunday afternoon safari, where they got up close and personal with hungry animals. Hats off to owner Mark Nisbit for creating this marvelous family experience.
Want to Know More?
Do you want to learn more about my positions, bill sponsorships, voting record, and past writings? Here are some handy links:
I'm Available & AT YOUR SERVICE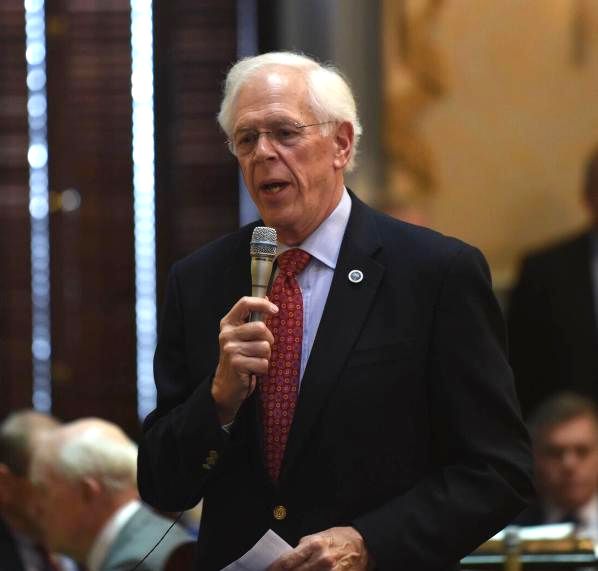 It is my honor to be of service. Please do not hesitate to contact me if you need assistance navigating state government or have any thoughts or concerns about the legislature.
In Your Service,
Email: Bill@taylorschouse.com
www.TaylorSCHouse.com  
Newsletter not paid using taxpayer funds.   
Legal Notice: This newsletter is not a solicitation for contributions to any SC registered lobbyist.