Dear Friends:
Most of us take it for granted that we can speak freely. After all, the right to free speech is a cornerstone of American liberty guaranteed in the First Amendment of the US Constitution.
Regrettably, speaking your truth is under assault by those propelling the so-called 'Cancel Culture.' These are the bullies who decide what you can and cannot say. They have caused most Americans to be more cautious in what they say aloud and post on social media for fear of being doxed, boycotted, harassed, and humiliated. Even worse, if the 'Cancel Culture Creeps' don't approve of you, they will come after your job and pressure to get you fired.  
It's time to push back! An excellent place to start is the incubator of the 'Cancel Culture' – our colleges and universities.
Open & Robust University Minds
I am the primary sponsor of the FORUM Act – Forming Open and Robust University Minds. The goal of H.3467 is to eliminate free speech zones and protect the rights of campus community members to engage in lawful expression. In other words, speak freely without fear of being silenced by fellow students or school administrators. 
This week, a House panel heard from SC college students about their campus experiences and how they were harassed and intimidated. One student's testimony was stunning:
That is a sobering statement. It is backed up by the most current Campus Free Speech Rankings based on a survey of 45,000 students:
63% of college students fear reputational damage if they speak their minds.
42% of conservative students report they cannot express their opinions freely.
That compares to only 13% of liberal students who say they can't speak freely.
Majorities say campus speakers with non-liberal views should be banned from campus.
Results from the national Campus Free Speech Rankings show Clemson ranked 41, while USC ranked 139. For comparison, the University of California at Berkeley ranked 69.
As the US Supreme Court has recognized, "The public expression of ideas may not be prohibited merely
because the ideas themselves are an offense to some of the hearers."
Historically, colleges and universities are places where ideas can be freely exchanged and pursued by intellectual curiosity. They need to return to being open to different thoughts and debates.
While testifying before the committee, one person said, "Higher education must be the free marketplace for ideas where students can learn from one another without the fear of being harassed."
This legislation is on the cusp of moving forward. If successful, SC will join 22 states that have passed their version of the FORUM bill since 2017.
Helping Teachers
A House panel advanced legislation that seeks to keep teachers in the classroom by reducing their paperwork burdens and out-of-pocket expenses while giving them more flexibility in their annual contracts. The Educator Assistance Act is meant to treat teachers as professionals and reduce the red tape that can cause them to abandon the field out of frustration.
The bill (H.4280) also makes a professional teaching certificate permanent, eliminating the bureaucratic hurdles involved in renewing it every five years through the state Department of Education. It would also allow teachers to know their salary for the coming school year before being locked in a contract they can't get out of without risking their ability to teach for a year or more.
With just nine days left in the 2023 regular session, the bill won't become law this year, but it has a good chance for passage next year. 
Repealing CON for Better Healthcare
We're looking to take the "CON" out of CON – by repealing most of the requirements of SC's Certificate of Need (CON), which currently requires healthcare providers to obtain government approval before expanding or establishing new healthcare facilities or services. Repealing these laws will reduce the regulatory burden on healthcare providers, increase access to healthcare in our state, and lower patient costs. Ultimately, by eliminating unnecessary government regulations, we can encourage innovation, improve the overall health of our citizens, and contribute to the economic prosperity of our state. The bill (S.164), which I fully support, was approved by a House panel and will move to the full committee next week. I expect a vote by the full House in early May.
Improving Access to Telehealth and Telemedicine
Another healthcare-related bill discussed in a subcommittee this week was the South Carolina Telehealth and Telemedicine Modernization Act. This bill (H.4159) will improve access to healthcare services for all South Carolinians, especially those in remote or underserved areas. With the implementation of telehealth services, patients can receive quality medical care without having to visit a doctor's office in person. I firmly believe telemedicine is a critical tool in today's digital age as it helps bridge the gap, especially for those in rural areas.
Death Penalty Shield Law
On a vote of 80-22, the House voted final approval of legislation intended to end the 12-year moratorium on the state's death penalty. The bill (S.120) allows the name of any company that sells lethal injection drugs to remain secret, as well as members of the execution team. SC has been unable to carry out executions after the state's supply of lethal injection drugs expired, and they could not find a company willing to sell them more for fear of being sued. Sixteen states have carried out nearly 100 lethal injection executions in the past six years. Many have shield laws. SC currently has 34 inmates on death row. Gov. McMaster says he is prepared to sign the bill.
Protecting Our Children
Two bills designed to protect our children passed out of the House Judiciary Committee this week. They will head to the House floor in the coming weeks. H.3220, the Uniform Child Abduction Prevention Act, provides a crucial framework for preventing child abduction in family law cases. H.3217, the Uniform Unregulated Child Custody Transfer Act, strengthens criminal penalties for violators and requires child placement agencies to share specific information with adoptive parents. This bill ensures that children placed for adoption are not subjected to unregulated custody transfers and receive the necessary financial support services.
Celebrating Champions
The SC House of Representatives honored the 2023 AAAA Girls Varsity Basketball State Champions — the North Augusta HS Yellow Jackets. This is North Augusta's 5th State Championship in 7 years! This program produces Champions.
Around House District 86
I spent Saturday morning in a Town Hall with folks living in the Kitchings Mill area in eastern Aiken County. They gathered to learn how to establish a Neighborhood Crime Watch in a vast rural area. Aiken County Sheriff's Sgt. Steve Shunn provided them with guidance and tips known from similar programs. I reminded residents to use the new way to post NO TRESPASSING warnings. A state law passed last year allows South Carolinians to paint parts of their property with purple instead of no trespassing signs. Those who cross the paint illegally could face a $100 fine or up to 30 days in jail.
Senate News
Warp Speed for Senate Budget
The SC Senate spent only seven hours debating the state budget before unanimously approving its version of the state's $13 billion spending plan. That's a far cry from the days of overnight budget wrangling.
Overall, the Senate and House agreed on many items, while differences will be worked out in a conference committee before the budget goes to the governor's desk.
The chief difference between the two budget versions is how big a raise to give state employees. The Senate plan spends $166 million to give state workers a $2,500 bump in their base pay if they make less than $50,000 and a 5% raise if they make more than $50,000. Workers making less than $83,000 would get a $2,500 raise, and those making more would get a 3% pay bump. The House's budget for the fiscal year 2023-24 spends $42 million less.
Both plans agree that some law enforcement positions — like state troopers, state agents, and officers and nurses in prisons — could be in line for even bigger pay raises.
The plan would increase the minimum salary at every position and experience level by $2,500. Many teachers, whose salaries are outside the regular state employee system, would also get a raise. The spending proposal additionally would send $261 million more in classroom aid to local school districts, which could use that money to give raises if they are already above the minimums set by the state.
It also spends $540 million in unspent funds from previous budgets and other one-time sources for higher education projects, like $75 million to start the first veterinary medicine school in SC at Clemson University and $54 million to replace the nearly century-old Turner Hall at South Carolina State University.
Anti-CRT Bill Advances
Saying they want students to get a complete and accurate picture when learning about slavery, Jim Crow segregation laws, and the Holocaust, a Senate panel advanced a House bill (H.3728) intended to bring transparency to the curriculum being taught. The bill requires "fact-based" discussions on history while creating a multi-step uniform process for parents to raise objections if they believe already banned concepts are being taught. Banned concepts, initially inserted in the state budget two years ago, include any race being superior to another, anyone being responsible for past atrocities because of their race, and traits such as hard work being considered oppressive and racist. The full Senate will soon debate the bill.   
Human Life Protection
The pro-life/abortion debate is again front and center in the Senate. Senators voted to place the 'Human Life Protection Act' (H.3774) on special order, meaning it is the first bill to be debated next week. The bill bans abortions at conception but allows abortions to save the mother's life or prevent serious, lifelong health problems. It also will enable abortions if the fetus isn't expected to survive outside the womb or in cases where the pregnancy results from rape or incest, though only through the first trimester.
Shutting the Revolving Door for Criminals
People arrested have the right to post a bond in most cases. The problem is when repeat offenders charged with additional crimes while on bond get bonded out again. It's called the "Revolving Door." The Senate debated and unanimously passed (H.3532) a bill requiring that bond be revoked for a person who commits a violent crime or a felony involving a weapon while that person is out on bond for a separate offense. That person would then have to go before a circuit judge for future bond hearings, not a Magistrate. This vitally important bill is now back in the House of Representatives, where we will consider the Senate changes. Hopefully, on to Governor McMaster soon.
PHOTOS OF THE WEEK
In January, I wrote about losing my 'Buddy Dog', Zeke, to cancer. He was only five years old. Friends recommended I find a new 'Buddy Dog.' I wasn't in a hurry, but with the help (and nudging) of my sweet wife, Donna, we discovered Bernedoodles. Meet 'Hunter.' We acquired the 3-month-old from his breeder and trainer last week. He has settled in nicely and found his forever home, where he quickly got into a staredown with our grandson, Heath. Hunter won't be a pup for long – he's expected to reach 75 pounds.
Want to Know More?
Do you want to learn more about my positions, bill sponsorships, voting record, and past writings? Here are some handy links:
I'm Available & AT YOUR SERVICE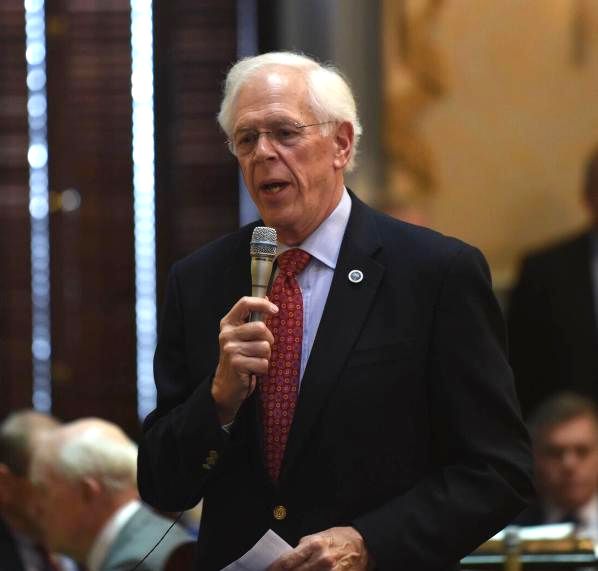 It is my honor to be of service. Please do not hesitate to contact me if you need assistance navigating state government or have any thoughts or concerns about the legislature.
In Your Service,
Email: Bill@taylorschouse.com
www.TaylorSCHouse.com  
Newsletter not paid using taxpayer funds.   
Legal Notice: This newsletter is not a solicitation for contributions to any SC registered lobbyist.