Dear Friends:
This past week, activity in the SC House of Representatives reminded me of the movie title "Fast & Furious." It's called 'crossover week', meaning bills most likely to be considered this year by both chambers and possibly enacted into law had to move to the other chamber. Topping the issues we honed in on were advancing our gun rights, establishing tax conformity, enhancing penalties for hate crimes, and improving education.
Successfully Advancing 2A
While Washington ramps up its anti-gun legislation, the 'Free State of SC' sees the 2nd Amendment through the eyes of our nation's founders. The House advanced SC's firearm laws even further. A few weeks ago, we took a first step in expanding our firearm laws with H.3094, allowing open carry with training for CWP holders. This week, we voted in favor of a second expansion to our 2nd Amendment rights. H.3096 is the so-called Constitutional Carry bill that allows permitless carry of handguns. SC is currently one of just five states without open carry, joining atypical partners California, Florida, Illinois, and New York. Constitutional Carry passed by a vote of 69-47 and moves to the Senate for consideration. I cosponsored this legislation and voted it.
BIG 2A PUSHBACK!
News reporters barely mentioned the 'crown jewel' inserted in the Constitutional Carry legislation. During House debate, the bill was amended to make SC a 2nd Amendment Sanctuary State. That is a HUGE step in advancing South Carolinians' Constitutional rights and protecting the 2nd amendment from the assault from progressives' gun-grabbing Executive Orders and Congressional legislation. This amendment would bar the state from enforcing federal gun regulations. SC could join Alaska, Kansas, Idaho, Wyoming, and, most recently, Arizona in this effort. Just this week, Gov. Abbott called for Texas to become a 2A Sanctuary State. One legal expert said, "It's hard not to see this as part of an effort to test the boundaries at how much states can push back against federal and constitutional provisions."
Election Integrity – A Good Fix for SC
Republicans in the House of Representatives have aimed at enhancing election integrity. Legislation was introduced in the House this week to strengthen the requirements of SC's absentee ballots. H.4162 already has 65 sponsors – it only takes 63 Representatives to pass legislation. The bill sets conditions for those voting absentee. They will be required to provide their date of birth, their driver's license number, or another form of government identification when applying for an absentee ballot.
Blasting Federal Election Takeover
Gov. McMaster and U.S. Sen. Lindsey Graham took turns Tuesday blasting a sweeping federal elections bill that would federalize elections, kill voters' requirement to show a photo ID or any ID by just swearing to their identity. Graham said, "HR.1 is an attempt by the radical left to take over every election system in the country. It would violate the Constitution, in my view, but the contents of this bill should scare everybody in South Carolina and throughout the nation who believe in robust voting, but integrity at the ballot box." McMaster added, "The legislation threatens the constitutional sovereignty of South Carolina."
Re-Do for 'Save Women's Sports Act'
It's unusual for a bill that was sidelined to get a second chance. But that's what happened this week when the 'Save Women's Sports Act' was reintroduced as a new bill and got a hearing the same week. The House Judiciary panel voted to send the bill to the full Judiciary Committee, where it was shelved last month. H.4153 would ban transgender women and girls from competition in high school or middle school women's sports. The bill would then only allow those born biologically female to play in women's sports. This bill is a pushback on new White House Executive Orders enabling transgender boys to play in high school and middle school women's sports. The original bill had 25 sponsors. The new bill has 57.
Keeping Score? Here's the updated PUSHBACK AGENDA
SC Hate Crimes Act Passes
By a vote of 79-29, the House passed the Hate Crimes Act. This bill does not criminalize anything that is not already a felony but increases the penalty for a felony found to be motivated by a person's discrimination against another's race or gender. This motivation must be proven beyond a reasonable doubt, and a jury decides (not a judge). This bill does not criminalize acts against property or crimes committed by minors who may not know better. Heavy pressure to pass the Hate Crime bill came from the SC Chamber of Commerce and a coalition of big corporations and higher education such as USC.
A WOKE Weapon
Democrats have been pushing Hate Crime legislation for years. In my view, it is another WOKE WEAPON. I voted NO because it's not needed. Prosecutors tell me they have every conceivable law already on the books to punish crimes appropriately if they could only get judges to hand down suitable punishment. While the State Chamber of Commerce and big corporations want SC to fall in line with other states so we can attract more big companies, many oppose the Hate Crime bill:
"In a time when big business and big tech companies are calling for us to acquiesce on specific Hate Crimes that would erode our cultural foundation by silencing our religious freedoms. This law would apply penalties to a crime based upon a person's perceived thoughts and beliefs. No one truly understands a person's heart and thoughts except God." – SC Christian Chamber of Commerce
"Hate Crimes legislation undermines the fundamental principles of criminal justice by specifically administering punishment based on thoughts and feelings, rather than the actions of a criminal. – Palmetto Family Alliance
Hate Crime laws are a slippery slope. While the version passed by the House may be the lightest approach, if it becomes law, in the coming years there will repeated effort to expand its provisions making it truly dangerous legislation.
Governor Inspecting Border Crisis
Gov. Henry McMaster is on the Texas/Mexico border this weekend meeting with SC National Guard soldiers who are playing a critical role in securing the border and protecting our nation. McMaster is seeing firsthand the humanitarian crisis at the southern border. Today, McMaster tweeted, "At the border in Del Rio where building of the wall has ceased although the materials have been paid for. That is unacceptable! Thankfully we have the brave men and women of @CBP and the @SCnationalguard to fill the gap and protect our border." The governor is traveling with SC's Adjutant Maj. Gen. Van McCarty.
Warriors Welcomed
I joined my Aiken legislative colleagues for a Statehouse welcome to veteran leader Lowell Koppert and his entourage Thursday. Lowell, and a fellow veteran, trekked two days from Aiken to the Capitol to deliver a petition signed by 1,240 Aiken County veterans calling for the moving of the Vietnam War Memorial in downtown Aiken Veteran's Park, so it can be more suitably displayed with the honor it deserves. The Heritage Act requires a vote by the General Assembly to authorize the move of the war monument. Aiken Representatives filed a bill in January to accomplish that.
Standing for Compassionate Care
I joined legislative colleagues and citizens gathered at the SC Statehouse to push for Senate passage of the Compassionate Care Act. The bill would legalize cannabis products for medical use in SC. It would, however, only allow the drug for specific purposes and would be highly regulated in its distribution. The bill has passed hurdles in the Senate. It's now time for Senators to pass this bill and send it to us in the House. More than 70% of South Carolinians support the use of medical cannabis.
LEGISLATIVE NEWS BRIEFS

Tax Help for the Unemployed
Each year, the House passes a tax conformity bill that puts the State and Federal tax codes in line. This is an important bill to ensure when you go to file your taxes, our State rules match those of the Federal Government. This year we had a large number of people file for unemployment in SC due to the pandemic conditions and shut-downs. This bill exempts the first $10,000 of unemployment benefits received from State tax income, ensuring folks are not penalized for the hardships they involuntarily faced. The conformity bill was passed unanimously by the House.
Non-Certified Teachers in the Classroom
To meet the critical teacher shortage in SC, I voted in favor of a bill allowing public school districts to hire noncertified teachers (such as those who are retired or switched careers) for any school, career, and or technology center where there are teaching positions. There is a limit – these teachers may not comprise more than 25% of a school's staff and must have certain experience/academic requirements. This ensures that students have a qualified teacher in the classroom no matter what. This passed by a vote of 99-17.
Life Scholarships
The House passed legislation (H.3588) that amends the criteria for Life Scholarships, requiring certain English, Mathematics, and Computer Science coursework to be completed for eligibility. This completion takes place during a student's senior year to better prepare them for college.
SC WINS
I voted in favor of establishing the SC Workforce Industry Needs Scholarship (SC WINS). This means that certain students attending a two-year technical school are eligible for a scholarship upon meeting certain criteria and requirements. H.3144 passed the House by a vote of 105-1.
COVID-19 Rent Assistance
Many South Carolinians who rent have experienced hardships and even homelessness during COVID. To assist them, the House passed (H.3770) providing them access to millions of dollars in federal rent assistance and relief. This vote sends it to the Governor's desk. For more information, https://www.thestate.com/news/state/south-carolina/article250447431.html
Training Firefighters
More than 75% of firefighters are volunteers. H.3466 makes it more affordable for rural fire departments in SC to operate. When a fire department trains a firefighter, they will be reimbursed for the costs of training if another fire department hires the trainee within a certain time. The reimbursement will come from the new employer of the firefighter. This protects the smaller departments that lose firefighters to larger departments. This passed by a vote of 108-2.
PHOTO OF THE WEEK
GREAT NEWS! SRS Donates Firetruck to Hollow Creek VFD: The emergency response capabilities of one eastern Aiken County volunteer fire department are stronger thanks to a donation from the Savannah River Site (SRS). SRS leadership gathered with members of the Hollow Creek VFD (near Salley) to hand over the keys and title to a new-to-them firetruck to Chief Glenn Poole. Chief Poole said, "The donation of this firetruck will serve our community well and will further provide our firefighters with lifesaving resources when we are called on to help our community."
I'm Available and AT YOUR SERVICE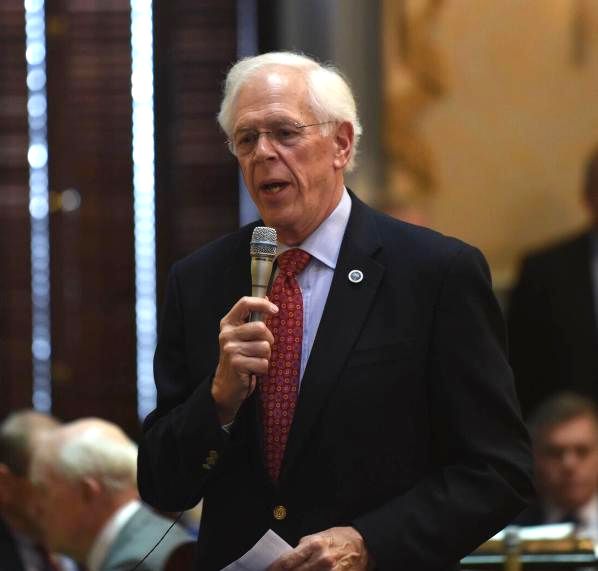 It is my honor to be of service. If you need assistance during these trying times, navigating though the flow of information on COVID-19, navigating state government or have any thoughts or concerns about what the legislature, please do not hesitate to contact me.
In Your Service,
Bill Taylor
Representative
South Carolina General Assembly
Bill@taylorschouse.com
www.TaylorSCHouse.com
Newsletter not paid using taxpayer funds.
Legal Notice: This newsletter is not a solicitation for contributions to any SC registered lobbyist.